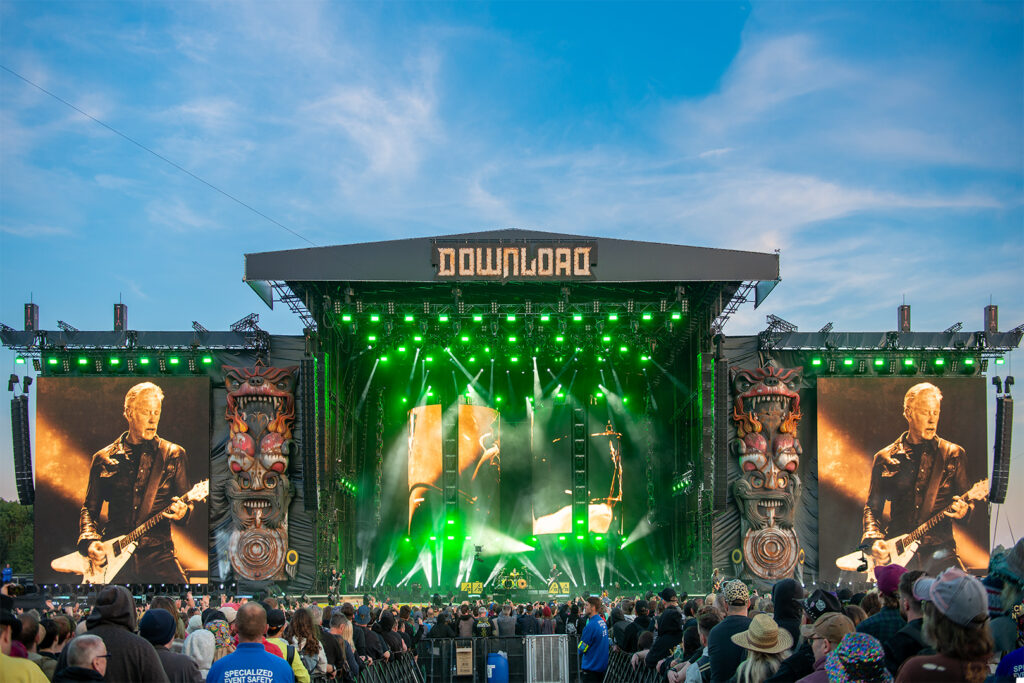 There is an air of anticipation as Download festival celebrates its 20-year anniversary. Continuing the tradition of music festivals in Donington, Download follows the legacy of the Monsters of Rock festival which first started in 1980. Since its inception in 2003, Download has gone from strength to strength, starting as a two-day event with two stages, later evolving to three stages in 2004, before adding a third day in 2005. This year the 20-year celebration sees the addition of a fourth day with the novel idea of a double headline provided by titans Metallica which subsequently sells out fully, well in advance. This popularity brings with it a few issues, notably extensive traffic jams with people arriving to pitch tents well into the middle of the night. Once the feet are on the hallowed ground, however, all that is quickly forgotten and it's down to the business at hand. Immediately evident in the arena is the array of massive sound and light towers which will dominate the arena and provide class-leading sound and vision over the weekend.
It's going to be great so let's get to the bands!
Thursday, June 8th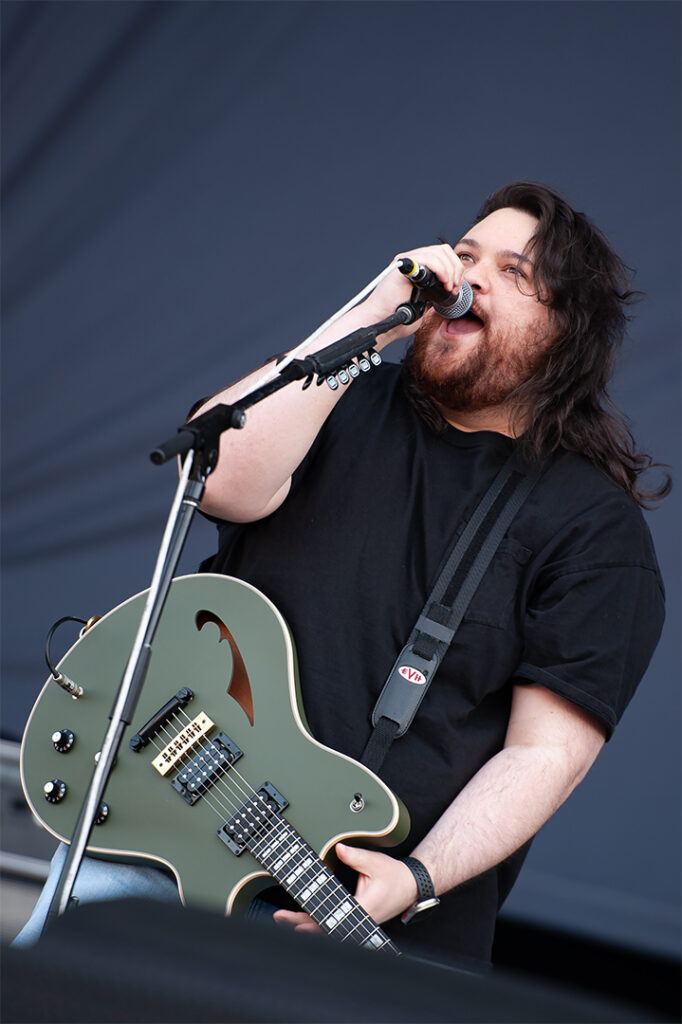 Wolfgang van Halen has a busy summer lined up with a selection of dates scheduled across Europe. Mammoth WVH are guests of the Def Leppard and Motley Crue on their latest tour. A beautiful sunny afternoon sees the band kick off proceedings on the Apex stage. Wolfgang tells the crowd how his dad, Eddie had often recounted how great it was to play Donington following the 1984 Van Halen appearance. Now the next generation Wolfgang is here with his own band. The set is pure classic rock with tracks like «Stone», «Think it over» and «Another celebration at the end of the world». The new song «Like a Pastime" from the album due for release in August gets an airing. A great performance and a great way to kick off the festival. One can't help thinking that Eddie would have been very proud.
Jinjer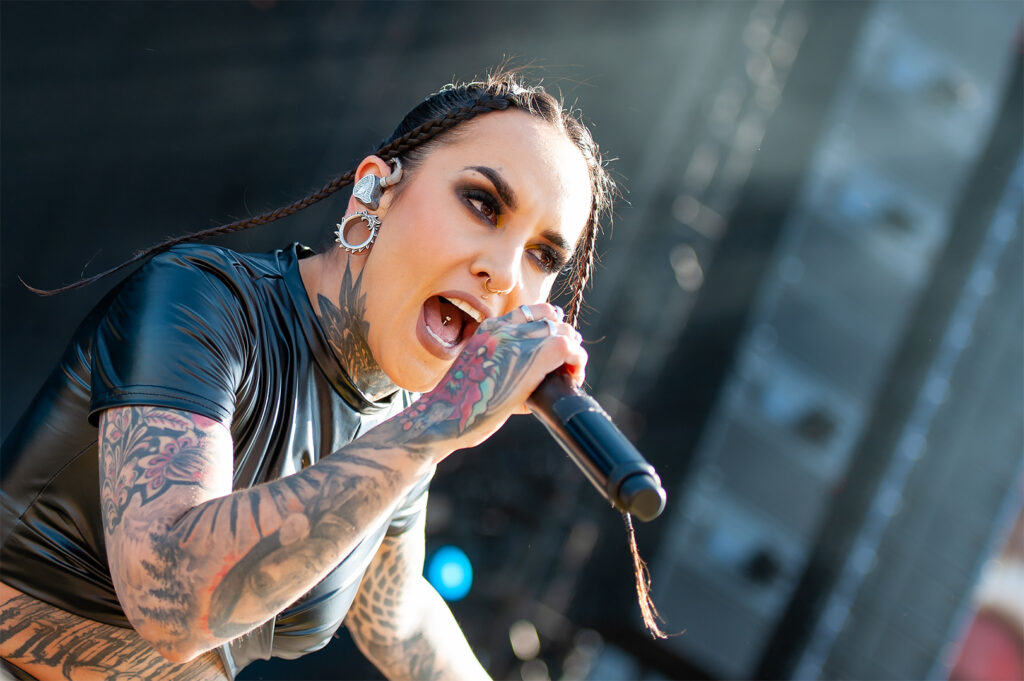 Hailing from Ukraine some members of the band Jinjer used to live in Donetsk before the war-torn city became one of the focal points of the war. A move to Kyiv allowed for a more normal existence before the band took to the road relentlessly touring as ambassadors for their homeland with the blessing of the Ukrainian ministry of culture. Vocalist Tatiana Shmayluk laments the war back in her home and thanks the crowd for their support. She speaks to the crowd about the «technological, economic and ecological catastrophe» wreaked on her country. Jinjer merchandise and T-shirt sales are providing funds for bomb shelters in Kyiv and food and clothing for refugees. Today's blistering set is delivered with the precision of a well-oiled machine and includes «Colossus», «Call me a symbol» and «Teacher Teacher!» This is intense!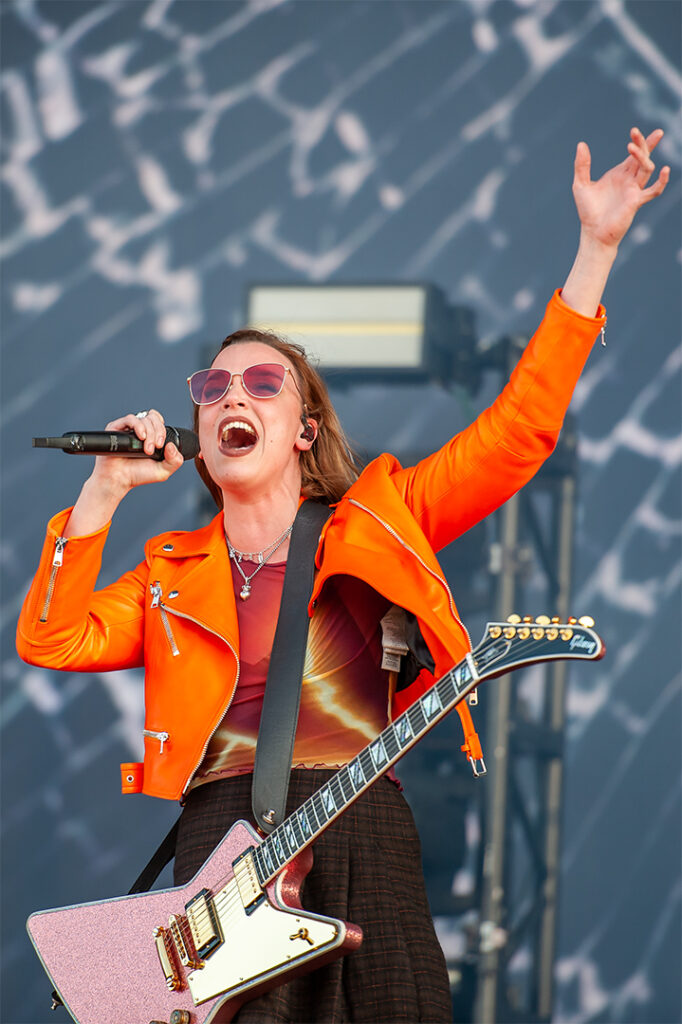 U.S. rockers Halestorm are no strangers to Download having made multiple appearances over the years. So much so in fact that Lzzy says she feels like they grew up here having first appeared in 2010. This coming of age means that now Lzzy and her brother Arejay's band now take their place on the main stage. The show starts with a lung busting «Raise your hands» intro leading straight into «I miss the misery». Lzzy then wishes Download festival "Happy 20 years". With the family dressed to impress, Lzzy in orange leather jacket and Arejay resplendent in a shiny suit, we are treated to favourites like «Love bites (and so do I)»', «I get off» and «Rock show». The usual entertainment of their synonymous trademark drum solo provided courtesy of Arejay, combined with Lzzy's amazing vocals make this performance a standout. The finale is a full-on rendition of «The Steeple» during which Lzzy announces their upcoming Wembley headline show. These guys are seasoned professionals and deliver every time.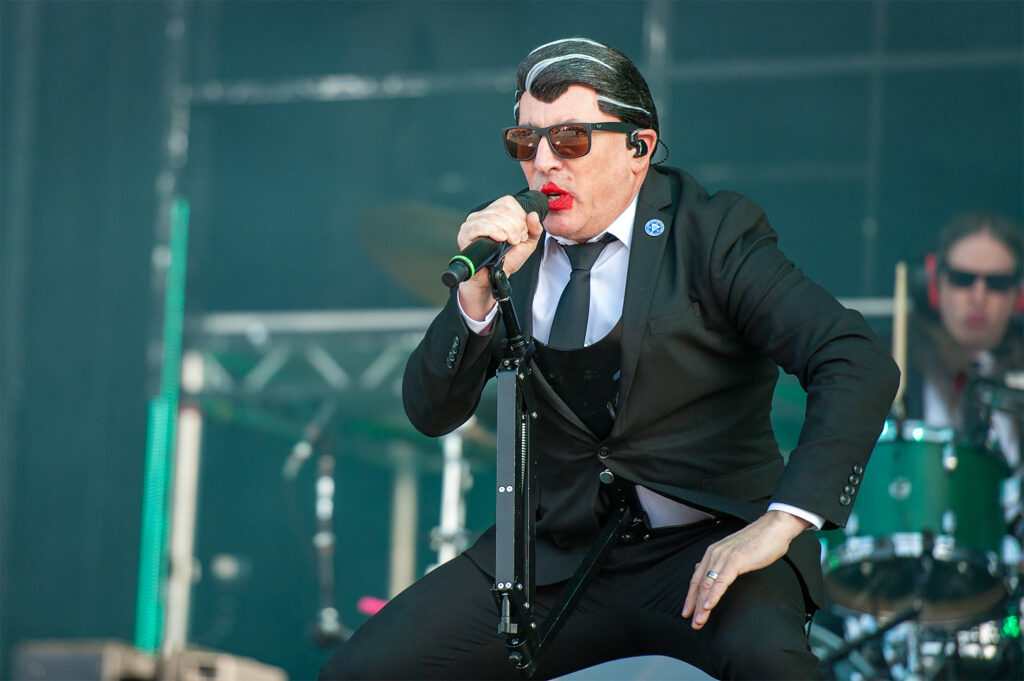 Puscifer is the brainchild of LA-based Maynard James Keenan, who is better known as the lead singer of the bands Tool and A Perfect Circle. Keenan was initially the only permanent member. Later, frequent collaborators Mat Mitchell and Carina Round became permanent too. They started their own clothing line with slick marketing and items produced in limited numbers. Keenan also collaborated on a leather jacket with Paul Frank and opened a store in a small space above a tattoo parlour in October 2008. In addition to band merchandise, other items like locally roasted coffee, art, and limited-edition collectibles are available.
Today's set starts with a three-minute countdown before opening with «Fake affront». Keenan tells us "We are here in search of alien life forms living among us» hence the «Men in black» costumes. Later in the set little green men appear onstage with their sensors to test audience. The whole set is entertaining yet strange, but would we expect anything less?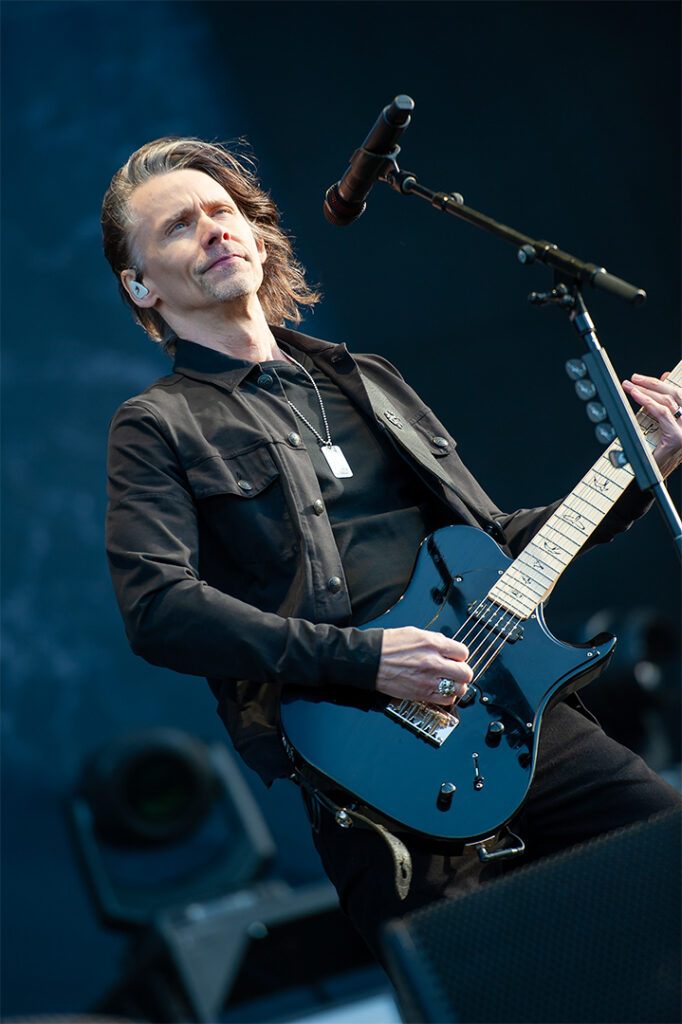 Download is just one of the festivals Alter Bridge are taking in on the European leg of their «Pawns & Kings» tour. They are also playing Sweden rock, Graspop and Hellfest, before heading stateside. The album, released back in October features Miles Kennedy's silky vocals and a fine vocal performance by guitarist Mark Tremonti on the track «Stay». During today's performance Myles Kennedy tells the capacity crowd how he loves his job. and thanks Halestorm and Metallica for honour of sharing the stage before launching into perfect renditions of «This is War». The beautiful «Blackbird» is dedicated to the late Kerrang photographer, Ashley Maile. «Metalingus» and «Rise today» bring the energetic set to a close.
Skindred are almost regulars at Download, this year stepping in at the eleventh hour to replace Five Finger Death Punch due to singer Ivan Moody's illness. Veteran singer Benji Webb comments on how nice it is to play in a sunny Download Festival rather than previous years of rain and we are treated to a great set delivered in his inimitable style. Having toured with Volbeat last year Skindred were confirmed earlier this year as special guests on the Kiss «End of the road» tour. The new album «Smile» is due for release on August 4th on Earache records. Lzzy Hale joins Benji for "Warning" during which the inevitable Newport helicopter kicks off. Classic Skindred and you can't help but be happy around them.

Metallica were formed in Los Angeles in 1981, decades before many of the assembled fans here today were even born. Based for many years in the San Francisco Bay area, they have almost secured a Download residency with two sets this weekend. Tonight, the show starts with a photo scrapbook of pictures from the bands' history accompanied by AC/DC playing «It's a long way to top (if you want to rock n roll)". This is followed by «The ecstasy of gold" the band's trademark intro. Then, just before we kick off the video monitors display pictures of the bands merchandise mascots like Doris Pushead. The stage is then bathed in red light as we are launched into «Creeping death». Immediately it is plain to see Metallica mean business as they work their way through their history with a magnificent set. «Harvester of sorrow» is next up, and James Hetfield tells the crowd how grateful Metallica are for this their ninth appearance in Donington. Tonight, we journey through the bands catalogue with classics like «Leper messiah» and «King nothing» mixed in with new material like «Lux aeterna» and «Screaming suicide». The set is a veritable master class of Metallica at their best including lots of pyrotechnics before finishing with «Seek and destroy» and «Master of puppets». It will be interesting to see how the second set can top this set.
Not everyone however was happy as the monster new sound system Metallica are using apparently managed to send sound waves up to 15 miles across the local landscape, with the music heard as far away as West Hallam. The new sound and light system comprises a staggering 288 loudspeakers in an attempt by Metallica's creative director Dan Braun to immerse the entire audience. Festival organizers respond to complaints explaining that the wind may have contributed to the problem.
After Thursday's fantastic performance the "All Within my Hands Foundation" (an initiative where a segment of the money generated by Metallica ticket sales is donated to charity) donated a whopping £40,000 to local "Help the Homeless" charity. Very generous indeed.
Friday, June 9th
Nova Twins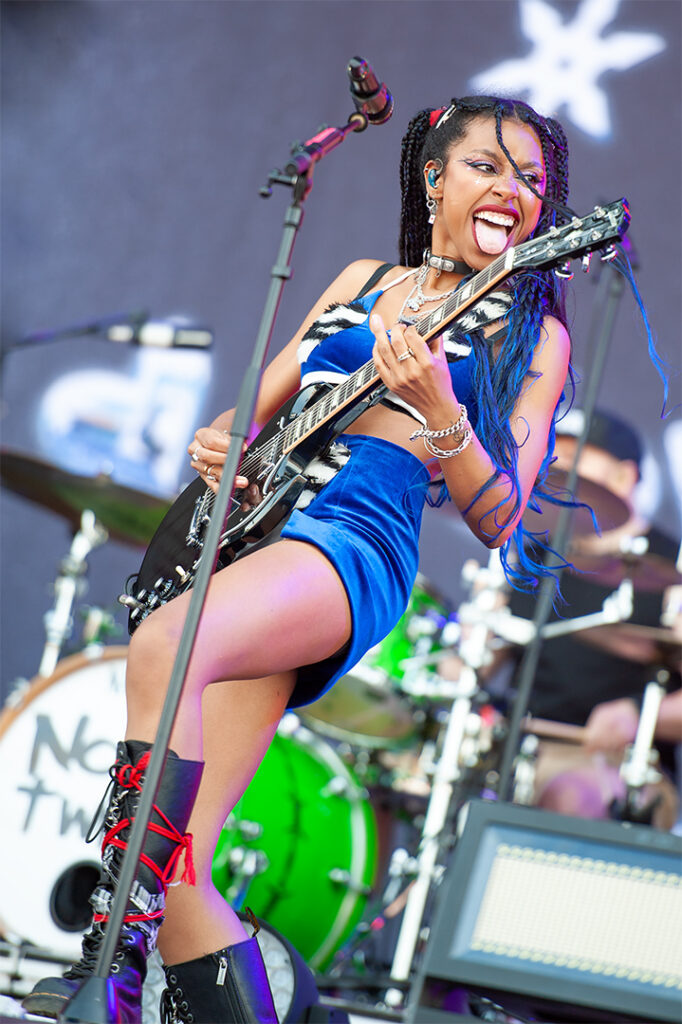 The stage set has Nova emblazoned across it in pink fluorescent lights as the opening song "Fire & Ice" almost shakes the ground under our feet with a heavy bass laden riff. "Are there any boss bitches in the house" asks vocalist Georgia South as she struts around the stage. The London based duo has been going from strength to strength with their brand of rap metal. Older tracks like «Taxi» are included in a set that is mainly lifted from the 2022 album "Supernova". Georgia admits playing main stage at Download is like a dream come true for the band. Judging from the crowd's reaction, their dreams have come true too! Its not going to stop here either…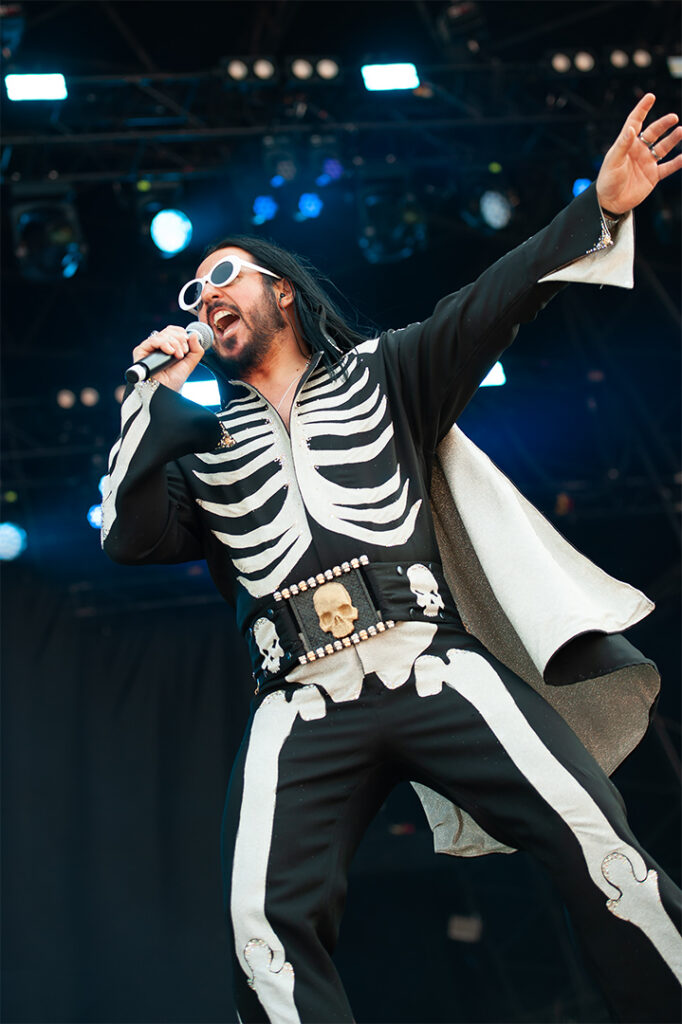 Elvana from Newcastle-on- Tyne, are a four piece who meld Elvis and Nirvana into an unlikely alliance. It sounds strange but it works. The latest live release is entitled «From the muddy banks of Disgrace land».  The band arrives decked out in skeleton suits. Their set is medley based and features «Burning love» (during which the pyrotechnics flare), «Trouble» and «Smells like teen spirit».  In the intro vocalist Elvis explains how the band plays Nirvana songs fronted by the itty-bitty King of rock 'n' roll.  «Hound dog» is also on the set. «Is everyone having a good time» screams Elvis. An attempt is made to start one more tune but as they are running late, time is up and the band leave stage to the crowd's disappointment.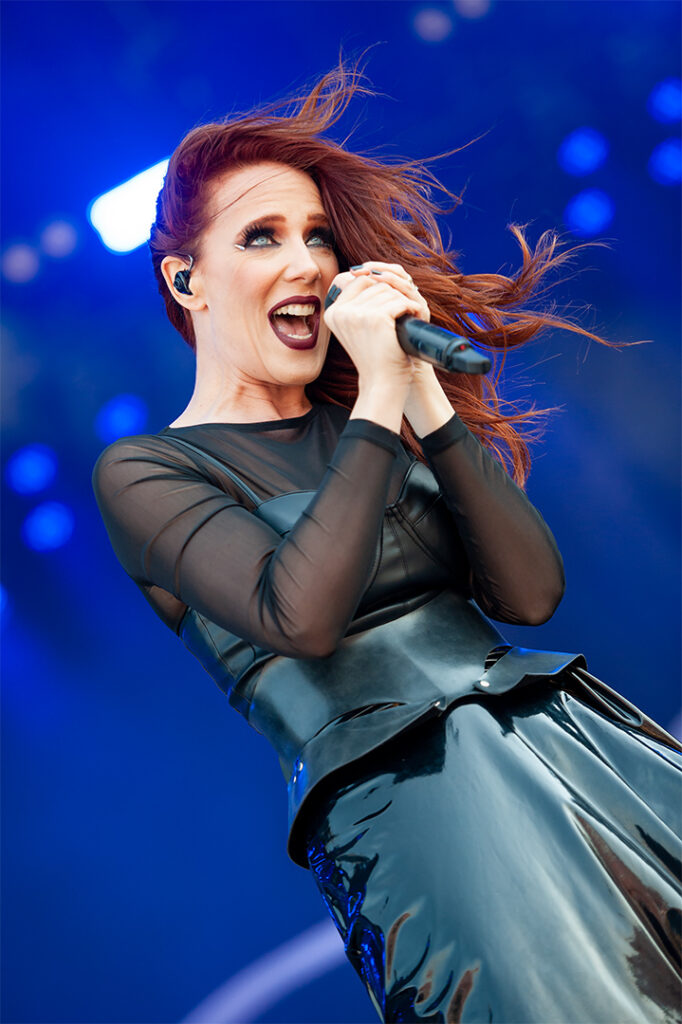 The Dutch symphonic metallics Epica are on tour across Europe this summer. Their vocals comprise operatic vocals from Simone Simons, and death medal growls courtesy of Mark Jansen. The stage props today comprise two fire breathing cobras. After an initial sound issue on the first song «The abyss of time -Countdown to singularity" things get into full swing with «Unleashed «. The crowd are singing along, and the sun is shining, what more can a band ask for?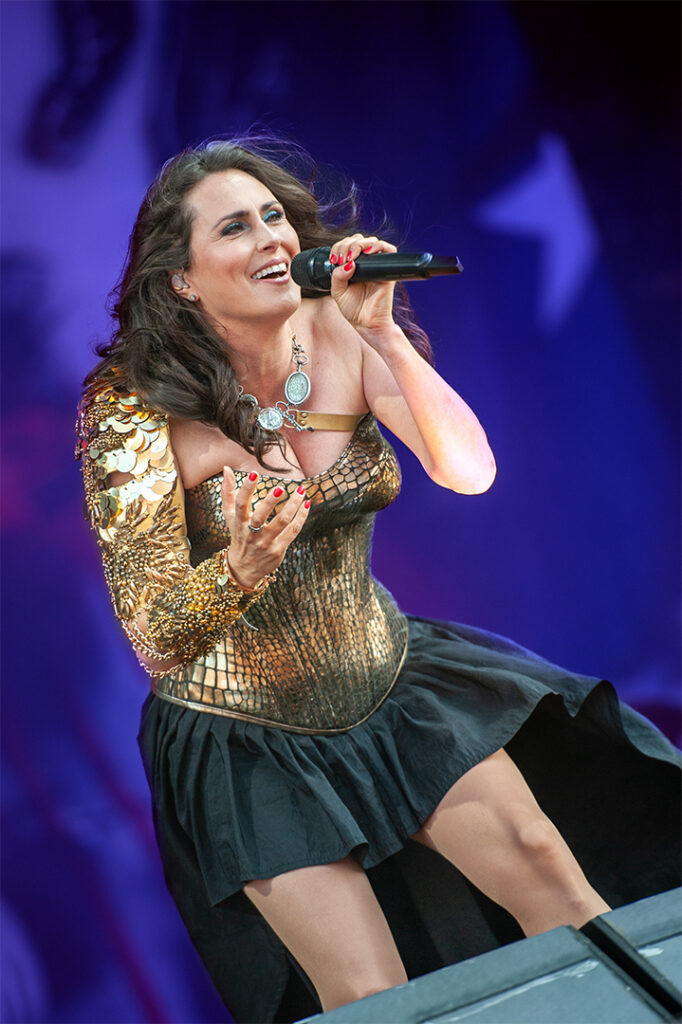 The sun is still shining as Within Temptation take to the Opus stage accompanied by plenty of pyrotechnics. Do you have your sunscreen on asks vocalist Sharon den Adel. This Dutch outfit has 7 albums in their back catalogue since their foundation in 1996.  Tracks like «Faster», «Paradise (What about us?)» and "Wireless" show up in the set. Sharon, an avid tennis fan, tells us how she found Alexander Dolgopolov's story online. He was an accomplished tennis player who now fights for Ukraine instead of playing. The song «Supernova» is dedicated to peace and the memory of Sharon's late father. The show concludes with "What have you done?" and "Mother earth".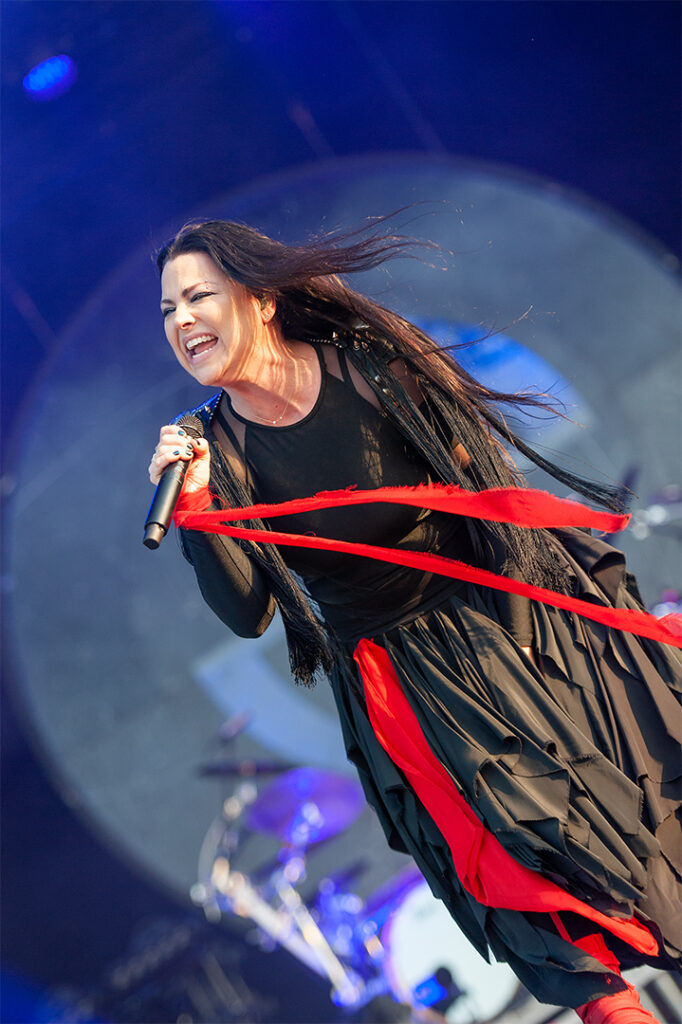 Evanescence was formed in 1995 by vocalist Amy Lee in Little rock, Arkansas. Their brand of gothic hard rock found huge success with the release of the album "Fallen" in 2003 «. The assembled crowd at the Opus stage must be one of the biggest ever. Evanescence delivers a set that takes the crowd to another level with highlights like «Going Under», «Lithium» and «Call me when you are sober». New tracks "Use My Voice" and "Wasted on You" show that the band is going from strength to strength with their new material but the piece de resistance has to be tonight's finale «Bring Me To Life».
Bring Me The Horizon, one of the most successful bands to emerge from the U.K. in the last few years selling a massive 5 million albums globally are the headliners on the Apex stage tonight. This is the ideal opportunity to announce a new album and is not missed as we learn the new release "Post Human: Next Gen". The intro is delivered by Eve an AI avatar who claims to have been quietly watching us and using machine learning to understand the human race. She invites the crowd to join a Cult "Genxsis" to save the world from itself. Cue the bands interruption of Eve's broadcast where they warn us this is a ploy and we must all escape, they explode onto stage as the pyros flare with opener "AmEN!" Eve continues to interject with an introduction for "Mantra" which is followed by "Dear diary" during which a huge three headed monster breaks down the stage backdrop and in enveloped in flame. This is truly an incredible stage show. During the set we see guest appearances from Nova Twins on "1×1" and Amy Lee from Evanescence on "One day the only butterflies left will be in your chest as you march towards death" Now there is a catchy song title for you! The finale "can you feel my heart" sees Oli Sykes thank the crowd and a sea of balloons emblazoned with the curious Next Gen symbol are released into the night sky. This band is proving to be a worthy headliner and the future of metal.
Saturday, June 10th
Carcass were formed in 1985 and resurrected again after an extended hiatus in 2007. Considered as pioneers of grind core, Carcass were recent guests on tour with Arch Enemy and Behemoth. A blistering sun beats down as Carcass arrives onstage to a mighty roar and Bassist Jeff Walker shoots at the crowd in Steve Harris style. Bill Steer, the only original member, seems to be really enjoying the set. Shifting up through the gears quickly the slick riffs are complemented by the raw vocals as tracks like «Heartwork» and «Colonel Jigsore quandary». Visceral and reliable!
Three Days Grace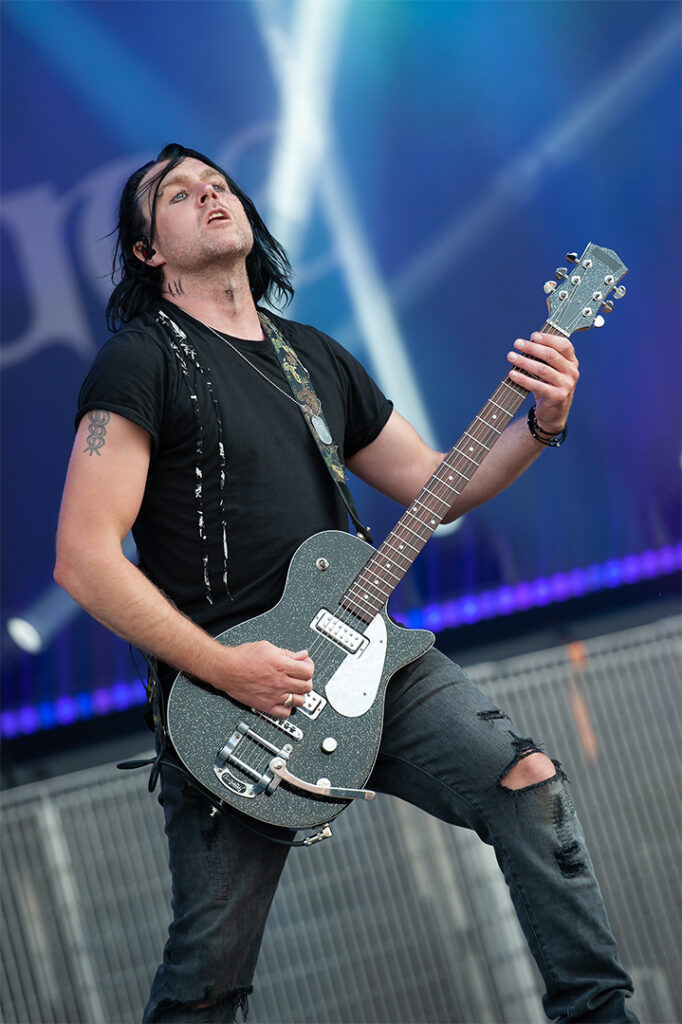 Exploding into their set with «So called life» vocalist Matt Walsh introduces himself and his brother Brad on bass. Neil Sanderson, the drummer gets the hard-core award having broken his ankle the previous night he still managed to turn up and pummel the skins. These Canadian boys have played Download previously and once again thank the crowd for their hospitality. Their rock-solid set includes «Home», «The Mountain» and they play «Painkiller» to celebrate Matt's decade in the band. Three Days Grace are note-perfect and professional to the last man.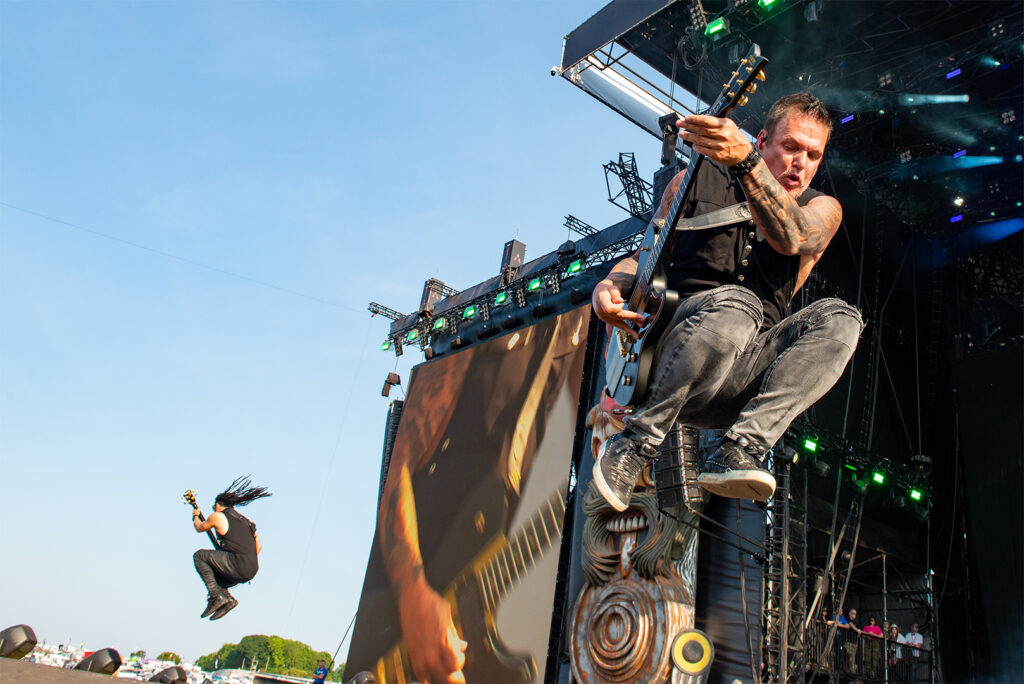 Disturbed are on the Apex stage as a prelude to Metallica. «Hey You» gets proceedings underway and immediately David Draiman's jacket comes off, perhaps a statement of intent. Hailing from Chicago this band has a great pedigree. "Brothers and sisters speak to me" cries Draiman before acoustic ballad «Reason to fight». In a sometimes openly emotional address, he refers to issues of addiction and depression. He goes on to say he is so tired of watching lives of friends like Chester, Chris, and Keith Flynt being lost unnecessarily. Powerful stuff indeed. Also included in today's set is Genesis cover «Land of confusion «. The beautiful cover of Simon & Garfunkel's «The sound of silence" is a standout, and «Down with the sickness» and "Inside the fire" close today's set.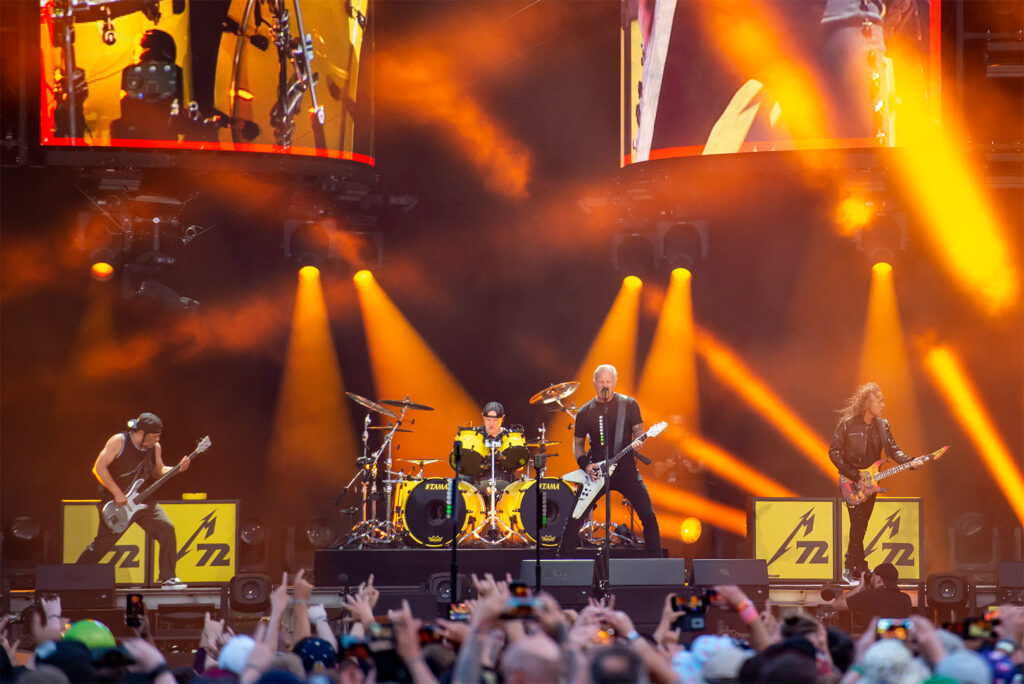 Anticipation has been building since Thursday about the second of the weekend's Metallica sets. Intros take the same format as Thursday, with the historical photo montage accompanied by AC/DC and then «The Ecstasy of Gold. Suddenly the Metallica machine lurches to life with «Whiplash» followed by «For whom the bell tolls» and «Ride the lightning». Once again, the band is on top form playing a perfect selection of old and new material. There is plenty of banter from James Hetfield who is obviously enjoying himself tonight and a promise never to return to "St. Anger form". Flitting from era to era we hear «Hardwired», «Welcome home sanitarium», «You must burn», and the rarely heard live «Call of ktulu». During this instrumental a small girl runs onstage, and bursts into tears as Lars picks her up. "Oh Lars makes all the girls cry" laughs James.  Then the monster- track «Wherever I may roam» elicits an enthusiastic roar from the crowd before we are launched into «Moth to a flame». «Battery» brings things to fever pitch, before the Thin Lizzy cover, «Whisky in the jar».
The show closes with «One» and «Enter Sandman» to a huge firework extravaganza. Band members hurl goodies into the crowd, and take turns to thank the happy crowd for this, their 10th appearance in Donington. Once again, after this second performance, the "All Within my Hands Foundation" gave a second £40,000 donation to a local domestic abuse charity "Living Without Abuse". What a fantastic gesture once more.
Sunday, June 11th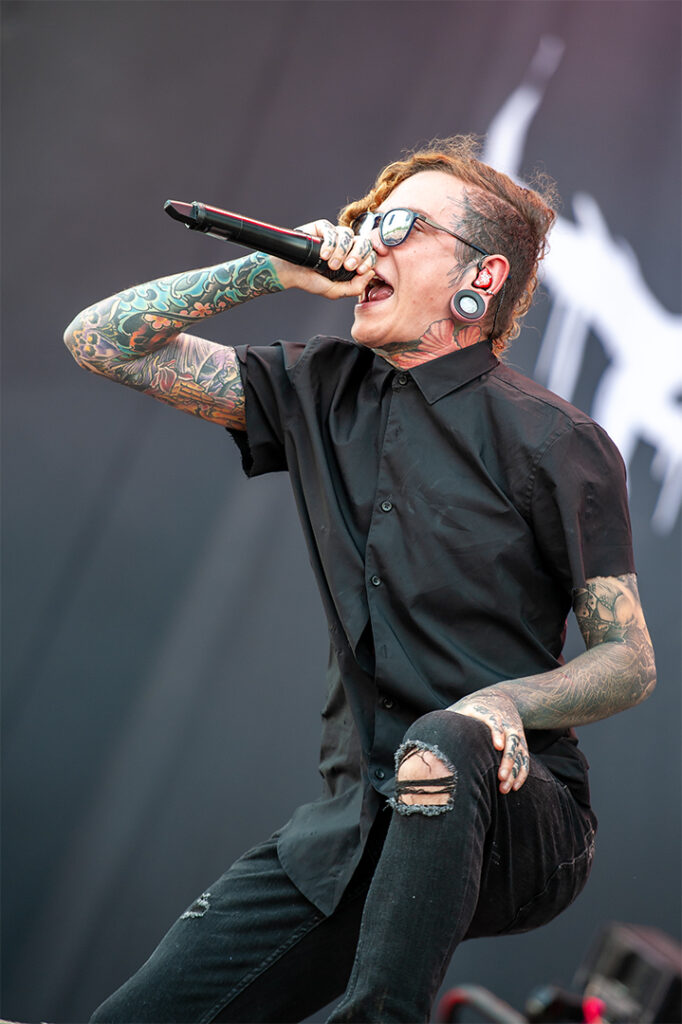 Lorna Shore come onto the Main stage as the hot Sunday afternoon sun beats down and vocalist Will Ramos asks «Download are you ready to lose your mind?». This band is stirring up a lot of interest as guests on the upcoming Parkway drive tour. Ramos introduces «Through the hellfire» and encourages the formation of a pit. Their brand of death-core thrashes about above a foundational melodic substratum. Undoubtedly the heaviest material of the weekend so, take heed this is not for the faint hearted!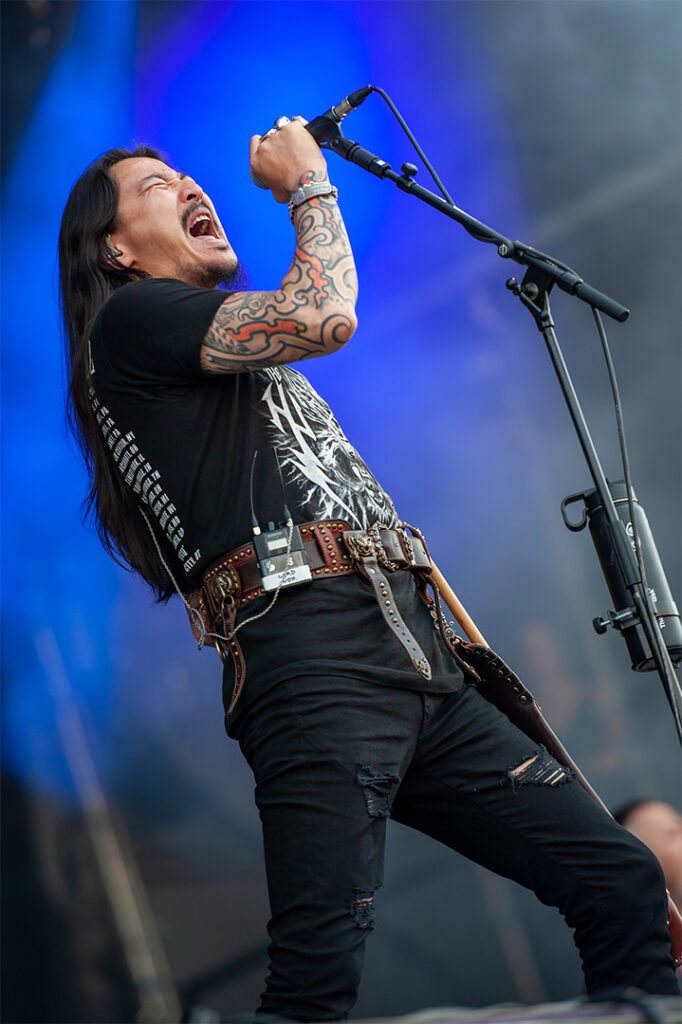 The Hu hail from Mongolia and have a unique style, incorporating traditional Mongolian instruments like the Morin Khuur. Singing is in the ancient Mongolian throat singing style giving the band a unique sound. The band has had a meteoric rise to fame since they exploded onto the scene. Opening with "Black Thunder" a side-winding cover of Metallica's "Sad but true", follows. From their debut album "The Gereg" we hear singles "Yuve Yuve Yu" and "Wolf Totem". Truly a unique experience
The text «I Nomine Igni» which loosely translates «In the name of fire» is printed on the blindfold covering the eyes of a ball-gagged icon on the backdrop. Not ideal weather for a Behemoth show, it is blistering hot. Following a small mishap with the curtain snagging on the gantry the show kicks off. The band in robes and boots stand firm in the blazing heat against a huge amount of flaring pyrotechnics.
Frontman Nergal urges the small crowd to "Move around and jump" without much response due in part to the sweltering heat and perhaps fatigue setting in on day 4 of the festival. Even metal fans get tired! Standout tracks in the set were "The Deathless sun" and "Once upon a pale horse".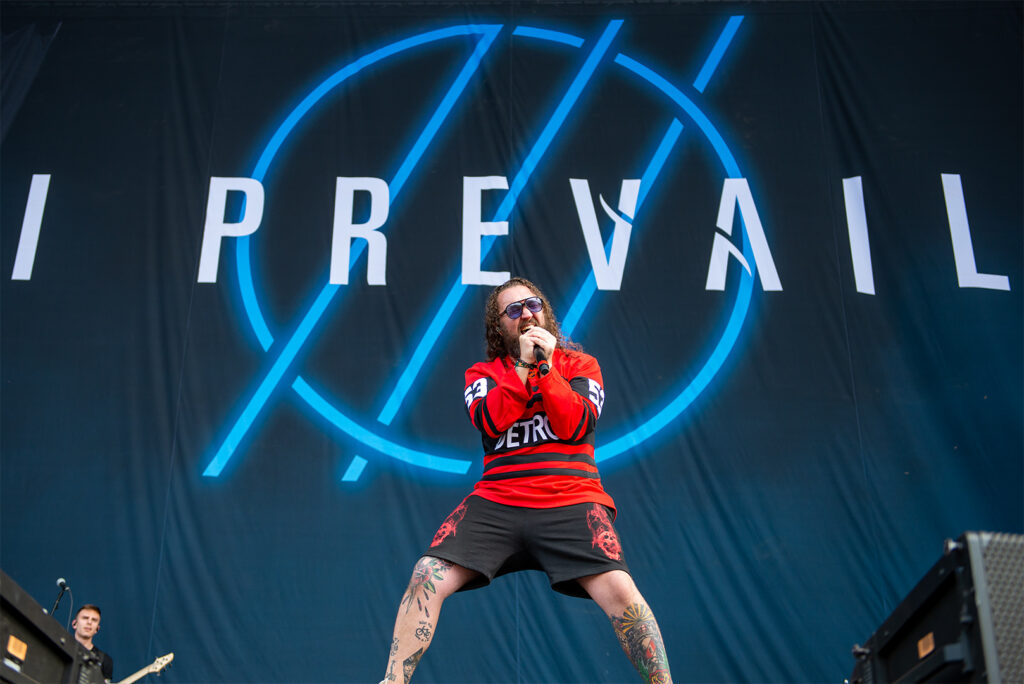 I Prevail formed in Southfield, Michigan in 2013 and have had a fast rise to fame. Collaborators Brian Burkheiser, Eric Vanlerberghe, Steve Menoian, and monster drummer Gabe Helguera have propelled themselves on an upward trajectory, now well placed on the main stage bill for the final day of Download 2023. There is a huge crowd assembled. The song «Breaking down» is played for anyone in a dark spot while Gasoline and Bow Down get the circle pits going. The sound is heavy and bass laden instigating a giant circle pit and resulting dust bowl. The band plays a cover of the System of a Down classic "Chop Suey"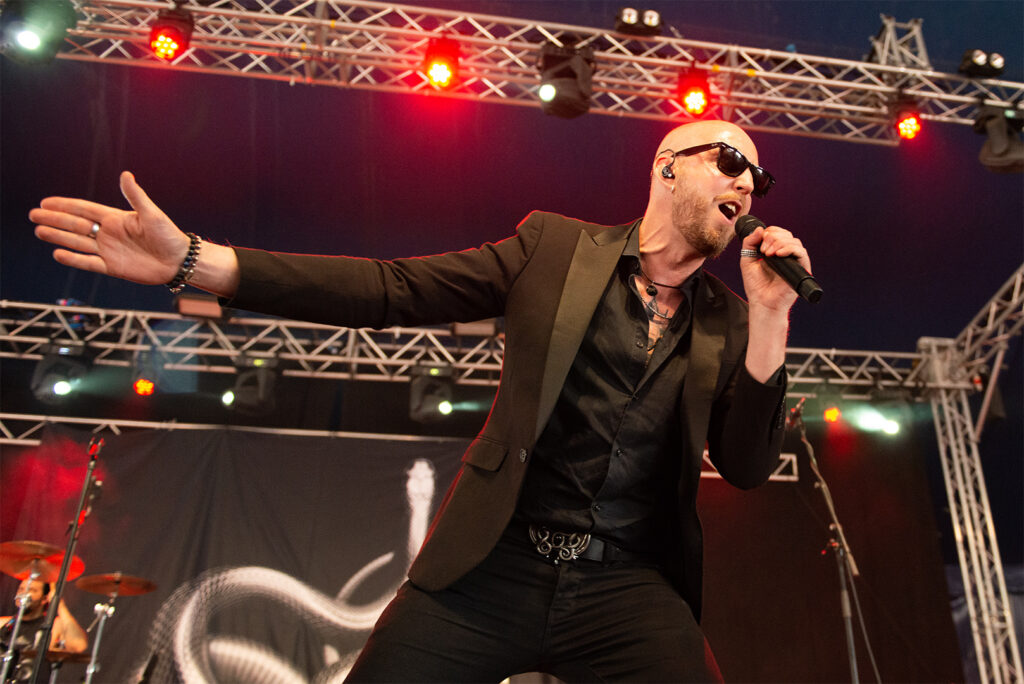 Technical difficulties delay the start of the Soen set in the Dogtooth tent. This Swedish progressive band delivers a stunning performance that is all too short. It is obvious this band enjoy their work but not as much as the amassed throng packed inside the tent today There are moments you can hear a pin drop; such is the devotion of this crown. The short set comprises «Monarch», «Martyrs», «Antagonist» and the beautiful «Lotus». Vocalist Joel Ekelof raises the tempo bouncing around stage and gets a clap-along going. He announces the new album due on Sept 1st and Soen will play London's Shepherd's bush again in September, one for the diary of any serious music fan.
Hailing from Byron Bay, NSW Australia, Parkway Drive formed in 2003 and have 7 albums under their belt. Vocalist Winston McCall takes a wander out into the crowd to say hello up close to fans during "Idols & Anchors". The most recent album «Darker Still» was released in 2022. Today's set is full-on featuring a stunning pyrotechnic laden stage and singles like «The void», «Prey», «Glitch» and the most recent album title track «Darker still». Is there no stopping this band?
Swedish band Ghost headlines the Opus stage this year. As with Evanescence, it seems like a line-up error in that both these bands weren't on the Main stage. The environs of the Opus stage basically struggled to accommodate the huge hordes of eager fans. The band, all clad in black with space age helmets except for vocalist Tobias Forge whose face is painted white deliver a veritable extravaganza featuring tracks like «Rats» and «Spillways» from the 2022 album «Impera». A cover of Genesis «Jesus He Knows Me» is also in the set-list. All told a thoroughly enjoyable show with the stained-glass backdrop providing a bizarre contrast to the pyrotechnics erupting at front of stage. The show finishes with the classic «Square Hammer". Pure theatre and rock/pop hooks!
Slipknot
Cue intro and masks littered in a room on the monitors as smoke billows across site. The uncertainty over whether Shawn "Clown" Crahan would be able to join tonight's party has been clarified and happily he is. The surprise departure of Craig Jones also dealt a body blow to the band. However, none of these uncertainties seem to matter as an invigorated Corey Taylor is on top form. Classics like «The devil and I» and «Psychosocial» litter the set-list and Corey Taylor thanks the Download crowd for this their 5th appearance. Corey admits openly that his voice is tired but none of this seems to matter as the band launch through the mammoth set with tunes like "Liberate", "Yen" and "Purity". We also get the treat of hearing the rare live addition of "Left behind". Tonight's set galvanizes Slipknots place at the table as worthy Download Headliners.
Finally…we have reached the finish line of the Marathon 4-day festival that started off cool, then warmed up to a blistering couple of days in a dustbowl. Thankfully, the threat of Thunderstorms never materialized although local towns had very heavy storms on Saturday evening. The gods of metal must have been on the lookout! Always an enjoyable experience, a place to forget the tedium of normality, meet old friends and make new ones…..Hail Download!
The only question left is next year 3, 4, or 5 days?
Words: Howard Keogh
Photos: Enda Madden