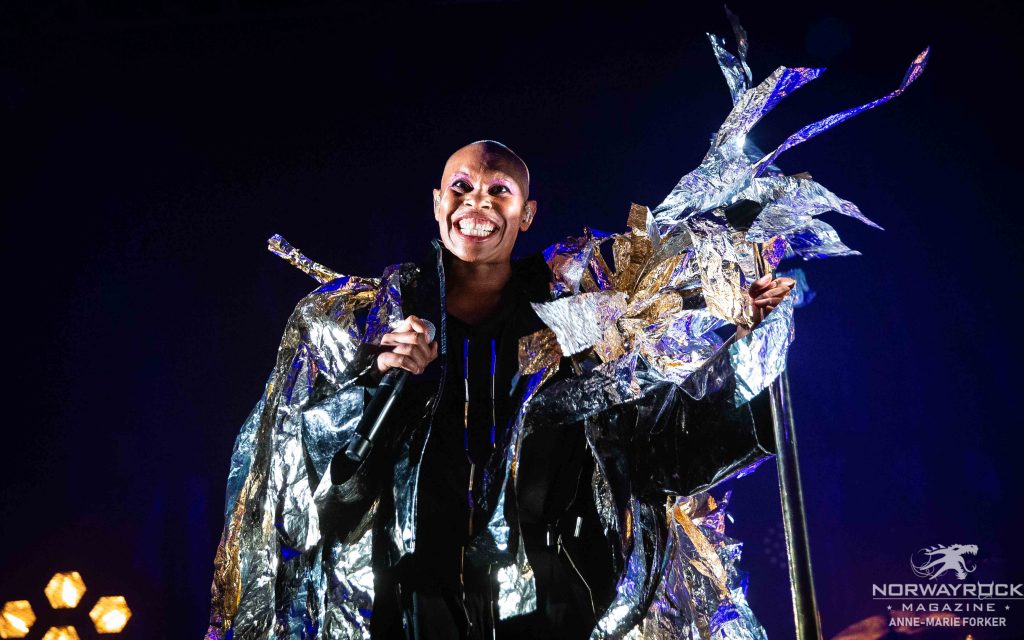 For å feire sitt 25-årsjubileum slapp Skunk Anansie tidligere i år live-skiva «25LIVE@25». Vi tok ved anledning en svipp til England for en prat med vokalist Skin og trommis Mark Richardson bak scena i Brighton Dome om hvordan musikkindustrien har endra seg, tilværelsen i en mosh pit med polakker som banker dritten av hverandre, tips til nye band om hvordan forbli samlet – og en aldri så liten eksklusiv anekdote om Michael Jackson og Nelson Mandela.
Tekst og foto: Anne-Marie Forker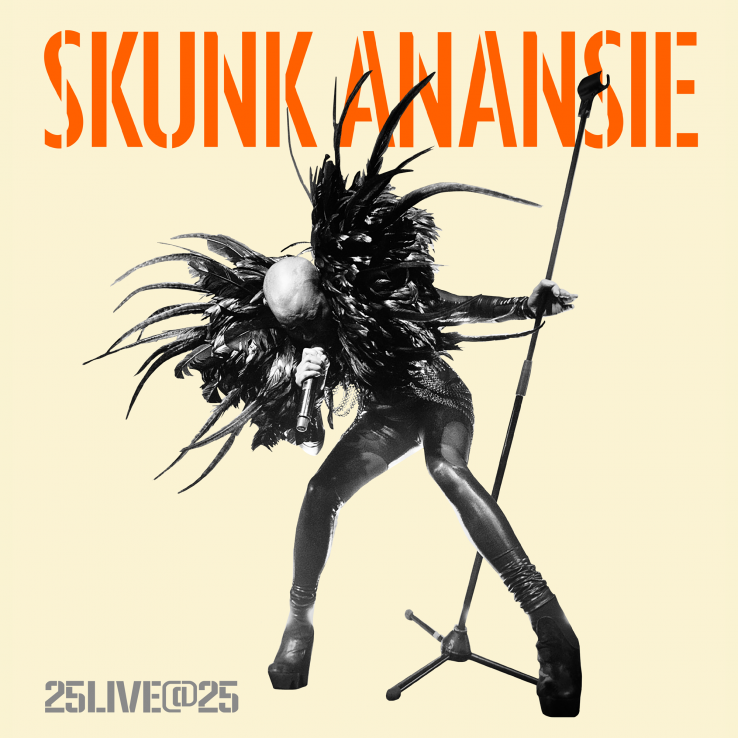 – Første gang jeg så dere, i 1996, åpnet dere showet med «Yes It's Fucking Political» – er dere et politisk band?
(Skin): – Den låta kom ut av at vi ble kritisert for å være akkurat det, noe vi aldri har vært. Vi har politikk i oss, men vi har også masse annen tematikk vi gjerne diskuterer. Det var en kjepp de prøvde å slå oss med, som om det var en negativ ting at vi hadde politiske meninger i musikken vår. Da var det tilsynelatende enkelt å stemple oss som et 'politisk band', skyve oss inn i et hjørne og glemme oss. Vårt svar var da; gjør gjerne det, men vet du hva – alt er politisk! Det er i alt hva vi gjør, alt i dette rommet og overalt ellers er politisk og har en konsekvens noe sted.
– Dere har nå seks album i beltet; hvor vanskelig var det å velge 25 låter til dette live-albumet (som anmeldes her)?
(Skin): – Det var ikke så veldig vanskelig. De første 15-20 sporene kom lett, og de siste fem var litt småvriene. Du må ha alle singlene, ellers blir jo folk sure… Videre er dette i grunnen settlista vi hadde rundt de tider. Vi ville ivareta flyten fra en konsert, så det hele var nøye utmålt, med begynnelse, midtparti og slutt.
(Mark): – «The Skank Heads» kom ikke med – noe som var smått overraskende, i og med at vi spiller den hver kveld. «Brazen» er heller ikke tilgodesett en plass. Dette har litt med kombinasjonen live-show og single-inklusjon.
(Skin): – Det var også låter som ble spilt på den turnéen. Vi hadde ikke live-versjoner av andre låter for hånda, dem måtte vi leite litt for å finne.
– Dere måtte altså dypt i arkivet?
(Mark): – Ta f.eks. «This Is Not a Game», som er fra 2010 og «Wonderlust»-turnéen. Vi begynte å ta opp hvert eneste show fra gjenforeningen av fordi teknologien da lå til rette for det, med unntak av «Black Traffic»-turnéen, der vi hadde en analog miksepult og ikke digital. Vi hadde da en haug av materiale å gå igjennom – for mye – så vi konsentrete mest på låtene fra denne turnéen i stedet.
– Planla dere på forhånd å spille inn én spesifik gig til live-albumet?
(Mark): – Vi planla å spille inn konserter, ja – men aldri noen gang ei live-skive. En dag tenkte vi så: Vi har tatt opp alle show siden 2010 – skal vi ikke bare gjøre en? Haha!
(Skin): – Det hadde vært interessant om vi hadde gjort en på 90-tallet og sammenliknet, fordi nå er vi virkelig gode! Vi var gode også da, men på en litt annen måte. Det ville ha vært flotte øyeblikksbilder.
– Er dere i konstant utvikling?
(Skin): – Vi er virkelig gode hele tida nå. Jeg skryter ikke – vi er det!
(Mark): – Vi er gjennomført stabile!
(Skin): – Ja, hvis du har vært i gamet i 25 år og ikke er gode hver konsert, hva faen har du drivi med? Vi er gjennomgående gode! På 90-tallet var vi derimot ikke det.
(Mark): – Vi har mest lyst til å gi oss sjøl juling hvis vi tror vi har gjort en dårlig gig, men også våre 'dårlige' konserter er faktisk ganske gode.
– Hvordan føles det å lytte til sine egne opptak? Er det fornøyelig, eller dempes opplevelsen av perfeksjonisttendenser?
(Skin): – Jeg liker det i grunnen dårlig fordi jeg er for perfeksjonistisk. Jeg hører igjennom noen ganger for å sjekke enkelte ting, men så leveres det videre til miks. Var det opp til meg, hadde det ikke funnets en feil tone noe sted, og dermed hadde det hele mista greia si.
(Mark): – Jeg elsker det litt uperfekte, for meg er det akkurat det som gjør det til ei live-skive. Jeg digger småfeil!
(Skin): – Jeg liker virkelig skiva og er glad jeg var forutseende nok til å ta et skritt tilbake, slik at jeg hadde minimal inflytelse på fyren som gjorde miksen.
– Småfeilene gjør det jo samtidig også litt mer uforutsigbart..
(Skin): – Ja! det er hva jeg elsker med å spille live! Jeg digger når ting går litt galt – jeg blir opprømt! Bare hold det groovet der mens jeg klatrer opp dette gelendret, eller noe sånt!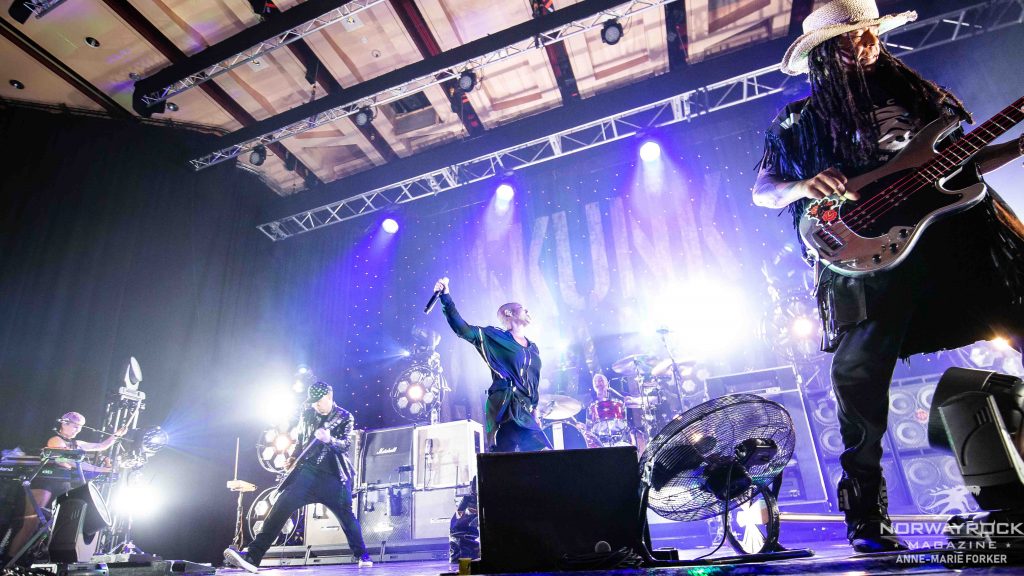 – Àpropos klatring i gelendre; hva er det villeste som har skjedd dere på veien – som dere kan snakke om?!
(Skin): – Sånn framføringsmessig har jeg jo klatra opp og hoppa ned fra en god del balkonger, som på Paradiso i Amsterdam.
(Mark): – Hun er spik spenna.. FORSIKRINGA VÅR DEKKER IKKE SÅNT!
(Skin): – Det var gøy!
(Mark): – Poland Rock var ganske sprøtt. Det var 800.000 folk der, du har aldri sett noe liknende! Det skremte vannet av oss – helt utrolig!
(Skin): – Det som skremte meg var at det ikke fantes sperringer, kun 30 sikkerhetsvakter arm i arm og en femmeters vegg av tre. Det var ingen måte å komme seg ned til publikum, og jeg liker å gjøre akkurat det! Jeg måtte senkes ned, og vaktene omringa meg. Jeg måtte bokstavelig talt klatre opp vaktfjellet og stod på skuldrene deres slik at folk kunne se meg. Det var også en 2000 mann stor mosh pit av polske menn som banka dritten ut av hverandre, men jeg visste at de ville ta vare på meg. Mosh pit-regler; de passer vanligvis på damene. Macho-menn med kvinner rundt seg må passe på dem!
(Mark, med polsk aksent): – 'We don't punch women!' (latter)
– Det er jaggu enda større enn en del av de brasilianske festivalene, som Rock in Rio…
(Skin): – Poland Rock er en gratiskonsert for arbeiderne som en takk for all skatt de må betale, ellerno' sånt..
(Mark): – Det er større. Det styrker helsevesenet ved at alle som donerer får billett til konserten. Det er som åtte Glastonbury-festivaler, og det fører mye godt med seg.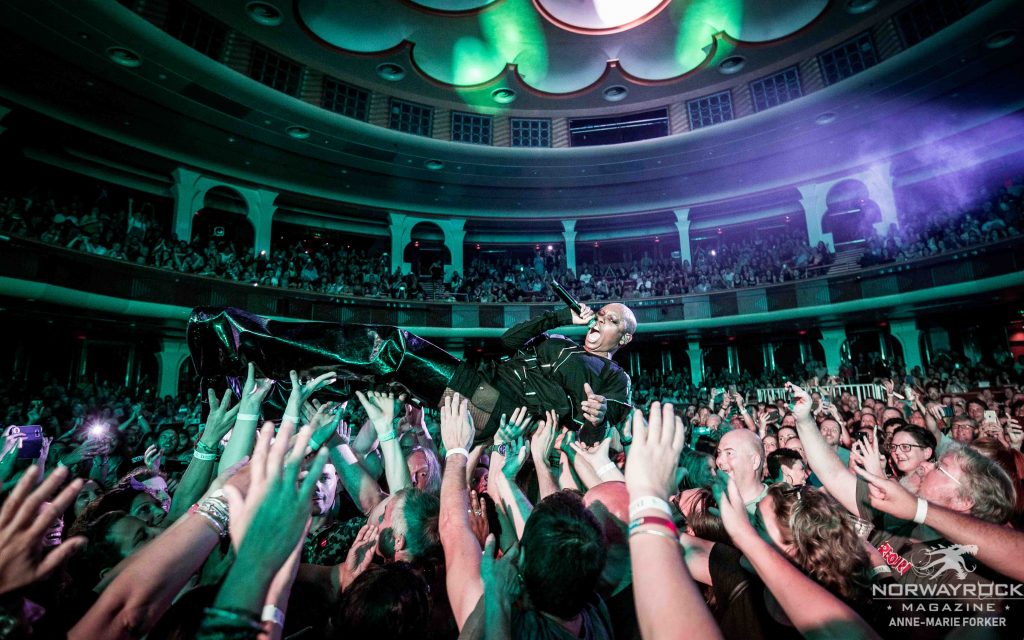 – Skin, jeg leste at du sang bursdagssang for Nelson Mandela, hvordan hadde det seg? Hva er dine minner rundt det?
(Skin): – Vi var det første normale, kredible bandet som spilte i Sør-Afrika etter apartheid. Noen anklagde meg for å ha spilt der under raseskillet, og jeg trudde de kødda med meg. Tror noen virkelig at Skunk Anansie spilte i Sun City?! Vi var ikke engang et band da Nelson Mandela slapp ut av fangenskap i 1990, vi kom sammen i 1994. Jeg vil bare at alle idioter som angriper folk ubegrunnet skal ha det klinkende klart for seg. Etter dette fikk vi en del spørsmål om hvordan det var å spille i Sør-Afrika, hvorpå jeg svarte at du må sørge for å gjøre både sort og hvit presse. Fordi vi var et multikulturelt band i de dager – nå sier man vel heller mangfoldig – ble vi av Mandela invitert til å spille. Vi var svære der nede, og Mandela inviterte oss til en 1000 mann stor middag, som Cass og jeg takket ja til. Der endte jeg opp med å synge «Happy Birthday» for ham, sammen med Stevie Wonder (starter å synge «Happy Birthday to You»), Michael Jackson (brekker seg), Nina Simone og Danny Glover. Litt sprøtt at Glover var der, for i begge filmene jeg har vært med i, har også han hatt roller – det var ganske surrealistisk.
– Wow, litt av en line-up!
(Skin): – Jeg skal fortelle deg også noe annet, som jeg ikke tror jeg har fortalt noen journalister tidligere. Det var stor furore den gang over at Michael Jackson ikke var invitert, grunnet ryktet rundt hans omgang med barn, og Mandela var involvert i en rekke barneveldedighetsprosjekter. Jackson dukket bare opp fordi han ønsket å bygge et nytt Neverland i Afrika og ville ha et bilde med Mandela for å skaffe sponsorer – han bare dukket opp! Navn ble annonsert, med invitasjoner til å komme opp og møte Mandela, og da Stevie Wonders navn ble lest opp, hvisket Cass og jeg fnisende til hverandre: 'Skunk Anansie, haha!'. Så ble vi da lest opp – Oh, shit! – og gikk opp og håndhilste på Mandela med en påfølgende liten samtale før vi stilte oss opp ved hans side. Michael Jacksons navn ble ikke lest opp, men han kom like fullt bare opp. Mandela tok ham ikke i hånda – han gjorde faktisk et lite nummer av å ikke gjøre det – men sa bare: 'Takk for at du kom'. Vi sang bursdagssang, og alt var i grunnen stor stas. Så kom det kameraer på plass, og da stod Jackson ved siden av meg. Det var tre rader med sørafrikansk barnekor mellom oss og Mandela, og Jackson bare dytta dem bryskt til side for å komme seg fram dit – og det var øyeblikket da jeg fikk full avsmak for den fyren. Du hevdet å bry deg om barn, men det gjaldt åpenbart ikke disse barna, gjorde det vel?! Jeg tror ikke på at han var naiv eller barnlig i det hele tatt, han var en fullvoksen mann som ikke kunne oppføre seg. Han brød seg ikke en halv dritt om de unga!
– Et fascinerende innblikk.
(Skin): – Jeg tror ikke jeg har fortalt noen journalist det der tidligere, men det spiller jo liten rolle nå – alle er jo døde..! (latter)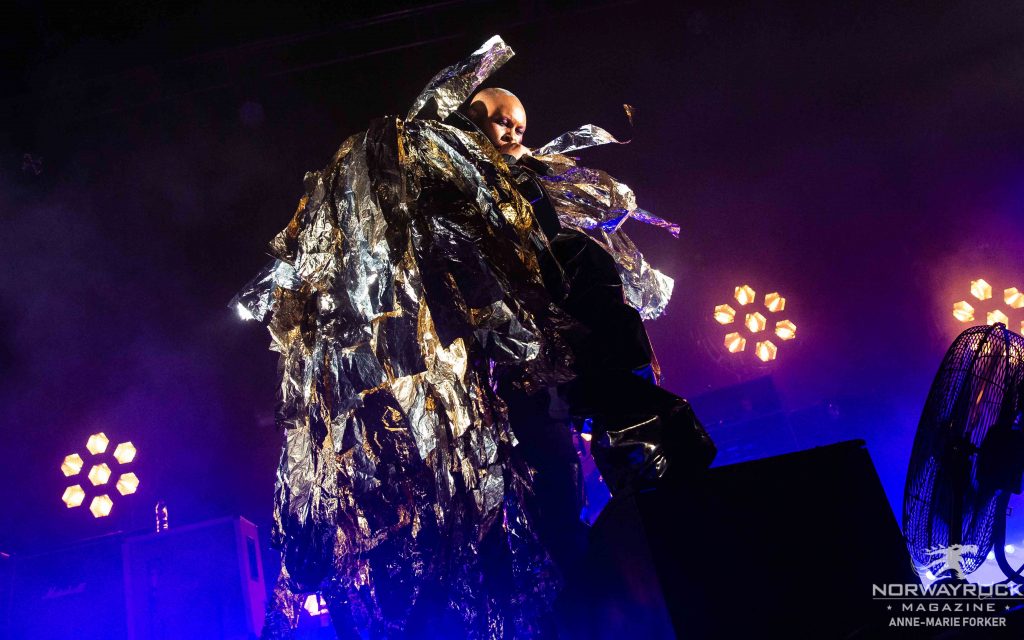 – Takk for at du delte dette med Norway Rock Mag! Noen foreliggende planer om nytt studioalbum snart?
(Mark): – Vi kan ikke snakke om hva som kommer i framtida helt ennå, , men jeg tror vi vil prøve en noe annerledes innfallsvinkel, i og med at bransjen har forandret seg.
(Skin): – Bransjen forandrer seg, og da må også du forandre deg med den. Tidligere var det én suksessfull måte å gi ut plater på…
(Mark): – …og hvis du ikke gjorde det akkurat sånn, så ville det ikke funke.
(Skin): – Graden av suksess var avhengig av hvor mye penger som ble spytta inn, promoaktivitet, bandet, låtene – det var faktorene som var i sving. Nå er det om lag seks forskjellige måter å gi ut plater på. Gamlemåten står ennå, men nå kan du også ha en plate ingen vet om at finnes, og plutselig er den på nettet – og det er der promovirksomheten starter. Du gjør alt i hemmelighet, og så bare slipper du den ut på nett. Det er hva som har foregått de siste tre-fire åra. Det er en litt gammelmodig del av markedet som elsker albumformatet, men hvis vi har lyst til å tiltrekke oss nye fans, tror vi på idéen å slippe singler, som da kanskje kulminerer i et album om to år, eller seks måneder. Som med house-musikk; du slipper ny musikk annenhver uke, og etter tre uker er det 'gammelt nytt'.
(Mark): – Turnemanageren vår, Pete, har bare på denne turen sluppet to EPer. Han driver med drum'n bass, og det er sånn det skjer nå. Folk konsumerer musikk på helt andre måter enn før.
(Skin): – Folk har et lite oppmerksomhetsvindu. Det var også lite kult å ha sponsorer i gamle dager. Nå må du ha det, ellers har du rett og slett ikke penger til å lage skiva di. Så, nå kan du gi ut skiva di sammen med et par joggesko.
– Hvilke råd har du å gi til band som gjerne vil prøve å holde sammen i flere tiår?
(Skin): – Det aller viktigste er personlighet. Det er uhyre viktig å spille i band med folk du virkelig liker, for dere kommer til å måtte tilbringe helvetes mye tid sammen! Dere kommer til å krangle og bli uvenner, men du er nødt til å bry deg nok til å også bli venner igjen. Samtidig trenger du sterke personligheter for å bli store musikere og store låtskrivere. Du trenger ikke nødvendigvis å ha verdens beste gitarist, men du må ha en du kan forme deg etter og vice versa – ikke nødvendigvis klodens feteste solo, fordi fyren kan være et totalt rasshøl.
(Mark): – Jepp, han ville ha holdt i to minutter.
(Skin): – Da blir ikke hver dag moro – og det er akkurat det det skal være! Sørg også for at manageren din har et godt instinkt når det gjelder valg av regnskapsfører, booking-agent og plateselskap. Alt dette er svært viktig. Og, selvsagt; ha jævla bra låter! Prøv også å se dine egne låter utenfra – ikke forelsk deg i dem, men la heller ikke andre fortelle deg at det ikke er bra. Du skal spørre deg sjøl om det virkelig er bra nok, ikke la andre fortelle deg at låta di er drit.
(Mark): – Det er samtidig veldig lett å bli beskyttende overfor sine egne skaperverk. Du trenger å få høre andre si at du klarer bedre!
(Skin): – Jeg pleier å spille en del greier for kompisen min Ashley fordi han er 'Mr. Pop', og han elsker «What You Do for Love» mens han ikke liker noe som helst eksperimentelt eller interessant.. Trikset mitt er å spille ting for folk uten at de vet det er meg.
– Det er smart, ta det personlige og forutintatte ut av likninga!
(Skin): – Jepp, hvis det går over huene deres, da veit jeg at det faktisk egentlig bare er skit! (latter)
– For et langt bandliv sammen er altså personlighet viktig..
(Skin): – Ja, men hvis du vil ha en kort karriere og bli kjempeberømt, da går du til et av fabrikklåtskriverlagene som skriver sanger for en haug forskjellige folk.
(Mark): – Når du så har fått samla laget, må du finne forståelsen for hvordan laget fungerer. Skunk Anansie var opprinnelig et dampdrevet tog i høy fart nedover en bratt bakke, og vi forstod ikke at ting ville begynne å falle fra hverandre. Til slutt stod vi igjen med et skjelett av et band som spurte seg sjøl om hva faen som skjedde. Nå kan vi dra tre måneder på turné og ha en herlig tid sammen, så tar vi en pause. Vi bruker tid på å pønske ut vårt neste trekk, og det er helt greit – det er den måten vi jobber på nå for tida. Vi har den luksusen at vi er har en suksessfull nok historie til å kunne gjøre det sånn.
(Skin): – Det som virkelig også hjelper et band til å kunne leve lenge som artister er rett og slett å være gode live! Folk vil bare komme på konserter om de har en topp framføring i vente med en viss touch av friskhet over seg. Det er en ting vi alltid har hatt i sekken vår; at vi er et glimrende live-band.Du kan bare ikke få den følelsen fra en radio eller å sitte ved datamaskinen din. Du må få ræva opp av stolen, kjøpe en billett og gå og se konserten! En følge av akkurat det er at vi da kan tjene en slump penger som i sin tur gjør at vi fortsette med det vi gjør. Ved et tidspunkt begynte også popartister å gjøre festivaler, og du kunne i grunnen føle forskjellen. De eneste gangene popartister funker er (1) om de er utrolig gode sangere/artister eller (2) har tredve dansere og en enorm jævla produksjon. Vi har fem stykker på scena, et fett lysshow og knall lyd. Det er et helvetes rockeshow! Popartister er derimot avhengige av å ha en svær produksjon for å kompensere for manglende sjel.
(Mark): – Med Skunk Anansie får du en annen dimensjon når du kommer og ser oss spille. Mange band gir deg like mye som å se på et bilde og sette på en CD – det er hele konsertopplevelsen! Fem stykker som stirrer på skotuppene sine mens de spiller ganske brukbart, men med oss får du noe helt annet. Vårt hemmelige våpen er Skin, men resten av oss går også bananas i tillegg.
(Skin): – Shawn Mendes har en lang karriere foran seg. Han har en utrolig stemme, spiller gitar og piano og har glimrende låter. Fansen hans kommer til å vokse seg gamle sammen med ham, og han vil stadig få nye fans hvis han fortsetter å gi ut slike gode låter. Det er kanskje ikke alltid min type musikk, men jeg gjenkjenner varig kvalitet. Justin Bieber – flott stemme, gode låter! Det kommer til å holde en lang karriere, med mindre han imploderer underveis. Det er vanskelig å bli så berømt som så ung.
– Han har en personlighet i stadig utvikling…
(Skin): – Noe jeg har merket meg ved å være berømt i Amerika kontra i England er at i Amerika gir de deg alt mulig og tolererer enhver type oppførsel. Hvis du da ikke er moden nok til å skjønne at disse folka tillater deg å være en drittsekk og forteller deg at det er helt greit, så blir du også en drittsekk. Jeg synes litt synd på ham fordi alle prøver å vri penger ut av ham og presser ham ut på veien. Jeg er glad han nå har satt foten ned og tar seg litt tid til å finne ut hva han vil gjøre som neste trekk.
– Apropos neste trekk; om det blir et nytt album, kommer dere da tilbake til Norge?
(Skin): – Om det blir et nytt album, absolutt!
Først publisert i Norway Rock Magazine #4/2019
IN ENGLISH:
Skunk Anansie – Fresh as Fuck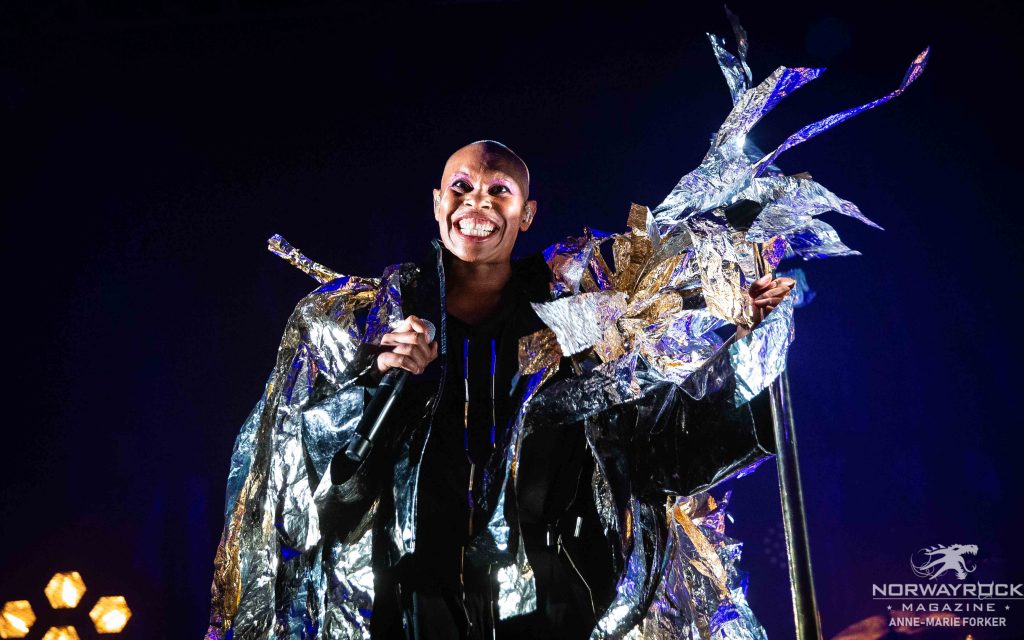 Images & words: Anne-Marie Forker
To celebrate their 25th anniversary, earlier this year Skunk Anansie released their live album, "25LIVE@25". We took a trip to England to speak to Skin and drummer Mark Richardson backstage at Brighton Dome about how the music industry has changed, being in a mosh pit with Polish men "beating the shit" out of each other, tips for new bands on staying together, and an exclusive story about Michael Jackson and Nelson Mandela.
The first time I saw you, back in 1996, you opened the show with "Yes It's Fucking Political". Are you a political band?
Skin: That song came out of being criticised for being a political band, which we had never been. We have politics in us, but we have lots of different topics we discuss. It was a stick that used to beat us with, like it was a negative thing that we had politics in our music. We got labelled as a political band which meant we could be shoved over into a corner and forgotten about. Our response was that you can do that, but you know what – everything's political. It's in everything that we do, literally everything in this room and everything that we do is political and has a consequence somewhere.
You have 6 studio albums now, how difficult was it to choose 25 tracks for the live album?
Skin: It wasn't that difficult. The first 15-20 tracks were easy and the last 5 were a little more tricky. You've got to have all the singles, or people will be upset. It was also the setlist that we were playing live at the time. We wanted it to flow like a live gig, so it was well metered out. It had a beginning, a middle and an end.
Mark: "The Skank Heads" didn't make it, which was surprising as we play it live every day. "Brazen" isn't on there either. It had to do with it being a singles crossover as well as a live show.
Skin: It was also songs that were being played on that tour. We didn't have live versions of other songs. We had to search to find other songs.

So you had to go way back?
Mark: "This Is Not A Game", for example, came from 2010 on the "Wonderlust" tour. We started recording every single show from when we got back together, because the technology was available, apart from the "Black Traffic" tour, because we had an analogue desk on that tour, not a digital one. We had a lot of material to go through – too much – so we mostly thought about the songs on this tour instead.
Did you plan in advance to record a specific gig for the live album?
Mark: We planned to record gigs in advance, but we never planned a live record, ever. One day we thought "We have recorded every concert since 2010, shall we do one?" [laughs].
Skin: It would have been interesting to do a live album in the 90s and then compare it, because now we're really good! Then, we were good but in a different way. It would have been like a snapshot in time.
Are you constantly evolving?
Skin: We are really good all the time now. I'm not bragging. We are.
Mark: We are really consistent.
Skin: Yeah, if you've been around for 25 years and are not good at every gig, then what the fuck have you been doing?! We are consistently good. Back in the 90s, we were not.
Mark: We tend to beat ourselves up if we think we've had a bad show, but our bad gigs are actually pretty good.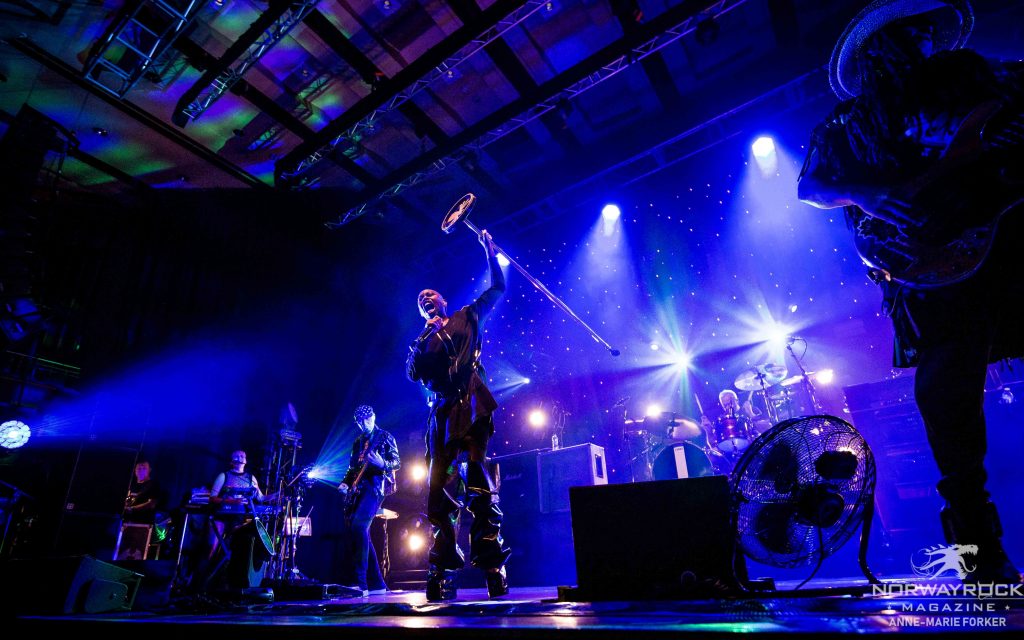 What's it like listening to your own live recordings? Is it a pleasant experience or do you have perfectionist tendencies?Skin: I don't enjoy it because I'm too perfectionistic. I listen to it a few times to check certain things, but then it's given away to be mixed. If it was down to me there wouldn't be a bad note on the record and then it would lose its stuff.
Mark: I love the imperfections, I think that's what makes it a live record. I love mistakes!
Skin: I really like the record and I'm glad I had the foresight to take my hands off it, so I didn't have much influence on the guy mixing it.
The mistakes make it more unpredictable too…
Skin: Yeah! That's what I love about playing live. I love it when things go wrong. I get excited. Just keep that groove going while I climb up a railing or something!
Speaking of climbing up a railing, what's the wildest thing that's happened on tour, that you can talk about?!
Skin: Performance wise, I've climbed up and jumped off lots of balconies, such as at Paradiso in Amsterdam.
Mark: She's a nutcase. OUR INSURANCE DOESN'T COVER THAT!
Skin: That was fun!
Mark: Poland Rock was a bit insane. That was 800,000 people. You've never seen anything like it. It scared us to death. It was unbelievable.
Skin: The thing that scared me was that there was no barrier, just 30 security people with linked arms and a 5 meter wall made of wood. There was no way to get down to the crowd, and I like to get down there! I had to be lowered down, and then security surrounded me. I literally had to climb up the mountain of security and stood on their shoulders so people could see me. There was also a 2,000 person moshpit of Polish men beating the shit out of each other, but I knew they would look after me. Mosh pit rules – they usually look after women. Macho men, when there are women there, have to look after the women.
Mark: [Polish accent] "We don't punch women" [laughs].
That's even bigger than some of the Brazilian festivals, such as Rock in Rio …
Skin: Poland Rock is a free concert held for the workers as a thank you for how much tax they have to pay, or something like that.
Mark: It's bigger. It bolsters the health service. Everyone who donates gets a ticket to go to the concert. It's eight Glastonburys. It does a lot of good.
Skin, I read that you sang Happy Birthday to Nelson Mandela. How did that come about? What are your memories of it?
Skin: We were the first normal, credible rock band to play South Africa after apartheid. Somebody accused me of playing during apartheid and I was like "Are you fucking joking? Do you really think Skunk Anansie played Sun City?!" We were not even a band when Nelson Mandela was let out in 1990. Skunk Anansie got together in 1994. I just want to make that clear for the idiots who want to attack people for no reason. After that, we had a lot of people call us and ask what it was like to play in South Africa. I said you have to make sure you do the black press and the white press. Also, because we were a multicultural band in those days, now we would say "diverse", Nelson Mandela invited us to play. We were massive in South Africa. Mandela invited us to a 1,000 man dinner that Cass and I attended and I ended up singing Happy Birthday to him, along with Stevie Wonder [Skin starts singing "Happy Birthday to ya"], Michael Jackson [Skin pretends to vomit], Nina Simone and Danny Glover. It was weird that Glover was there, as the two films I've been in have also starred Danny Glover. It was surreal.
Wow, quite a line-up!
Skin: I'll tell you something else. I don't think I've told anyone this. There was a big furore at the time because Michael Jackson was not invited because of his reputation with children. Nelson Mandela had lots of children's charities. Michael Jackson just turned up because he wanted to build another Neverland in Africa. He wanted his picture taken next to Mandela so he could use that to get investment. He just turned up! There were announcements being made, inviting people to come up to meet Mandela. "Stevie Wonder" was announced and Cass and I were sniggering and whispering to each other "Skunk Anansie, haha" and then it happened, our name was announced and we were like "Oh shit!". We went up and shook Mandela's hand and had a short conversation and stood next to him. Michael Jackson's name was not announced, but he just walked up and Nelson Mandela did not shake his hand, he just said "thank you for coming". Mandela made a point of not shaking his hand. We were all singing Happy Birthday and it was all great. Then the cameras came up and Michael Jackson was standing next to me. There were three rows of a South African children's choir. Michael Jackson pushed them all aside to stand next to Mandela. That was the moment I went completely off Michael Jackson. You say you care about kids, but you don't care about these kids do you. You just want your picture. He saw his photo opportunity happening. After that he left. That's who he really was. I don't think he was naïve or childlike at all. He was a grown ass man behaving badly. He didn't give a shit about those children.
That's a fascinating insight.
Skin: I don't think I've told a journalist that before but it doesn't matter because everybody's dead! [laughs].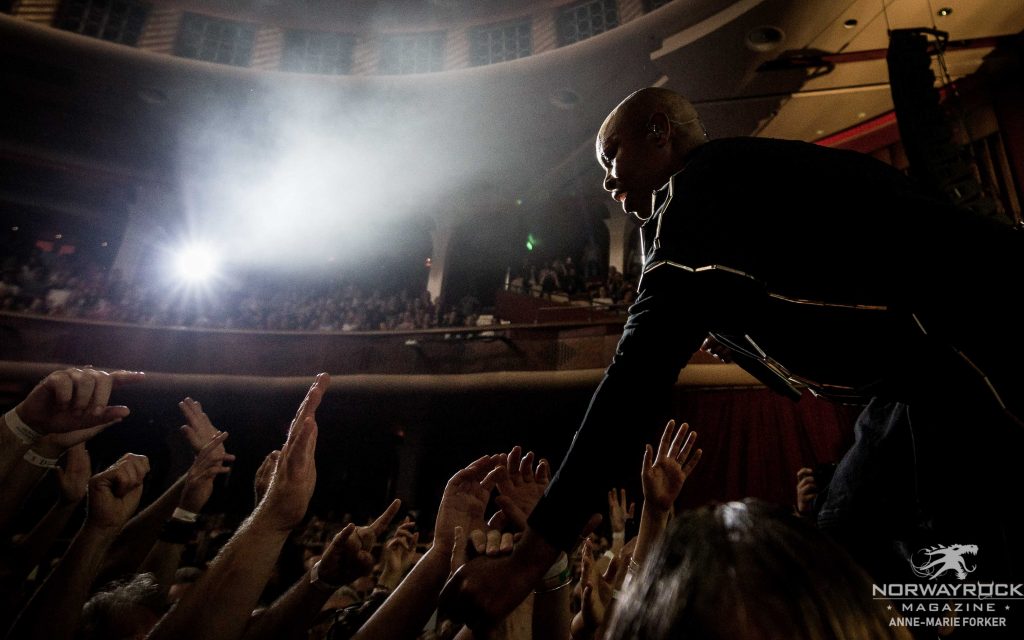 Thanks for telling Norway Rock Magazine! Any plans for a new studio album soon?
Mark: We can't discuss what's coming in the future yet, but I think we will approach it in a slightly different way, because the industry has changed.
Skin: The industry has changed but you change with it. Before, there was one way to release records that was going to be successful.
Mark: And if you didn't do it that way, it wasn't going to work.
Skin: The success depended on how much money was put into it, promotion, the band, the music – those are the things that defined it. Now there are about six different ways you can release records. The original way still stands. But now, you drop a record, nobody knows about it and all of a sudden it's just there online. That's where the promotion starts. So you do everything in secret and then you just drop it. That's happened in the last three or four years. There's an older part of the market that loves an album, but if we want to attract new fans, we like the idea of releasing singles, and maybe that culminates in an album in two years' time or six months' time. Like house music, you put a new record out every two weeks and in three weeks it is old news.
Mark: Our tour manager Pete has dropped two EPs on this tour, he's into drum 'n' bass. That's the way it's going. People are consuming music in an entirely different way.
Skin: People have short attention spans. Also, back in the day, it was really uncool to have sponsorships. Now you have to have sponsorships or you have no money to make a record. So, you can put a record out with a pair of trainers!
What tips do you have for other bands who would like stay together for several decades?
Skin: The most important thing is personalities. It's really important to have people in the band that you really like, because you are going to spend a fuck of a lot of time with them! You're going to have arguments and fall out, but you have to care enough to fall back in. You also need those great personalities to be great musicians and great writers. You don't have to have the greatest guitarist, but someone you can mould and get on with, not necessarily the best solo, because he could be some fucking arsehole!
Mark: Yeah, they would last two minutes!
Skin: Every day is not fun then, it's supposed to be fun. Also make sure your manager has a great instinct for choosing the best accountant, the best live agent and the best record company. All those things are really important. Obviously, have fucking good songs! Look at your songs in an objective way. Don't fall in love with it, and then not listen to other people when they say it isn't good. You should be saying to yourself "Is it good enough?" rather than having someone else tell you your song is shit.
Mark: It's easy to get precious about your creations. You've got to hear someone else say "I know you can do better".
Skin: I play some stuff for my mate Ashley because he is Mr Pop, and he loves "What You Do For Love", but he wouldn't like something that's experimental and interesting. My trick is to play something for people when they don't know it's me.
That's very clever. Take the personality and bias out of it.
Skin: Yeah, if it goes over them I know it's actually shit [laughs].
So for longevity, personality is important…
Skin: Yes, but if you want a short career and be mega-famous, go to one of those management song-writing teams that write songs for lots of different people.
Mark: Also, once you have a team of people together, you've got to understand how that team works. Skunk Anansie was originally a steam train going downhill really fast and we didn't realise that things would start falling apart. Eventually we were left with a skeleton of a band asking "What the fuck happened?" Now, we can go on tour for three months, have a fantastic time, then have a break. We take the time to consider out next move, and that's okay. That's just how we work now. We have the luxury of success to be able to do that. Our hindsight allows us to work in a different way.
Skin: The one thing that will help your longevity as an artist is being good live. People will only come see the shows if it's a good live performance with something fresh about it. One thing we have always had is that we are a brilliant live band. You can't get that experience on the radio or sitting at the computer. You have to get off your arse, buy a ticket and go to the gig. As a consequence we can earn some money and keep going. There was a period when pop bands started doing festivals and you could really feel the difference. The only time pop artists work is (1) if they are an incredible artist / singer or (2) thirty dancers and a huge fucking production. We have five people on stage, we have a great light show, and great sound. That's a fucking rock show! But pop artists have to have a huge production to make up for the fact that the soul is missing.
Mark: With Skunk Anansie you get another dimension when you see us play. A lot of bands, you can look at a picture and put the CD on, and that's your live experience. Five people staring at their shoes and they play alright. But with us you get something else. You get the secret weapon, which is Skin and you get the rest of us going nuts as well.
Skin: Shawn Mendes has a long career ahead of him. He has an incredible voice, plays guitar and piano and has amazing songs. His fans are going to grow old with him and he'll get new fans if he keeps putting out great songs. It's not always my type of music, but I can see the longevity. Justin Bieber – great voice, great songs. That's going to last him his whole career if he doesn't implode. It's difficult when you're so famous so young.
He's still developing his personality…
Skin: The thing I noticed about being famous in America compared to being famous in England, is that in America they give you everything you want and condone every behaviour. So, if you're not mature enough to realise these people are letting you behave like an arsehole and telling you it's fine, you will actually turn into an arsehole. I feel sorry for him because everyone is making money off him and making him go on tour. I'm glad he has said "No" and taken the time to work out what he wants to do next.
Originally published in Norway Rock Magazine #4/2019