Thursday, 21 October 2022
Continuing their prolific run, Motorpsycho were back once again on the stage at Sentrum Scene, this time in support of their latest album, «Kingdom of Oblivion». With Motorpsycho, it is certainly prima la musica, not prima la parola, with all of the chosen pieces having a strong instrumental component, giving the band chances to demonstrate their hallmark strong ensemble playing in a show decorated with simple lighting and occasional visuals (including World War 2 footage and excerpts from Norman McLaren's «Pas de Deux»). However, both bassist/multi-instrumentalist Bent Sæther and lead guitarist Hans Magnus «Snah» Ryan took turns on vocals, with Sæther's high, reedy style, more evocative of their 1970s influences, taking the lead.
Starting with «Hell 1-3», from «Still Life with Eggplant», they set the tone for the show, which showcased the style of much of their recent music, particularly the work on the Gullvåg trilogy – dark, intense, high-energy riff-driven music with strong simple vocal lines. The band continued into «The Transmutation of Cosmoctopus Lurker» from the new album, giving the audience time to catch their breath in the ambient opening section before the track caught fire. Next was «The Crucible» which gave the band the first of many opportunities to show off their timing, that for all their progressive qualities, they are also a really tight live band.  Ryan had his first stand-out solo here, dueting with their touring guitarist, but saving his most powerful contribution for later on, in «Little Lucid Moments». There were passages which had a more improvised or chaotic feel, like in «Starhammer» from 2010 «Heavy Metal Fruit», or the central passage in «Little Lucid Moments», which gave drummer Tomas Järmyr his chance to show off. Then again, his stamina alone is grounds for praise, in such an up-tempo set. However, for the undersigned, his shuffle playing on «Lacuna/Sunrise» was an absolute joy.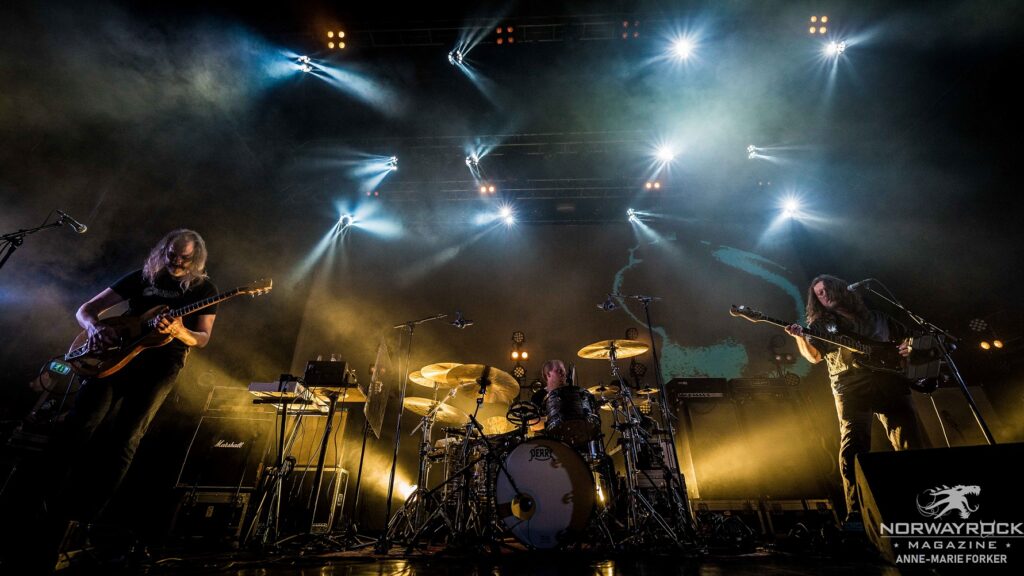 For the hard core fan, it was a kind of Greatest Hits set, as you could tell from the crowd's reaction at the end of each piece; for the uninitated, it was like a sampler, an induction. With such a long catalogue behind them, it's no surprise that they can play a set which picks highlights from their entire oeuvre. The show contained tracks from eleven albums, with only two from the album which is the subject of the tour. It concluded with the epic «The Wheel» from «Timothy's Monster», a dense, dynamic piece which grinds to an exhausting conclusion, building and building to a deafening false climax before the reprise of the main melody. There was an ovation, half the seated crowd upstairs on their feet, and then a charge for the exit. However, those who opted to leave may have missed the best part. After a brief pause, the band came back on, understated as they had been throughout the show, saying little between songs except to thank the crowd. The extra number was «Fool's Gold» from their 1996 album «Blissard». Of all Ryan's solos in the show, this was the most lyrical and haunting. Sæther also saved this moment to stand out, with a melodic bass solo which drew the concert to a close. They had saved the most subtle and dynamic piece of the evening till last, after almost three hours of intense musical experience, finally fading to nothing like distant bells on wind. Astonishing. 5/6
Text: Alex Maines
Foto: Anne-Marie Forker