Wednesday 23 August
Fresh from stints at European festivals, including a headline set at Bloodstock, Killswitch Engage came to Rockefeller in Oslo on the continuing tour for their acclaimed 2019 record «Atonement». They were last here in 2019 touring the same record – they have been regular visitors since they came to John Dee in 2002. With a Grammy nomination behind them and eight studio albums from which to draw their material, they have become a force to be reckoned with since then, a leader in their genre, even if they themselves aren't sold on the «metalcore» tag.
They opened with «My Curse», showing they meant business and setting the tone for a high-paced, high-powered set which hardly paused for breath, with songs almost flowing into each other. The band were well-drilled and the ensemble performance was excellent, particularly given the relentless nature of the show. Although the tour is ostensibly in support of «Atonement», what they brought to the stage was a hit parade, a best of the best from their long career. You could say that they had chosen crowd pleasers, but the band were among friends. The crowd joined in, not just on the choruses, from early in the set. After the opener, which had a hundred hands in the air, «Rise Inside» went down a storm. «In Due Time» also had the crowd in strong voice, as they were all the way to the end for «The End of Heartache» and «My Last Serenade». «Every time we come here, I see so much emotion in people's faces. Thanks for connecting with the music» said lead vocalist Jesse Leach.
Leach put in quite a performance. The only time he stopped moving was towards the end of the sent, during «Rose of Sharyn», when he sat on the edge of the stage and took in the atmosphere while the crowd sang.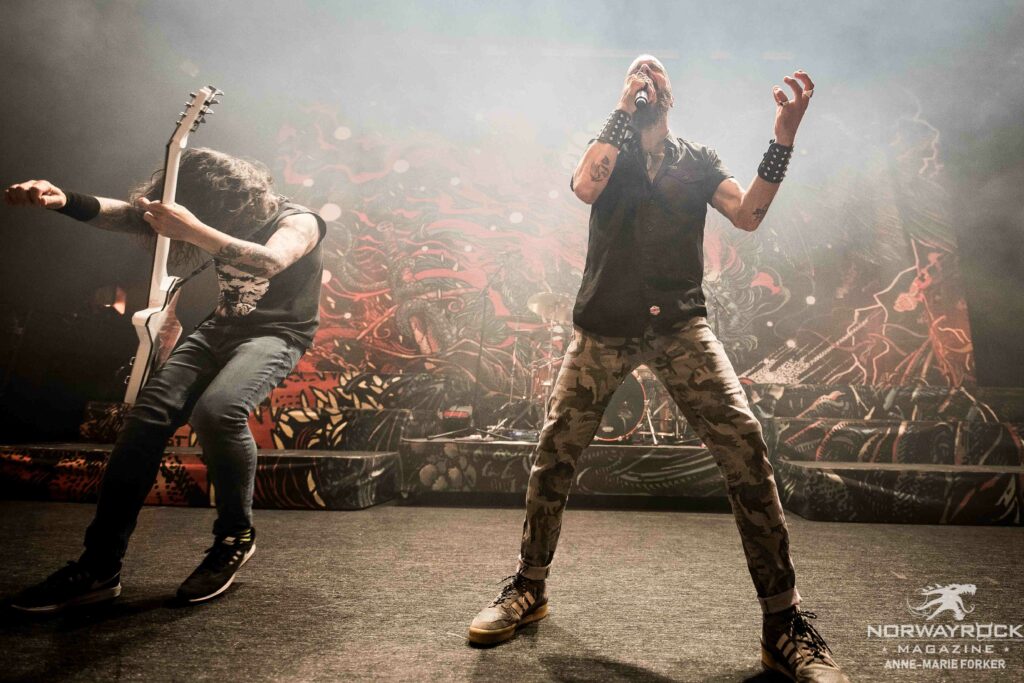 The delivery was intense and serious, and there was a strong connection with the audience throughout. Leach called on the people there to «give a thought for people who suffer from depression and anxiety» and encouraged suffers to talk to their friends and family about their troubles, before leading into «The Arms of Sorrow» from «As Daylight Dies». This is metal music with a serious edge, with something to say, delivered with punch, rage almost, on themes of autonomy, discrimination, and self determination to name but a few. «The Signal Fire», which was recorded as a duet between Leach and his forebear Howard Jones, was one of these, which Leach said was about «love, unity, acceptance». He said he wanted to feel some love in the room – there was no doubt that he got it.
Adam Dutkiewicz on lead guitar cut as understated a figure as anyone can in a band with this fierce style of music, but he had a couple of strong solos, on «Hate by Design» and «In Due Time» with plenty of fret tapping and tremolo picking to keep the guitar aficionados happy.
In a set which was a deliberate attempt to showcase the band's very best writing – and for all the right reasons, because it was a choice to communicate with, to address their audience – the only possible wrinkle was the omission of their cover of Dio's «Holy Diver» from «As Daylight Dies», especially as they had played a good selection of tracks from that record. «Thanks for coming out, I'm sure you've all got to be up early for work tomorrow… We really appreciate it… we can't do this shit without you!» said Leach. It had been a very well delivered and equally well received set. From where the undersigned was standing, the band and audience would have happily kept going until Thursday morning. 4/6
Text: Alex Maines
Photography: Anne-Marie Forker