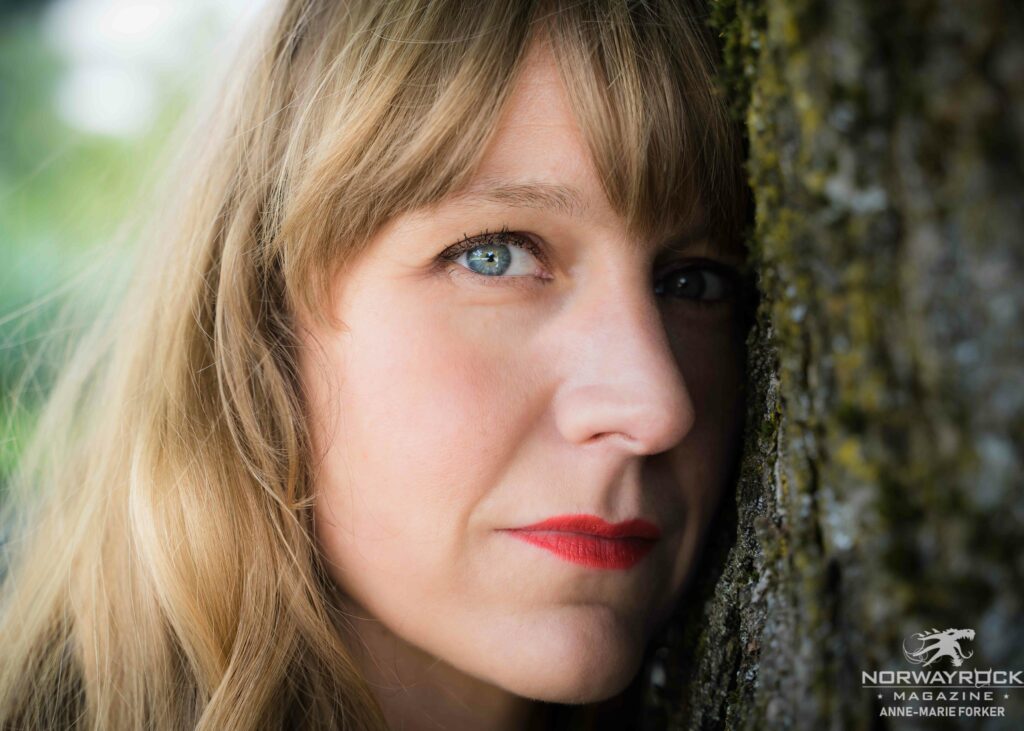 Etter fem skiver med sin jazzrock-trio har nå gitarist og komponist Hedvig Mollestad gitt ut sitt første soloalbum, "Ekhidna", som henter tittelen fra et vesen fra gresk mytologi som er halvt kvinne og halvt slange. Vi tok en kaffe med Hedvig utenfor Munch-muséet en fin sommerdag og snakket om den nye skiva, læreren som satte henne fri musikalsk, og hennes elsk for Black Sabbath.
Tekst og foto: Anne-Marie Forker
– Du er en av få artister som har klart å avholde en konsert i løpet av juni. Hvordan har Coronaviruset påvirket karrieren din de siste månedene?
– Jeg har faktisk gjort tre konserter – to på Blå i Oslo, og en på Mandal Jazz Festival. Når det gjelder reising, spilling, inntekt og konserter er jeg ikke så rammet som mange andre, fordi jeg har jobbet med et bestillingsverk for Moldejazz. Denne tiden skulle jeg uansett bruke på å komponere og forberede utgivelsen av "Ekhidna". Skiva var ferdig i februar. Det har selvsagt vært kanselleringer, deriblant Kongsberg Jazzfestival, hvor jeg skulle ha spilt med trioen (Hedvig Mollestad Trio), og med mange andre musikere på et helt nytt prosjekt, som nå har blitt utsatt.
– "Ekhidna" er ditt første soloalbum, selv om du allerede har gitt ut mange skiver med Hedvig Mollestad Trio. Hvorfor nå?
– Etter at jeg ble mor, særlig etter andre gang, har jeg ønsket å jobbe med å dytte musikken fremover, uten å nødvendigvis turnere hele tiden. Jeg har hatt stor glede av å lage, spille og produsere musikk. Den høsten jeg fikk mitt andre barn, lagde jeg et solostykke for kunstneren Ørnulf Opdahl i Ålesund, som ble til et verk for en kvartett på Kongsberg Jazzfestival året etterpå. Planen var å spille det inn, men samme år, i 2018, fikk jeg en ny bestilling på et verk for min egen hjemby Ålesund, og det var viktigere. Det var for Kulturhusets 20-årsjubileum. Det endte opp å bli et stykke for en oktett, med blåsere, og det krevde mye innsats. Dette spilte jeg inn i september 2019, mens jeg parallelt jobbet med "Ekhidna". Premieren skulle vært på Kongberg Jazzfestival i år. Det skulle vært i dag, faktisk!
– Og istedet sitter du her med Norway Rock Magazine!
– Haha, ja, det er en minneverdig dag!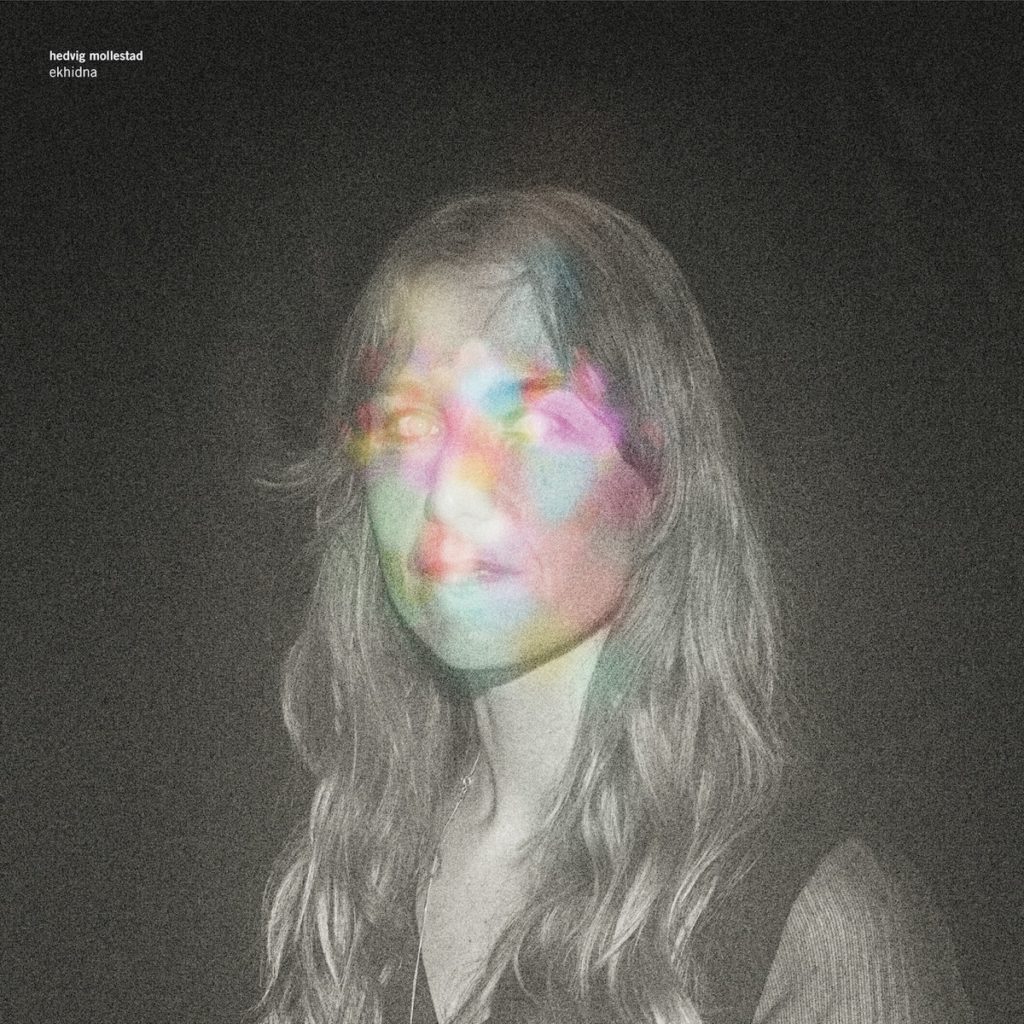 – Ekhidna er en skapning fra gresk mytology; halvt kvinne og halvt slange. Hvorfor valgte du den tittelen?
– Jeg jobber med instrumentalmusikk. Jeg kunne ha kalt stykkene for "X 23" eller "P 47", men jeg har alltid likt titlene på sanger, malerier eller bøker. Dette er første skritt inn i verden og hvordan den kunsten skal presenteres. Jeg synes det er gøy å jobbe med poetiske titler som for meg setter en tematisk palett og jeg kan inkludere mine personlige inspirasjoner uten å konkretisere det for lytterne. Jeg vil at hver enkelt lytter skal kunne oppfatte det på sin egen måte. Det er hva som er magisk med kunst. Med en gang den forlater meg, er det opp til hver enkelt hvordan de oppfatter den. Og det samme gjelder meg, for måten jeg oppfatter f.eks. en roman av Hemingway. Selv om han var en ganske så anti-feministisk forfatter, så rører han meg med måten han til og med beskriver grusomheter på. Jeg gir blanke i hvordan hn vil huskes i ettertid fordi det var min opplevelse, og den kan ingen ta fra meg. Det samme gjelder for musikken jeg lager. Jeg har tenkt en god del på dette, fordi vi har flere ganger spilt i fengsler, for folk som har gjort forferdelige ting. Vi snakket om hvorvidt musikk kun er for enkelte mennesker og ikke for andre. Hva vet vi egentlig om menneskene som kommer til konsertene vår? Hva har de gjort? Du kan ikke styre hva slags publikum som hører på musikken di, eller hvem musikken din er for. Tittelen "Ekhidna" betyr selvsagt noe konkret og spesielt for meg, noe som jeg kan jobbe ut ifra. Samtidig vil jeg at folk skal undres over hva det representerer og ikke være påvirket av hva jeg har sagt jeg har lagt i det emosjonelt eller tematisk. Jeg lette etter ord eller uttrykk fra fortiden, for om jeg valgte noe fra samtiden kan det ofte oppfattes som en politisk eller moralsk ytring. Og det kan begrense kunstens makt, fordi den er kraftfull i seg selv. Jeg så etter et uhyre. Barna mine var veldig opptatt av uhyrer og drager, og det er selvsagt mange uhyrer i kunsten. De kan være både vakre og skremmende. Ekhidna var et mytologisk vesen fra antikkens Hellas som var alle uhyrers mor, og som var halvt kvinne og halvt slange. Hun var visstnok udødelig, men hun nå døde til slutt. Jeg fant ut at jeg kunne bruke tosidige temaer i henne, men dette er ikke et konseptalbum. Vi har et klimaproblem, hvor vi er ute av stand til å realisere den beste livsstilen for oss selv, og på den måten graver vi vår egen grav. Jeg utforkser også dualitet, eller tosidighet, i et annet bestillingsverk, "Maternity Beat", som handler om å være en ambisiøs musiker og samtidig en ambisiøs mor. Og det er en konfliktfylt situasjon. Jeg har alltid vært en turnerende musiker som har ønsket å fremme musikken, men det viktigste er å være tilstede for dine barn, både mentalt og fysisk. All denne konflikten endte opp i "Ekhidna".
– Bandet på skiva er en sekstett, i motsetning til din vante trio. Endret det måten du komponerte musikken på?
– Ja, definitivt. Jeg har jo jobbet mye med trioen, og med bassgitaren – jeg elsker virkelig det instrumentet! Og bassen er jo også nært relatert til den elektriske gitaren. Men da jeg skulle gjøre dette bestillingsverket ville jeg bringe musikken fremover uten å ha de velkjente instrumentene rundt meg. Keyboards kan gi meg bass, men de kan også gi meg en helt annen horisont å jobbe i. Jeg kunne bruke mindre tid på å fokusere på harmoniene, og legge mer vekt på det rytmiske. Det er også mulig å endre fokus når du spiller. Dette er musikk som jeg kunne ha gjort med trioen, men det er flyttet til et annet format. Det er ikke to trommiser, men en trommis og en perkusjonist, fordi jeg ville ha mer enn bare lyden av slagverket. Jeg ville også ha lyden av at vi slår på andre ting, haha. Keyboardistene har helt andre innfallvinkler på låtene enn det jeg hadde opprinnelig. Det var viktig å holde volumet på et kontrollert nivå, og ta litt pulsen på jazzrockens historie, så derfor fikk jeg med en trompetist. Min far spilte trompet, og jeg er sterkt påvirket av mange gitar og trompet-kombinasjoner, som for eksempel Terje Rypdal og Palle Mikkelborg. Jeg ville ikke ha en shredder, heller en som kunne fargelegge lydbildet, en litt mer tenkende person. Susana [Santos Silva] var perfekt for den jobben, hun liker å skape rom og lyder. Det, kombinert med tunge gitarriff, og ikke for mange akkordskifter utgjorde et meget bra sluttprodukt. Det var også givende for oss å jobbe med noen fra utenfor Norges grenser, og Susana er portugisisk. Hun har spilt mye i Norge og Sverige, og viste seg å være det perfekte tilskuddet, og det er veldig inspirerende å ha henne ombord. Hun kommer til å gjøre et par konserter i Norge med dette prosjektet.
– Gleder meg til å oppleve det! Andresporet på skiva, "A Stone's Throw"og tittelsporet er absolutte kandidater til tittelen Årets Riff. Er du fan av gammel Black Sabbath, Hendrix og Jeff Beck?
– Haha, takk skal du ha! Og ja, definitivt! Både Jeff Beck og Black Sabbath har hatt stor innflytelse på meg. Noen har nevnt andre gitarister når vi snakker om det riffet, som Ritchie Blackmore og Ted Nugent. Jeg har ikke hørt så mye på noen av de, men jeg har hørt mye på Jeff Beck! Han er så utrolig kreativ som alltid har gått målbevisst i sin egen retning. Han låter veldig annerledes n enn da han startet på 60-tallet, eller på 70-tallet. Det er veldig inspirerende hvordan både han og John McLaughlin har holdt det gående tiår etter tiår uten å miste integriteten sin. De bare koser seg med musikken. Beck er veldig engasjerende, men Black Sabbath har vært monumentale og banebrytende. Jeg ble Black Sabbath-fan ganske sent, da jeg var i midten av tyveårene, fordi jeg hørte nesten bare på jazz. Men derifra var det ingen vei tilbake. Jeg elsker gammel Sabbath, spesielt debuten, men det er vanskelig å plukke en favorittskive med de.
– Hvem inspirerte deg til å begynne å spille gitar?
– Det er familierelatert. Jeg begynte på min mors gitar. Hun jobbet med funksjonshemmede barn og hadde mange instrumenter tilgjengelig. Jeg bare plukket på gitaren på egen hånd i starten. Jeg husker at jeg spilte for noen venner hjemme, vi bare samlet oss og spilte sanger så godt vi kunne. Etterpå spurte min mor om jeg ikke ville ta gitartimer og lære meg å spille.
– Apropos læring, du har gått på Norges Musikkhøgskole. Lærte du noe der som du fortsatt har nytte av?
– Musikkhøgskolen har to linjer du kan velge i. Enten som musikkpedagog, eller som musiker. Og jeg tok den pedagogiske linja. Da jeg begynte utdannelsen der, hadde jeg masse fritid til å spille og øve sammen med andre. Men i ettertid skulle jeg ønske at jeg tok musikerlinja. Jon Eberson var læreren min i to år, og hans datter [Marte Eberson] er nå i "Ekhidna"-bandet. Hvis det ikke var for ham, vet jeg ikke om jeg kunne frigjort tanken på at jeg kunne bli en musiker. Han var veldig viktig for meg. Den fraseringen han hadde i sitt melodiske gitarspill var nærmest verbalt. Jeg elsket det, og vi var samstemte i det meste. Da jeg møtte Jon var jeg klar for å legge mye mer lidenskap i mitt eget gitarspill, så det var et lykketreff til rett tid. Jeg føler at han satte meg fri som musiker. Han lærte meg veldig mye, spillemessig – Husk å puste, la det være rom i musikken, for ellers er det som gitarist lett å fortsette soloen i det uendelige. Det blir som å snakke uten stopp. Han kunne skrike "Stopp!" og "Start!" til meg! Det var virkelig morsomt, og jeg lærte så mye. Senere spilte jeg i bandet hans, og det anser jeg som et stort privilegium.
– Hvis du kunne spilt en konsert med en annen artist, død eller levende, hvem ville du valgt?
– Aj, den er vanskelig! Jeg skulle veldig gjerne spilt sammen med trommisen Justin Brown. Jeg tror det du får det største kicket av, er ikke å spille med dine største helter. Nå har jeg lyst til å si noe ellevilt her! Jeg hørte et band på en festival forrige helg, den første festivalen i Norge på månedsvis. Det var med en kvartett ved navn Mall Girl. Alle i bandet var i 20-årene, og virkelig sultne, energiske, kreative og dyktige. Så svaret er, jeg skulle gjerne spilt med Mall Girl, haha!
Først publisert i Norway Rock Magazine #3/2020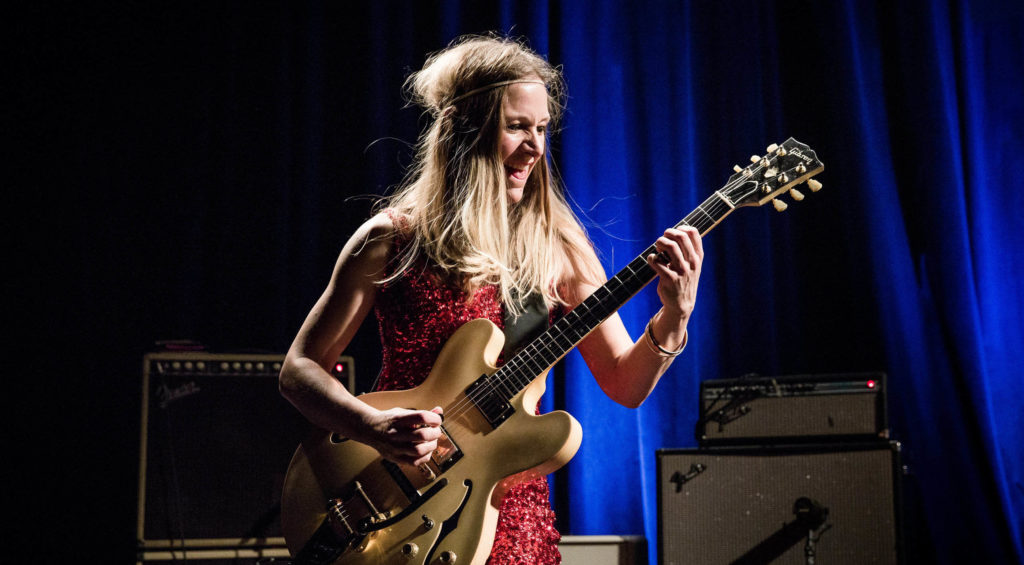 And now for something completely similar – the same bloody thing, just in English!
Norwegian jazz rock guitarist and composer Hedvig Mollestad has released her first solo album, "Ekhidna", which takes its name from the half-woman, half-snake creature of Greek mythology. We spoke to the artist herself on a summer day outside Munch Museum about the new album, the teacher who freed her musically, and her love of Black Sabbath.
You are one of the few artists who managed to have a concert in June. How has the coronavirus impacted on your work?
I actually had 3 concerts. I had 2 at Blå in Oslo, and 1 at Mandal Jazz Festival. When it comes to travelling, playing, income and concerts, I wasn't too affected because I'm working on a commissioned piece for Moldejazz, so this period for me was planned to be spent composing and preparing the release of "Ekhidna". That was finished in February. Of course, there have been some cancellations, the biggest one being Kongsberg Jazzfestival, where I was supposed to play with the Trio (Hedvig Mollestad Trio) and a lot of other musicians on an entirely new project. That has now been postponed.

Ekhidna is your first solo album, although you already have a large catalogue of work. Why now?
After I became a mother, especially after the second time, I wanted to work more with pushing music forward, without necessarily touring all the time. I found a lot of joy in making, playing and producing music. In the autumn when I had my second child, I made a solo piece for a painter (Ørnulf Opdahl) in Ålesund that turned into a quartet piece at Kongsberg Jazzfestival the following year. I was intending to record that, but I got another commission from my home town, the same year, in 2018, which was even bigger. It was for the culture house's 20th anniversary. It was an eight piece band with horn players, which was a lot of work. I recorded that in September 2019. I worked on "Ekhidna" parallel to that. The release concert was supposed to be at Kongberg Jazzfestival this year. It was supposed to be today, actually!
But you are here with Norway Rock Magazine instead!

[Laughs] It is a memorable day!
Ekhidna is a figure from Greek mythology; half woman, half snake. Why did you choose that title for the album?
I'm working with instrumental music. I could have called my pieces "X 23" or "P 47", but I have always enjoyed the titles of songs, paintings or books. That's the first entry into the world and how that art will be presented. I think it's fun to work with poetic titles that, for me, set a thematic palate and I can put my own private inspirations into it without nailing it down for the audience. I want the perception to be free for whoever listens to it. That's the magic of art. Once it leaves me, it's free for everyone to keep as they want. That goes for me too, for example, in the way I interpret the atmosphere in a book by Hemmingway. Even though he was quite an anti-feminist author, the way he describes even the horrible things touched me. I don't care how history will remember him because that was my experience and no one can take that away from me. That goes also for the music that I make. I've been thinking about this a lot because we played in a couple of jails, where people had done severe things. We talked about whether music is only for some and not others. What do we know about people coming to our concerts? What have they done? You can't control what kind of audience listens to your music, or who your music is for. The title "Ekhidna" of course means something concrete and special to me, which I can work from. However, I also want people to wonder what it means and not have to be effected by what I have said I have put into it emotionally or thematically. I wanted to look into the past for words or expressions because if I choose things that are very present they are often taking a moral or political stance. That can decrease the power of art because it is powerful in itself. I was looking for a monster. My children were into monsters and dragons and of course there are many monsters in the arts. They are beautiful and frightening. Ekhidna is a mythological creature from Ancient Greece who is the mother of all monsters, half woman, half snake. She was supposed to be immortal but she eventually died. I found I could put dualistic themes into her, but it's not a concept album. There is a climatic problem, where we are not able to realise our best way of life, and in doing that we are creating our own grave. I'm also exploring dualism in another commissioned work "Maternity Beat" which is about being an ambitious musician and composer but also an ambitious mother. It's a conflict thing. I've always been a touring musician and wanted to bring the music forward but being present is the most important thing for your children, mentally and physically. All that conflict became "Ekhidna".
Your band on the album is a sextet, rather than your usual Trio. Did that change your approach to composing the music?
Absolutely. I've been working a lot with the Trio and the bass guitar. I love that instrument so much! It's also closely related to the electric guitar. But when I was going to do the commissioned work I really wanted to push the music forward without having the familiar instruments around me. The keyboards can give me the bass, but also give me another horizon to work in. I could spend less time caring about the harmonics and be more rhythmic. It's also possible to change the focus when you play. This is music can could have been for the Trio, but it's moved to another format. There are not 2 drummers, but a drummer and a percussionist, because I wanted more than the sound of the drumkit. The sound of other things to hit [laughs]. The keyboardists have very different approaches to the material. It was important to keep volume controlled and to be in touch with jazz rock history, so I wanted to bring in a trumpet player. My father was a trumpet player and I have been influenced by many trumpet / guitar combinations, for example Terje Rypdal and Palle Mikkelborg. I didn't want a shredder, I wanted a sound colourist, a more thinking kind of person. Susana [Santos Silva] was perfect for that, being into space and sounds. That combined with the heavy riff and not too many chord changes was very worthwhile. It was also good for us to work with someone from outside Norway as she is Portuguese. She's played a lot in Sweden and Norway and turned out to be such a perfect choice and it's been inspiring to have her on board. She will do a couple of concerts in Norway with this project.
Looking forward to that! The second track, "A stone's throw" and the title track are definite contenders for riff of the year. Are you a fan of early Black Sabbath, Hendrix or Jeff Beck?
[Laughs] Thank you so much! Yes, definitely. I must say that Jeff Beck and absolutely Black Sabbath have made a deep impact on me. Some people have mentioned other guitarists when talking about that riff, Ritchie Blackmore and Ted Nugent. I haven't listened much to them but I have been listening to Jeff Beck! He's such a creative person who has been working steadily in his own direction. He sounds very different now than he did in the 60s and 70s. It's inspiring how he and John McLaughlin have kept going and kept their integrity. They just enjoy the music. Beck is really engaging, but Black Sabbath has been monumental and game changing. I came across Black Sabbath pretty late, in my mid-20s, because I was only listening to jazz. After that, there was no way back. I love early Sabbath, especially the first album, but it's hard to pick a favourite.
Who inspired you to pick up a guitar?
That's family related. It was my mother's guitar. She was working with disabled children and had accessible instruments. I was just noodling around with the guitar. The first thing I remember was playing for my friends at home, just gathering around playing songs. Then my parents asked if I wanted to go to a teacher and learn more.
Speaking of learning, you studied at the Norwegian Academy of Music. What lessons from there are still valuable to you today?

The Academy has two lines of education you can choose. Either you apply for the music teacher route, or the musician route. I did the music teacher line. When I started on my education at the Academy I had a lot of spare time to play, practice and rehearse with others. Now, I wish I had those musician lessons. Jon Eberson was my teacher for two years and his daughter [Marte Eberson] is now in the "Ekhidna" band. If it wasn't for him, I'm not sure I could have freed the thought that I could be a musician. He was really important to me. He was very into jazz voicings that were not straight, but in a standard jazz setting. The phrasing he had in his melodic playing was verbal. I liked it and we agreed a lot. When I met Jon I was ready to put more passion into my playing. It was a match made in heaven at the right time. I felt freed when I met him. He taught me a lot, playing wise – you have to remember to breathe, to stop your phrases, because as a guitarist you can go on forever. It's like talking without stopping. He would scream "Stop!" and "Start!" to me! It was great fun and I learned so much. Later I played in his band and it was a great privilege.


If you could play a gig with any artist, alive or dead, who would it be?

That's really tough! I wish I could play with the drummer Justin Brown. I think what gives you the biggest kick is not playing with your greatest heroes. I'm tempted to say something crazy here! I heard this band at a festival last weekend. It was the first festival in months. I was so happy after the show and I saw a concert by Mall Girl. It was a quartet. They were in their 20s and really hungry, energetic, creative and skilled. So, I would like to play with Mall Girl! [Laughs]