English Electric Recordings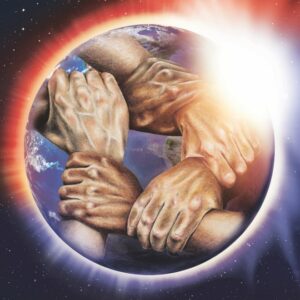 Following the tragic death of singer David Longdon in November 2021, English progband Big Big Train have proceeded with the release of their fourteenth studio album (with the full support of Longdon's partner) in celebration of his considerable talent as a multi-instrumentalist and vocalist. His voice had rich, mature Peter Gabrielesque tones and he once auditioned for the role of Genesis singer, after Phil Collins left.
The sad circumstances surrounding the release of the record are in juxtaposition with the opening track, the life-affirming and joyous ballad, "Made from Sunshine", which celebrates a new baby entering the world. It also introduces new band members, guitarist Dave Foster (who wrote the music for the opening track) and violinist/singer Clare Lindley, who duets with Longdon. The instrumentation includes Hammond organ, French horn, trombone and tuba, violin and acoustic and electric guitars, but at no point does it sounds too dense – a delicate balancing act that Big Big Train are particularly skilled at. Next comes "The Connection Plan", written by drummer/vocalist Nick D'Virgilio, who used to be in Spock's Beard, and there is a flavour of that band here. A dynamic violin intro is followed by a driving bass line, then upbeat vocal harmonies, with D'Virgilio's voice contrasting well with Longdon's. "Lanterna" is written by Greg Spawton and sounds more like classic Big Big Train. It's a perfect example of Longdon's soothing vocals, and builds in intensity and speed, decorated with vibrant piano. Longdon's vocals also convey the emotion behind the brief but tender "Capitoline Venus", which was written by Spawton as a love song for his wife, and his playing on the 12-string acoustic guitar is simply beautiful.
After the creative instrumental penned by Rikard Sjöblom "A Room with No Ceiling", comes the nostalgic, partly-autobiographical "Proper Jack Froster", another Spawton composition and one of the album's highlights, containing hooks, layers of brass, a blistering guitar solo, and brilliant bass work. Next is another instrumental, the quirky prog fusion track "Bats in the Belfry". Around the middle of the track the instrumental party stops and a simple, spacious church organ sound holds centre stage, then the guitar and choir join in, followed by brass and synth, then just synth and outstanding drums. It's a particularly imaginative composition. The penultimate track, the atmospheric ballad "Oak and Stone", is another highlight, containing stunning ensemble vocals and one of Longdon's finest performances, and perhaps would have been a fitting finale to the album. When he sings "This is what I came for, what I longed for", it genuinely feels like he is saying goodbye and it has the atmosphere of a swansong. The final, quite theatrical, title track is written by Carly Bryant and she plays keyboards and sings primary vocals. It sounds intensely personal, ending with the lyrics "Aunty Carly's singing lullabies to all the children that she never made" and a heavy, heartfelt sigh, perhaps in contrast to the album opening track, with parents celebrating a new life.
"Welcome To The Planet" is an album which, in places, bursts at the seams with life, both lyrically and musically. It is tragic that Longdon's time here was cut short, but his legacy remains. RIP David Longdon.
4,5/6 | Anne-Marie Forker
Release date: 28 January 2022