Back in 2009, Irish band The Script played John Dee in Oslo. Since then, they have grown to become one of the world's biggest pop rock bands, having sold over 30 million albums and over six billion streams. We took a trip to Sentrum Scene to see what all the fuss is about, on their «Greatest Hits Tour 2022», in what is, for them, an intimate venue.
«You are getting an arena show packed into a small venue«, lead vocalist and keyboardist Danny O'Donoghue explained. He and lead guitarist Mark Sheehan and drummer Glen Power kicked off proceedings with the high energy «Superheroes». The mostly under 25 audience screamed in response. An early highlight was one of the band's best compositions, «Moving», which O'Donoghue introduced while sitting on the edge of the stage, explaining that it was written when the band were «broke». He asked crowd to sing along, calling them «The Oslo Choir». It created an intimate atmosphere.
«Can we come into the audience? No touching my ass or taking my wallet! I don't have any money on me.» The intimacy increased further mid set, with an acoustic section where the band came down to stand in the middle of the crowd for a couple of songs: «If You Could See Me Now» and «Nothing». O'Donoghue asked if anyone wanted him to ring their ex boyfriend / girlfriend. «Just ring them and hand me the phone. I'm deadly serious!» Just a few seconds later, a phone was presented to him: «Fuck, that was quick! If they are not your ex now, they soon will be!» O'Donoghue then said hello on the phone and proceeded to sing a song to them. The pandemic has not stopped the band including the intimate element of their set. O'Donoghue's personality is very much part of the band's live appeal.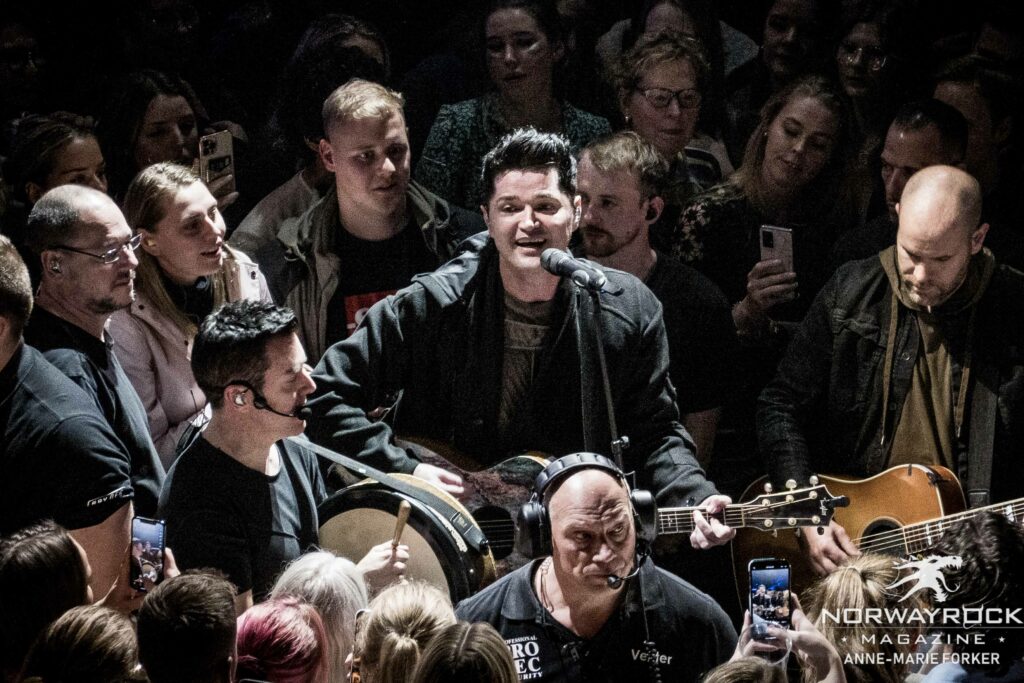 The high energy «Something Unreal» took the gig up a level, with O'Donoghue and the crowd jumping in unison. He chose this moment to introduce the rest of the band. Credit should go to the drummer, whose playing was clear and concise throughout the set. The guitarist Sheehan also played well, but I found myself wanting more guitar for the live experience. This arrived for the first song of the encore, «No Good in Goodbye», which contains hints of Duran Duran's «Ordinary World» and Coldplay.
The set closed with «Hall of Fame», the lead single from the band's third studio album, and I have rarely seen a Sentrum Scene balcony crowd jump up from their seats so high. Speaking of the Hall of Fame, I usually resist comparing Irish frontmen with Bono, as just being Irish is not a relevant basis for comparison, but when O'Donoghue uses language like «In the realms of infinity, life is but a click. Turn on the light on your phone. Every one of those lights is a person and a story», it's hard not to think of the U2 singer. 4/6
Text and photography: Anne-Marie Forker