The influence of blues music on rock 'n' roll musicians such as Jimi Hendrix and The Beatles is well documented. When some of Norway's finest blues musicians played at the prestigious Royal Albert Hall in London we took a trip to check them out. Amongst a bunch of talented musicians and artists, we focused on Bjørn Berge, Kid Andersen, Tora Dahle Aagård, Amund Maarud, Vidar Busk and Knut Reiersrud.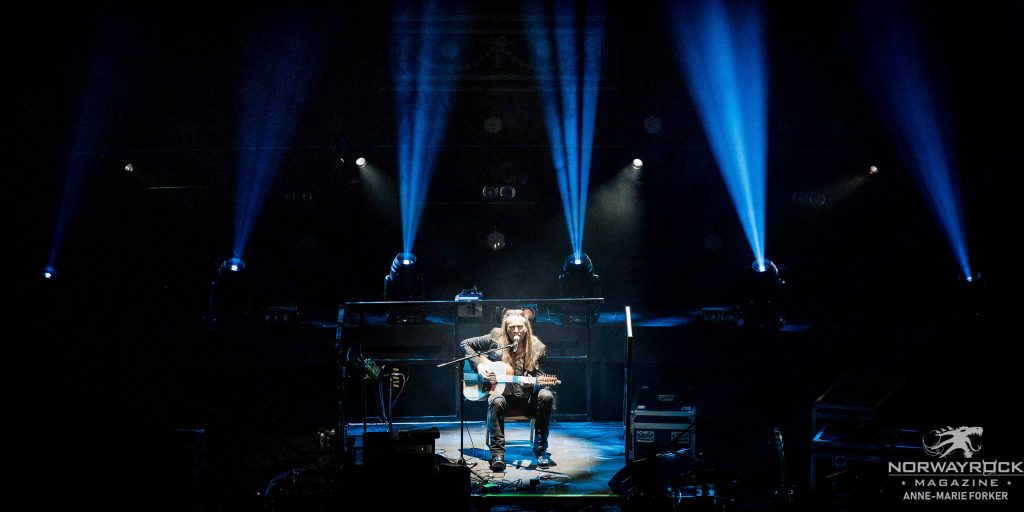 Bjørn Berge (also the guitarist in Haugesund folk-rock band Vamp) provided one of the most intense performances of the first set. In 2001, he won Spellemannprisen for his album Stringmachine and again in 2002 for his album Illustrated Man. He played 12-string acoustic slide blues with menacing pace and his performance of Stringmachine was one of the highlights of the evening: «I'm a string machine, wild and mean«. The audience burst into spontaneous applause and cheered several times.
Christoffer «Kid» Andersen is a blues guitarist from Herre who has been nominated for a Blues Music Award in the «Gibson Guitar» and «Best Instrumentalist – Guitar» categories. Obviously proud of being Norwegian, he wore a guitar strap with «V.I. KING» embroidered on it. He performed «It's Dark in Here» and «Jumping at Shadows» from his 2008 album «Greaseland». His wife, American Idol finalist Lisa Leuschner, joined him on stage for a passionate performance of «Whole Lotta Loving».
One of the most vibrant performances of the concert came from Tora Dahle Aagård, a blues-inspired pop rock artist whose playful virtuosity and sheer stage presence and energy enchanted the audience. She had the crowd in the palm of her hand during «They Say» and «Feeling Good». Her band «Tora» released their first album this year and she is the first female guitarist to sign a sponsorship deal with Chapman Guitars. Definitely an artist to watch.
Norwegian Grammy Award Winner Amund Maarud was a driving force behind the Royal Albert Hall event and helped put it together. He has been prolific in the blues and rock scene for a couple of decades and is known as a solo artist and as frontman of rock bands The Grand and the duo Morudes. He is also a member of experimental band Amgala Temple and works with Lucky Lips. Maarud appeared in both the first and second set and it was obvious from the moment he set on stage that music simply flows through every inch of him. Even when he sat down during a solo, he spun his chair around and kicked his leg in the air. An extremely talented and versatile guitarist, he performed the tracks «Wildchild», «Tears of Rage» and the crowd rousing «Change of Heart». He also played with several other artists throughout the evening, further proving his versatility. If you have the opportunity to see him play, take it. One of the stars of the evening.
Another star of the show, Vidar Busk, from Langesund, is a Norwegian guitarist, vocalist, composer and record producer and also a two time Spellemannprisen winner. He went to the United States aged 15, to play with the American blues artist Rock Bottom. Busk resembled Elvis a little on the Royal Albert Hall stage, dressed sharply in a white suit with a high collared red shirt. He had a commanding stage presence which the crowd responded well to. He performed «Drive On», «Lovestruck» and «Live My Life Too Fast / Mr. Sugar» and his blues set also incorporated elements of rock 'n' roll and mardi gras rhythms.
The final artist to perform was Knut Reiersrud. Reiersrud is a blues guitarist who incorporates elements of Norwegian traditional music and African music in his work, and much more. He has worked with many different artists, such as Buddy Guy, Joe Cocker and Stevie Ray Vaughn, to name but a few. When he took to the stage he wore what appeared to be a Noh mask (a form of classical Japanese musical drama that has been performed since 14th century) and started his set with the track «Sylvartun» from the album Den Signede Dag. There was a hush across the venue, as if the crowd felt they were watching a genius at work. The mask came off and performances of «Mr Bojangles» and «Falsk Matematik» followed.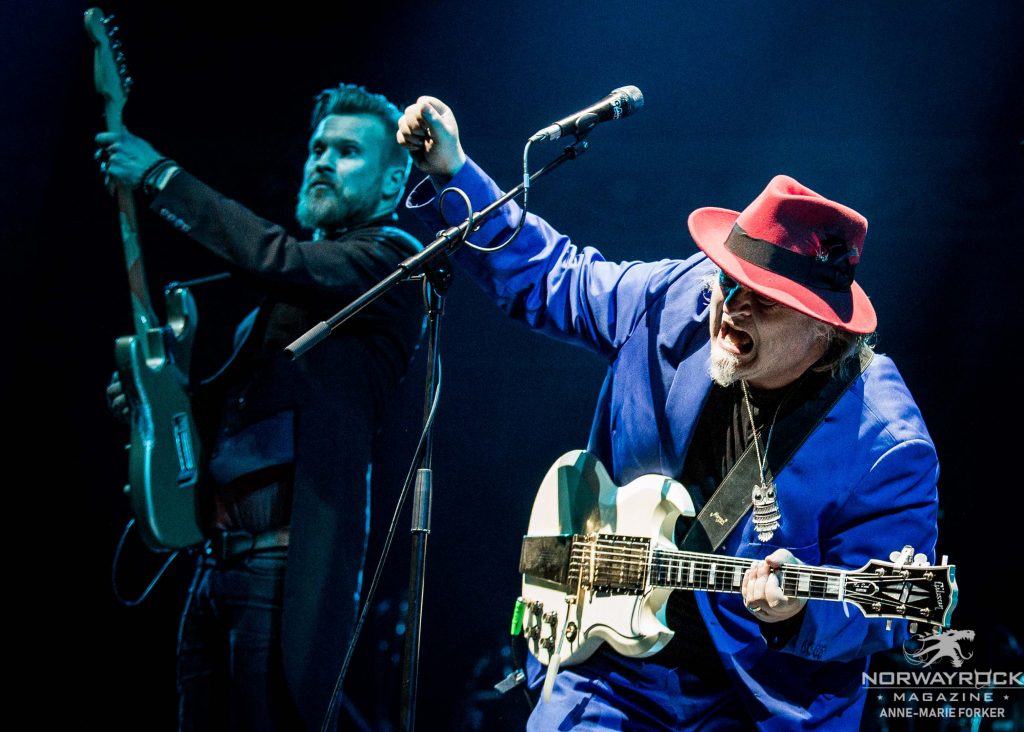 Several guitarists joined Reiersrud on stage for «I Wonder Why» and there was particularly good chemistry between him and Maarud. Then all the musicians got together for the encore «Stomping Our Feet With Joy» from the album Vidar Busk & His True Believers. The respect the musicians held for each other was obvious. The audience rose to its feet and joined the musicians by clapping and singing along. Although not every seat in the Royal Albert Hall was occupied, the joyous, appreciative atmosphere filled the venue. Norway can be proud of its blues musicians. 5/6
Tekst og foto: Anne-Marie Forker