Søndag 31.mai 2020 (*Scroll down for English text*)
Norway Rock Magazine besøkte Urban Sound Studios for å få sett Leprous i aksjon på deres første livestream-konsert, hvor de hadde solgt over 2000 billetter, mer enn noe annet norsk band på samme plattform (VIERLIVE), for å spille en direktesendt konsert over nettet, til dusinvis av byer og land, med alt det forventningspress som naturligvis medfølger. Det ble kommentert at "Enkelte steder hvor det sitter folk og ser på er det ikke blitt kveld engang." Og det er et vesentlig poeng – arrangøren kunne rapportere at det var fans i både USA, Brasil, Italia, Mexico, Chile, England og Asia som hadde logget seg på.
Helt fra starten av åpningslåta «Stuck» var det innlysende at denne opptredenen kom til å bli like bra som deres ordinære konserter, men også noe forfriskende annerledes. Lyden var strålende, og ting fikk kjapt et preg av intensitet. Bandets frontmann Einar Solberg benyttet enhver anledning til å komme frem fra plassen bak keyboardstativene han vanligvis okkuperer, som i «Bonneville», hvor han inntok midtpunktet og gestikulerte, banget og nærmest dirigerte bandet med sine bevegelser. Gitarist Tor Oddmund Suhrke, det andre langvarige medlemmet av bandet, gjorde tilsvarende rykk og bevegelser. Innlevelsen var også tydelig i resten av bandet, Baard Kolstad på trommer, Simen Daniel Børven på bass og Robin Ognedal på gitar og synth. Selv i det forholdsvis kompakte rommet på Urban Sound Studio, utstrålte bandet den samme lidenskapen og kompromissløse energien som de er kjent for å ha på sine konserter. Der vi satt i kontrollrommet og overværte dette utfolde seg, følte undertegnede seg nesten i nærvær av et mektig naturfenomen.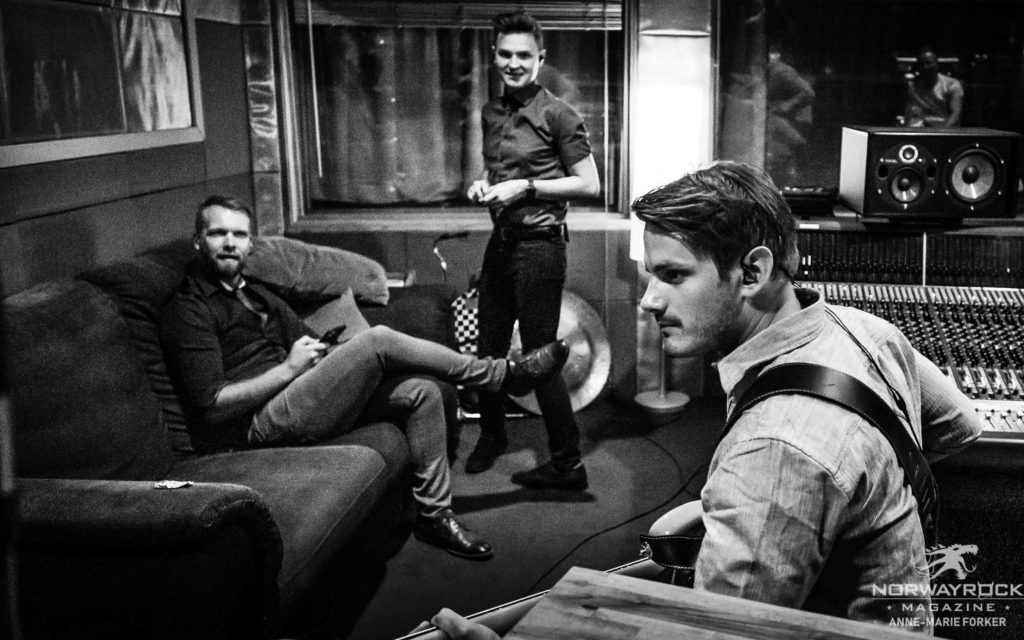 Til tross for dette, innrømte Solberg at han følte seg litt utilpass. "Ingen vet helt hvordan man skal oppføre seg i en slik situasjon." Han nevnte at han følte seg mer forpliktet til å snakke mer mellom låtene, og dette skapte igjen en form for intimitet, selv om han syntes det var vanskelig å ikke få noen form for umiddelbar respons fra et publikum – "Musikere lever på feedback og applaus." – og den ærligheten ga mening. Musikken hadde det samme adrenalinet, angsten og atmosfæren som vanlig, og som konserter flest var det et og annet feilskjær uten at det spilte noen rolle. Bandets lavmælte karisma medfører også humoristiske innslag, som da en i bandet gjorde en liten spillefeil og geipte mot kamera. Solberg spurte så alle i bandet hva de tenkte om det som nettopp hadde hendt, hvorpå det smalt fra Ognedal: «Jeg er bare glad det ikke var meg!"
Det var roligere øyblikk også, som det piano-drevne arrangementet på «Cloak», hvor Solbergs stemme hørtes ut som en bønneroper fra en moské-minaret, og den ambiente synth-overgangen til «Below», den hjerteskjærende singelen fra deres nyeste album «Pitfalls». «Observe the Train» var nok et roligere innslag, men Solberg misset ikke sjansen til å briljere, og utbroderte den opprinnelige vokalmelodien på en aldeles gåsehudfremkallende måte, og understreket nok en gang at påstandene om at han er en av Norges beste vokalister i vår tid ikke er langt fra sannheten. Mot slutten, mens de siste nifse cello-aktige hylene fra «The Sky is Red» ebbet ut, innså undertegnede at vi vet faktisk hvordan man skal oppføre seg i slike spesielle omstendigheter – med å applaudere, verdsette og føle stolthet over at musikere som disse kjemper for å finne en måte for å få realisert begivenheter som denne, og gjøre det med innlevelse og lidenskap. Takk, Leprous. 5,5/6
Tekst: Alex Maines
Foto: Anne-Marie Forker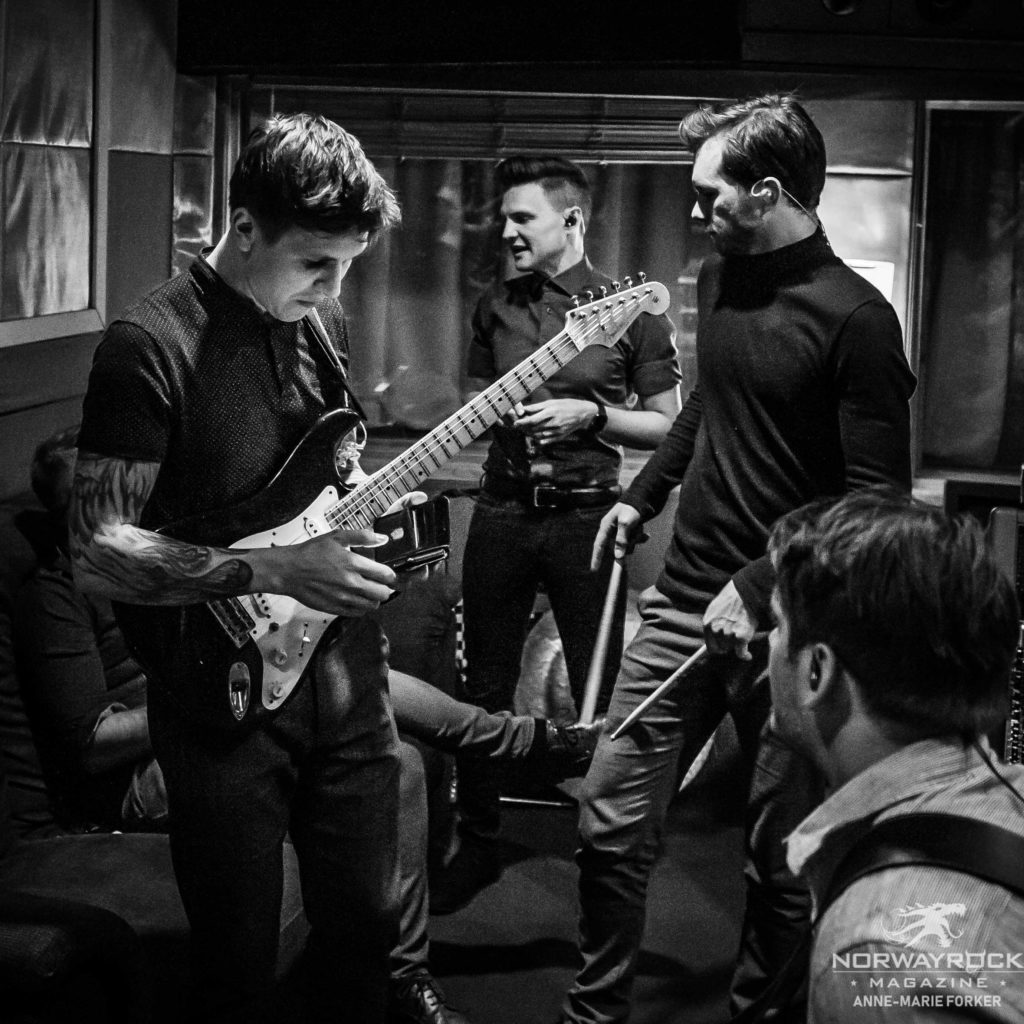 In English:
Norway Rock Magazine visited Urban Sound Studios to see Leprous in action at their first live streamed concert. They sold over 2,000 tickets, more than any of their countrymen using the same platform (VIERLIVE) to perform live over the internet, to dozens of cities, with all the pressure that immediacy entails. Off mic, someone pointed out "Some places they're watching, it's not even night." Fair comment – the promoter reports that they had people tuning in from the United States, Brazil, Italy, Mexico, Chile, England and Asia, to name a few.
From the very first notes of «Stuck», it was clear that this performance was going to be every bit as good as any of their live performances, but also something excitingly different. The sound quality was superb and things rapidly reached full intensity. Frontman Einar Solberg took every opportunity to come out from behind his keyboard, like in «Bonneville», and occupied the centre of the space, bowing, gesturing, headbanging, almost conducting the band with his movements. Guitarist Tor Oddmund Suhrke, the other long-standing member of the band, made similar energetic jerks and dives. The passion was evident from the rest of the band also, Baard Kolstad (drums), Simen Daniel Børven (bass) and Robin Ognedal (guitar, synths). Even in the fairly compact space at Urban Sound Studio, the band exuded the same commitment and unflinching energy that they give at every live performance. Sitting in the control room, watching this unfold, the undersigned felt in the presence of a force of nature.
Despite that, Solberg admitted to feeling awkward "No-one has any idea how to act in this situation." He said he felt compelled to talk more between the songs, and that created a kind of intimacy, though he found it hard not getting feedback from the audience – "Musicians live off feedback and applause." The honesty was affecting. The music brought adrenaline, anguish, atmosphere, and similar to most live gigs, there was an occasional hitch. The understated charisma of the band brought humour. One of the band made a minor mistake and stuck his tongue out at the camera. Solberg then asked everyone in the band how they felt about what had just happened. Ognedal quipped "I'm just glad it wasn't me!"
There were gentler moments too, like the piano-heavy arrangement of «Cloak», where Solberg's voice sounded like a muezzin, and an ambient synth segue into «Below», their gut-wrenching single from their latest album «Pitfalls». «Observe the Train» was another quieter number, but Solberg didn't miss his chance to shine, embellishing the original vocal line with trills and turns that were hauntingly beautiful, underlining once again his rightful claim to be the finest Norwegian vocalist of our time. At the end, as the last ghostly cello-like shrieks of «The Sky is Red» faded away, the undersigned realised that we do know how to behave in these special circumstances – applaud, appreciate, feel proud that musicians like these fight to find ways to make this happen, and do it with passion. Thank you, Leprous. 5.5/6