Warner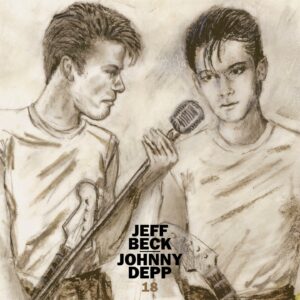 Everyone has heard of the media circus surrounding Johnny Depp in the last few months, but let's focus purely on what matters here: the music. "18", the new 13 track album by legendary guitarist Jeff Beck and Hollywood Vampires co-founder and actor Johnny Depp, features a range of covers including Marvin Gaye, The Beach Boys, John Lennon, The Velvet Underground, Killing Joke, and more, along with two original Depp compositions. Why the title "18"? Beck explains: "When Johnny and I started playing together, our youthfulness suddenly returned, and we joked that we would feel like eighteen-year-olds again."
The record begins with an achingly beautiful, lyrical guitar accompanied by cello on a cover of Davy Spillane's «Midnight Walker». You can hear Beck's mastery of the tremolo arm and the microtonal refinements here are stunning. Then the record takes a completely unexpected turn for the industrial track "Death and Resurrection Show", containing robotic vocals from Depp and heavy chordal passages. It is not the only surprising shift on the album. The stylistic variation is dizzying. This concoction of genres is held together solely by Beck's distinctive guitar work. His strings are the thread that sew the songs together.
"Sad Mother Fuckin' Parade" is the first of Depp's two original compositions on the album. Without Beck's guitar, this track would be rather weak, frankly. There is an irritating, low pitch "motherfucker" lyric on repeat. However, his other original song, "This Is A Song For Miss Hedy Lamarr" is much stronger, and will surprise those who don't rate his musical talent. Hearing this song, it is easy to understand why Jeff Beck decided to work with him, even if Beck's musical ability is leagues ahead of Depp's.
Depp's vocals work well on one of the album's highlights, the cover of The Velvet Underground's "Venus In Furs", which sounds a little like The Smashing Pumpkins. The calm, low pitch vocal provides an interesting contrast to the violent, high pitch distortion of Beck's guitar. Beck's guitar then touches the other end of the emotional scale and soothes listeners with his melodic playing on the Everly Brothers hit «Let It Be Me».
The cover of Janis Ian's "Stars" lasts over six minutes, and Beck's guitar decorates the track beautifully and keeps the listener engaged, but there are passages where Depp's understated vocals feel too long-winded. It's another weak point of the record. In another u-turn, the track is followed by Depp's strongest vocal, on the cover of John Lennon's "Isolation", but Beck again steals the show with a jaw-dropping guitar solo. If it was possible to rate Jeff and Johnny separately, I would give Jeff a 5.5 and Johnny a 2.5, so let's meet in the middle with a 4.
4/6 Anne-Marie Forker
Release date: 15 July 2022