Rhino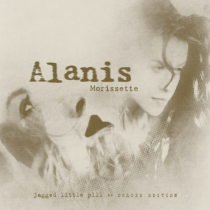 Tredjeplata til den da 19-årige sangerinnen fra Canada utgjør en veritabel lydkulisse for midten av 90-tallet. Hun var tilstrekkelig dansevennlig, leken og moderne for allmuens radioslaver, og ditto rampete, rocka og forbanna for fuzzgitartilhengerne. Noe større kompositorisk bravade har "Jagged Little Pill" aldri vært, og Morissette holder unektelig hvassere låter i porteføljen enn de tolv som fyller 20-åresjubilanten. Jeg bifaller derimot materialets tenåringsspirit, som et lydkonkret speilbilde av svunne tider.
"You Oughta Know", en landsoverskridende farsott, tåler så visst et gjenhør, mens ditto nedslagskraftige "Hand In My Pocket" og grusomme "Ironic" fremstår like anmassende og hule i dag som for tjue år siden. Palettens ettertenksomme rockespor, "Forgiven", "Not The Doctor" og "Mary Jane" er å foretrekke. Et skred av variable  demoinnspillinger akkompagnerer den gjenmastrete originalskiva; angivelig ble disse nedfelt både i forkant av plateprosessen, underveis og etter lanseringen, mens Morissette ga seg turnélivet i vold.
Siden vi først er inne på Morissette vil jeg med bastante geberder fastslå at hennes to fremste komposisjoner heter "Pollyanna Flower" (forrykt nok henvist til b-sideplass på "Thank You"-singelen) og "Citizen Of The Planet" fra "Flavors Of Entaglement".
Geir Larzen
Utgivelsesdato: 30.10.2015