Lørdag 18.juni 2022
After being forced to cancel a string of concerts due to Morten Harket being diagnosed with Laryngitis in May, a-ha are back on the festival circuit at home in Norway, and we took a trip to Arendal to see them perform at a sold out concert at the Canal Street festival, on a sunny evening at Bryggebyen, beside the tall ship 'Sørlandet' (a reminder of Arendal's maritime history). After so much doubt over whether the concert would take place, a crowd of around 11,000 were delighted to see it go ahead.
Harket started the concert by telling the crowd that COVID had visited the band and invited the audience to sing along to the choruses. It was clear that his voice is still not back to full strength, and he needed some help from the audience and Anneli Drecker, but the audience seemed to welcome his honesty and focussed on the atmosphere and music instead of picking holes in his vocal performance, which when at full strength, is among the best in the world. Drecker was a guest and provided energy on stage, in contrast to the more reserved band members. There was also high energy at the back of the stage, from bassist Even Ormestad and drummer Karl Oluf Wennerberg, who shone through «We're Looking for the Whales», one of the highlights of the set.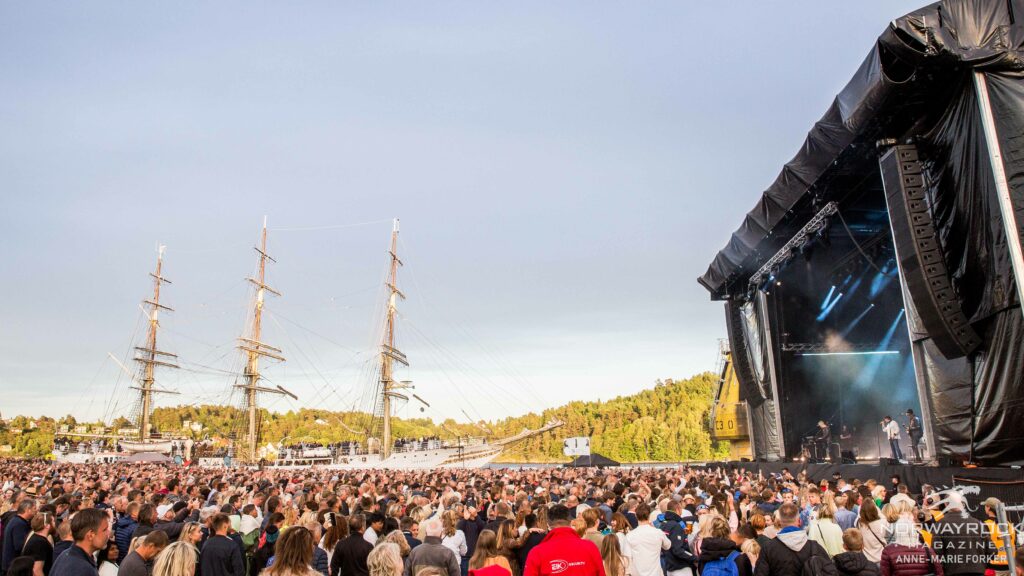 The setlist was well chosen for a summer festival, featuring plenty of crowd pleasing hits such as «Hunting High and Low» and «The Living Daylights» , but also fan favourites like «Scoundrel Days» and «Here I Stand and Face the Rain», which saw the band gather together around Furuholmen's keyboard for an intense ending. Morten's usually ethereal vocals during the latter track were helped significantly by Drecker. Two new songs from their forthcoming album «True North» were also played: «You have what it takes» and «Forest for the trees», the latter song being dedicated by keyboardist Magne Furuholmen to the young people who will look after the globe. «Cry Wolf», one of a-ha's poppier tracks, was given an interesting live enhancement with jazzy keyboards from Furuholmen and rock fills from Paul Waaktaar-Savoy.
The rock guitar from Waaktaar-Savoy continued into the encore with «The Sun Always Shines on TV» and «I've Been Losing You», before the crowd party peaked when they danced and bounced to «Take on Me». A joyous occasion, and the sound for an outdoor festival was especially good quality. We look forward to Morten's full recovery. 4,5/6.
Tekst og foto: Anne-Marie Forker