Lørdag 12. august
After almost fifteen minutes of near continuous music, vocalist Matthew Baty of the unusually named Pigs Pigs Pigs Pigs Pigs Pigs Pigs greeted the crowd who had gathered on the slope at the Hagen stage at Øyafestivalen. «Some of you probably saw our stupid band name and thought you'd come and check us out.» It was their first time in Norway, and he noted that they'd heard that a Norwegian crowd liked their metal music dark. That is certainly true – we do. Anyone who hadn't expected that was in for a nasty shock. However, I saw very few leave, and I saw a lot of cups raised in skål for the band when there was a pause in the music. There weren't many. Baty took these scant opportunities to thank the crowd and the festival organisers for inviting them and to say how much they appreciated the chance – this is modern metal music with a polite English face.
But there is nothing polite about the music. It is indeed dark, full of dense textures, uncomfortable time signatures chosen for their musical effect not for their progressive credentials, and an atmosphere that carries tension, anger, menace – no positive emotions, for sure. Songs slipped and merged into one another, sustained by Sam Grant's low registered guitar riffs (he's also the producer on the latest record, so perhaps we should cast him as the evil genius of the outfit). It was almost impossible to tell where one song stopped and another started. The sparse vocals were delivered either as a bellow from deep in Baty's stomach or from somewhere caught in his throat, struggling to escape. At one point, he literally strangled himself with the microphone cable. It was singing of a similar style to that of Gojira frontman Joe Duplantier. In fact, there is much of the same sound world in these two bands, but Pigsx7 have less of that modern prog-metal edge, and more of a groove. Adam Ian Sykes, lead guitarist, had plenty of opportunities to provide lead lines which had a slight blues influence with clear melodies or with wah-wah guitar. So, we can find some '70s influence in there as well. Then again, he was also thrashing his guitar frantically to produce a heavy percussive sound later in the show. Bassist John-Michael Joseph Hedley was steady musically but constantly in motion, his whole body moving back and forth to the music. Ewan Mackenzie, drums, provided a high-power backdrop to the pieces. It was ensemble playing straight out of the top drawer. Baty left nothing to be desired as a front man, not least because of how he commanded the stage. He was never still while the music was playing, jerking, posturing, dancing, thrusting, waving his fists and feet like he was fighting ghosts that filled all the empty space around him.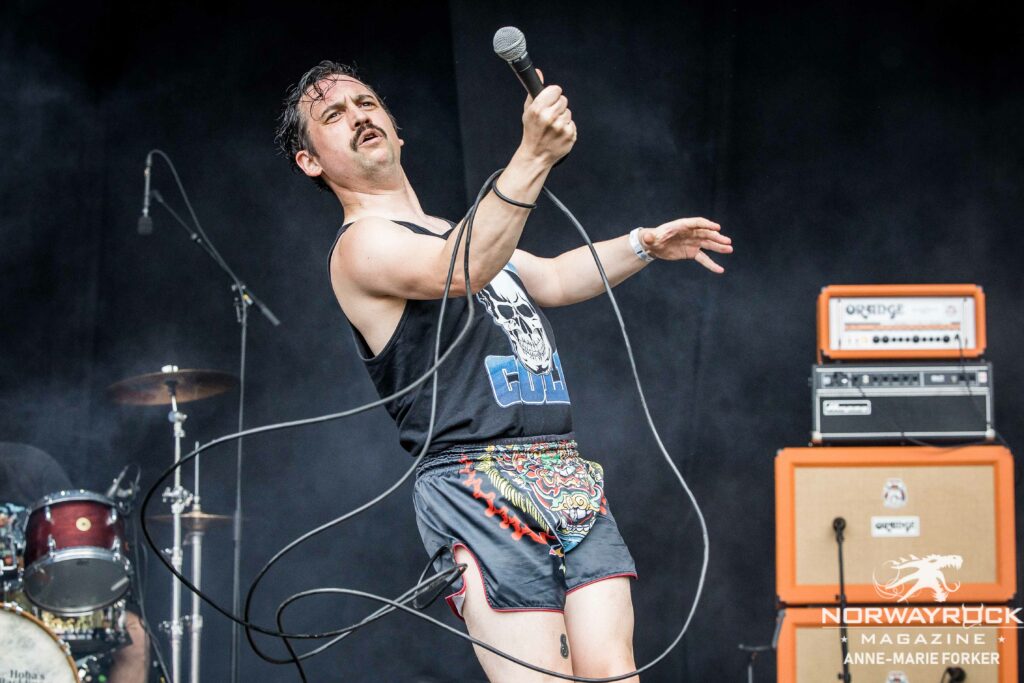 Baty offered the crowd the chance to break things down a bit for the last track, with «an acoustic love ballad». No chance, it's another 10+ minute piece entitled «A66» about «a dangerous and exciting structure in Northern England». Well, I'm not sure I'd describe any English riksvei in those terms. We'll have to take it on trust.
The highlight for the undersigned was «Terror's Pillow» from their latest release «Land of Sleeper», with its beguiling eastern motif and its caustic guitar playing from Sykes. The commitment of the audience paid tribute to the authenticity and professionalism of the set. All the band played well, it was a tight, slick set, but despite that they managed to give it the feel of a jam session in places, with the episodic song structures and segues between pieces. You could not call it «exciting», it was more gripping, engrossing, a performance which demanded your attention and held it by the weight of the music and the togetherness of the band. If there was anything to fault with it, it is the other side of that coin, that the drift of it, the lack of clear separation between pieces (and the length of them otherwise) left little room for dynamic changes over the course of the set, which might have created an even stronger bond between performer and listener, and I say that knowing that the band had gone down very well with a crowd who might otherwise have been surprised. Come back soon – play Rockefeller. 5/7 pigs, so rounding up that's 4.5/6.

Text: Alex Maines
Photography: Anne-Marie Forker