Mandag 14.november
English alternative rock band Wolf Alice took to the stage on Monday night to play to a Rockefeller crowd that filled all 3 levels, right up to the ceiling. It was, mostly, a younger audience than usual at Rockefeller rock gigs, with many people being under 30, but there was still a good mix of generations, showing the band's cross generational appeal. 
Singer Ellie Rowsell,  guitarist Joff Oddie, bassist Theo Ellis and drummer Joel Amey, accompanied by a keyboardist, were greeted with enthusiastic cheers from the very start of the gig, when they opened with "Smile", a single from their most recent album, "Blue Weekend". Their set was full of diversity, from piano ballads to raw shredders. The variety in the music also showcased how versatile Rowsell's vocals are – she can sing almost operatically and hold the audience in the palm of her hand (as she did on "How Can I Make It OK?", where her vocal lilt has an Eastern quality), but also scream and crawl around of the floor to fast paced rockers such as "Play the Greatest Hits".  She also plays rhythm guitar on a lot of songs, and at one point during a mid set highlight, the high energy "Space and Time",  the song broke down to just Rowsell on guitar with isolated vocals in the mid section. She then smiled and took a drink of water, much to the crowd and band's amusement, before launching back into the rip-roaring final passage. These quiet / loud dynamics were a regular feature of the set.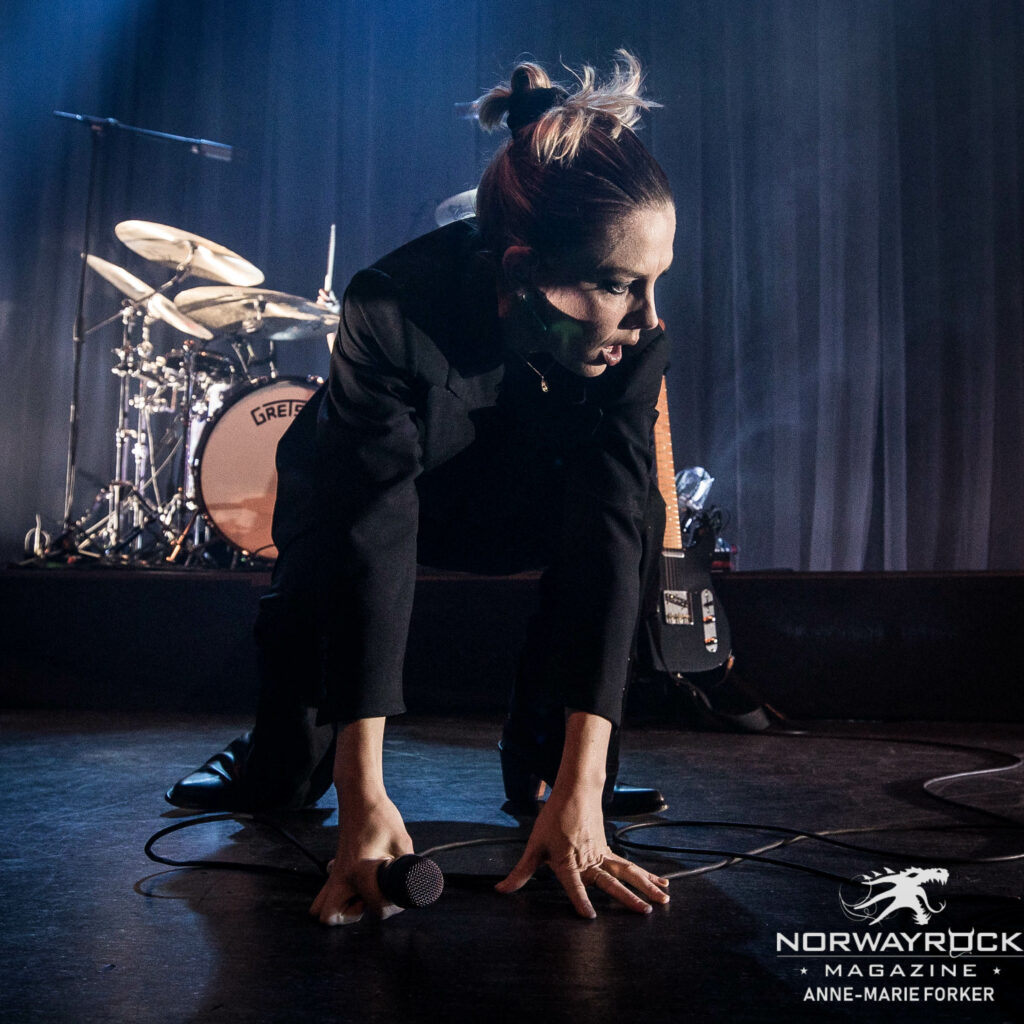 Bassist Ellis also had strong stage presence and regularly spoke to the crowd, asking Oslo how they were: «It's a Monday but who gives a fucking shit?! Shall we have some fun!» Guitarist Oddie was a force of nature live. He just didn't keep still, even during the ballads.  His powerful presence was particularly evident during "Lisbon", where he threw the guitar high into the air (not far from the third level, in fact) and caught it, and the doom laden "Visions of a Life", where the guitar textures really shone. It's especially interesting how Oddie uses guitar feedback. Rock lovers, if you haven't seen this song live, you are missing out.
After the guitar gymnastics, the crowd was soothed with Beatlesque piano ballad "The Last Man on Earth», before Rowsell thanked everyone for spending their evening with the band and played "Giant Peach", a track where the vocals start quietly, almost a whisper, but build to a screaming climax with the band rocking out to heavy riffs. The whole crowd erupted, and when the band left the stage, they didn't stop chanting until they returned, and then they were treated to "Moaning Lisa Smile" and the well-known "Don't Delete the Kisses".
I hope it won't be long before this band play Sentrum Scene and perhaps even Oslo Spektrum. With the quality of their music, their setlist, their critically acclaimed albums, and the tightness, energy and feeling they display live, they deserve it. 5/6
Text and photography: Anne-Marie Forker