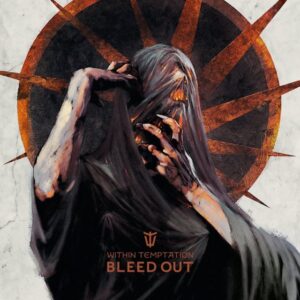 Force Music Recordings
Dutch symphonic metallers Within Temptation's 8th studio album "Bleed Out" is heavier than their previous record, 2019's "Resist". It is unapologetic and outspoken in subject matter and full of catchy hooks and heavy rhythms.  It deals with issues such as war ("Wireless" and "We Go To War"), the women of Iran fighting for their rights after the murder of Mahsa Amini (the title track "Bleed Out"), and a woman's right to choose ("Don't Pray For Me"). Prior to the album release, seven of the eleven tracks were already released as singles, so some of you will already have heard most of the record.  It opens with an ominous bell signal, intense drumming and symphonic choral chants on "We Go To War", where frontwoman Sharon den Adel's clear and powerful vocals soar during the chorus. An early highlight is the title track, "Bleed Out". Sharon's vocals sound angelic and ethereal at times, like Enya, but also angry. That combined with some of the heaviest riffs the band have ever produced is an interesting fusion of diverse musical styles. "Wireless", which contains one of the most memorable choruses on the album, also features heavy riffs and industrial rock layers, and showcases the range of den Adel's voice. The orchestral "Worth Dying For" is a huge wall of sound and has a blistering guitar solo. The radio friendly "Ritual" contains Muse-like elements, particularly the keyboards and the heavy, punchy chorus. "Cyanide Love" flirts with electro synth and marks new ground for the band. Jeroen van Veen's powerful bass and hard-hitting riffs stand out on "The Purge" and "Don't Pray For Me". "Shed My Skin" has a modern metal sound, featuring members of the German metalcore band Annisokay, before the symphonic sound returns on the bombastic "Broken". The thumping, ebbing and flowing "Entertain You" has producer Daniel Gibson guesting on vocals and closes the record. Speaking of the producer, the production on this album is crisp and the clarity of each layer in the soundscape is to be admired.
The heavier sound of Within Temptation is a welcome evolution of the band, as is the fearless approach to the lyric writing. A must for symphonic metal fans, and worth a listen for those who enjoy melodic music with catchy hooks.
4.5/6 | Anne-Marie Forker
Release date: 20 October 2023
We interviewed Sharon den Adel and you can read it in the current issue – get it here!