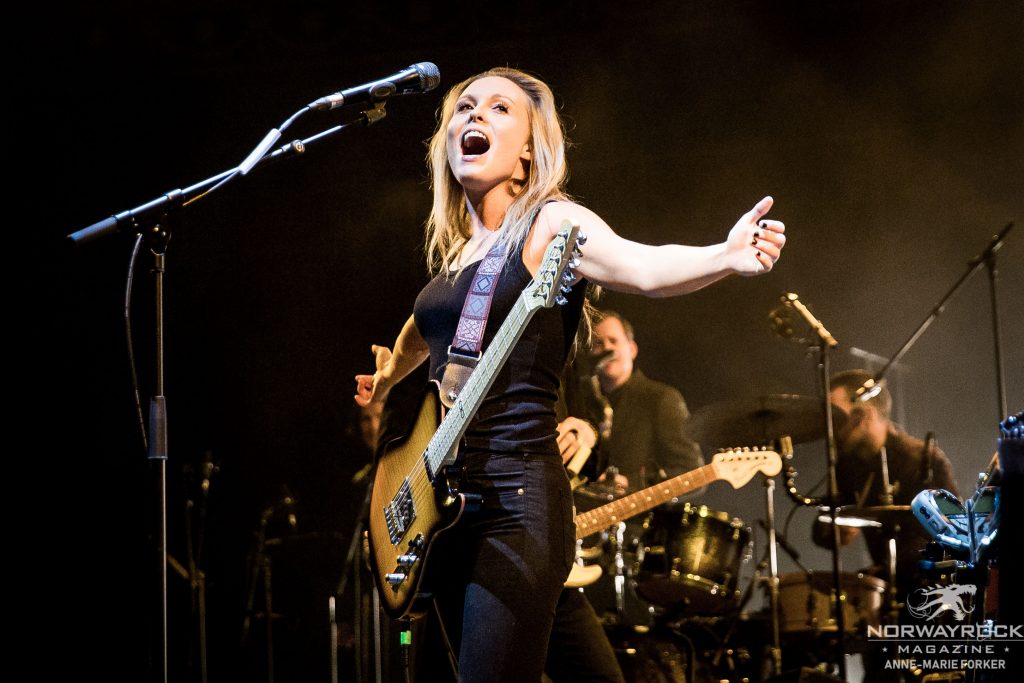 Norwegian guitarist and singer-songwriter Tora Dahle Aagård is only 26 years old and has already played with Paul Gilbert, jammed with Jennifer Batten, and played at the Royal Albert Hall. We spoke to her outside an Oslo café a week before her band 'TORA' released their second album, "Girls", with a release concert at Rockefeller.
Images and words: Anne-Marie Forker

– How has life been since lockdown? Have you been able to work much?
– Yes. I've managed to work from home and start work on album number 3. I also practice a lot and look after my instagram [Tora has around 160,000 instagram followers] – that's part of the job! I've been able to do concert streams by myself which has helped me a lot financially.
– What's that like, without getting the instant feedback from the audience?
– It wasn't that bad because it's a bit like being in the studio or a TV performance. I had fun and thought it was cool! I was feeling relaxed. No one was constantly watching me. I could breathe and talk more about the songs. Usually I can't do that and I'm all over the place! It was cool that the people at home liked it too.
– You mentioned the third album, even though you are just about to release your second one. Any release date set yet?
– Not yet. I think I might release a new song soon. Why not?! Maybe in January or February, and then the album this time next year. We'll see. Depends on how productive I am.
– There's not as much pressure now to release a whole album as there was, say, 30 years ago. It's more about singles.
– Oh yes, there's a big focus on singles and streams. I don't like to think like that, I like to release a whole album.
– Speaking of albums, what's behind the album title, 'Girls'.
– One of my number one goals is to help girls feel confident and feel like rockstars. To help them shine. For a lot of girls, we are….
– …too hard on ourselves…
– Yes! Also, I'm gay, so I write about girls, obviously. It was time to focus on that. It's a cute title and the album cover is pink. I don't own anything that's pink! I liked the contrast between the rock'n'roll music and the cute cover. It's an album for every girl out there, and the men of course.
– It was really refreshing to hear a woman sing about women. On the track 'Hey Girl' Aaron Sterling (John Mayer) plays drums. How did you meet him?
– When John Mayer played in Oslo Aaron Sterling did a masterclass at my school. The school wanted to put a band together to play with him. When they asked me to play with him I started crying because I'm the biggest Aaron Sterling fan. I decided to play it cool. I didn't ask for a picture like everyone else. When he was done taking pictures, he came over to me! He asked if I had Instagram and he said he would send me a message. The message said "I want to give you VIP tickets to the John Mayer show in Trondheim". We connected, had dinner and coffee and connected. He is a great guy. Then he asked me to play on his album, and I asked him to play on mine. So, we traded!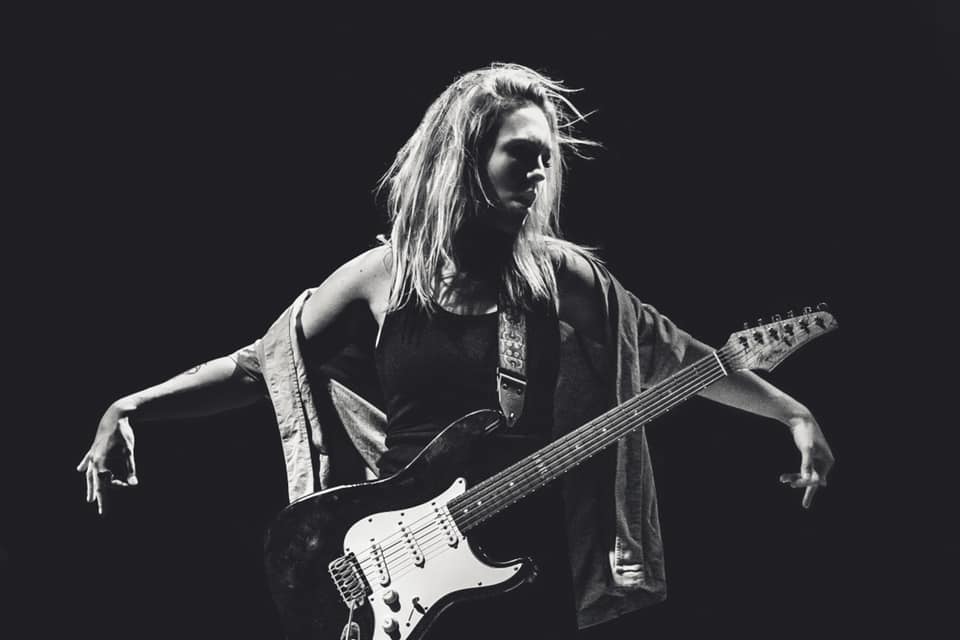 – Why did you pick up a guitar for the first time?
– My answer to that question is terrible!
– If it's honest, it's cool!
– I will be honest. I was playing soccer until I was about 14. I gave it up and was really bored. I needed something. I saw a guitar and decided to give it a try. I picked it up and learned really fast. That made it fun. Everything made sense. As a girl, I knew that I needed something to help me stand out, and that was the guitar.
– Do you feel pressure to be really good, as a girl?
– Yes.
– I know the feeling. It's not enough to just be good, you have to…
– …blow some minds!
– Exactly! What's your approach to song-writing? Do you write lyrics first, or start with a riff on your guitar perhaps?
– Usually I have musical lines in my head. A simple line. Then I open Logic and my guitar. Then record it, and start jamming over it. Sometimes it just writes itself. For this album, a lot of the songs were written on the acoustic guitar, late at night.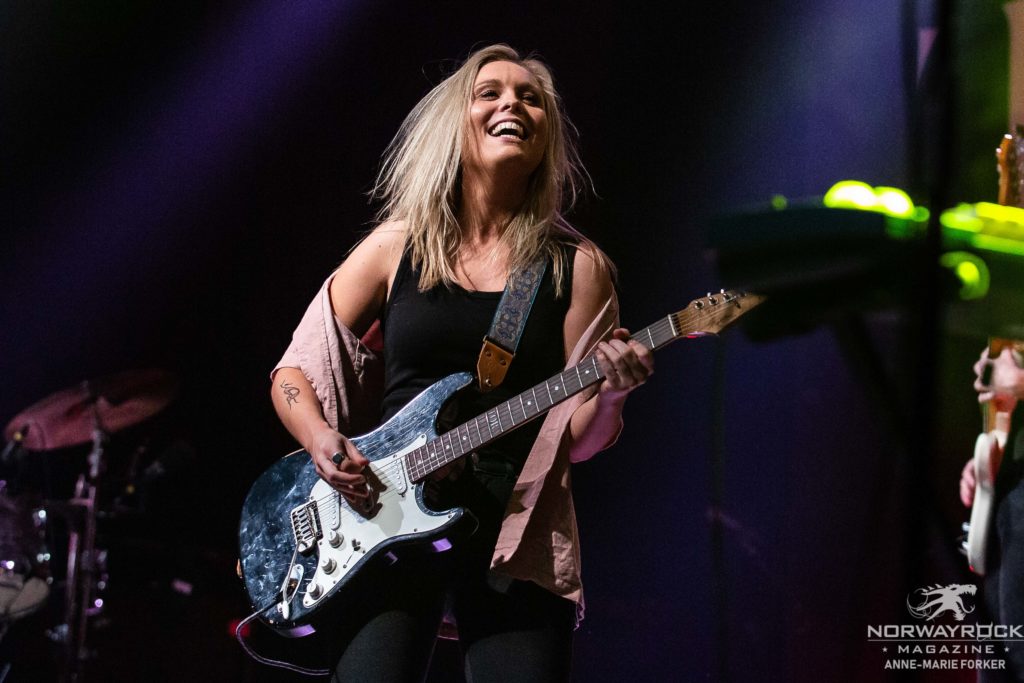 – I first saw you on the finest stage of them all, at the Royal Albert Hall with the Norwegian Blues Adventure. (Reviewed here!) How did you get involved in that?
– Last year I played a lot of blues festivals, so I got into that scene and met a lot of people. They asked me pretty late. They asked me only 3 months before. I asked Amund [Maarud] "Do you need a girl? I'm not going to be your girl alibi!" He said they only had men on the poster, but they wanted me because I was good. I was so honoured. It was one of the biggest moments of my life so far. Crazy.
– Your music extends beyond blues, it features elements of pop, soul and of course, rock. Who are your favourite rock artists?
– Michael Jackson – he rocks a lot actually, Rage Against the Machine, Guns n Roses, AC/DC. The AC/DC guitar riffs are great!
– Which album have you recommended to other people the most?
– Usually my own, haha! "Off the Wall" by Michael Jackson.
– Nice! The first 6 tracks are great…
– "Rock With You" is probably the finest song ever written. You can play that album at any club now, and it still sounds fresh. It's over 40 years old! And "Continuum" by John Mayer is my other recommendation.
– And you played with Jackson's guitarist, Jennifer Batten?
– Yes, at Larvik Guitar Festival. I knew she would be there and that freaked me out because I'm a Jackson fan. The organiser asked me if I wanted to play with Paul Gilbert, so I did. That was huge. And then they asked me if I would jam with Jennifer Batten! You can't say no. Backstage I played it cool, again, and she came up to me – again with the coming up to me thing …
– You are quite good at that!
– [Laughs] Jesus! She came up to me and said "Don't make me look bad out there." I didn't have any words, and then she left. It was okay though – we played for 15 minutes and it was fun.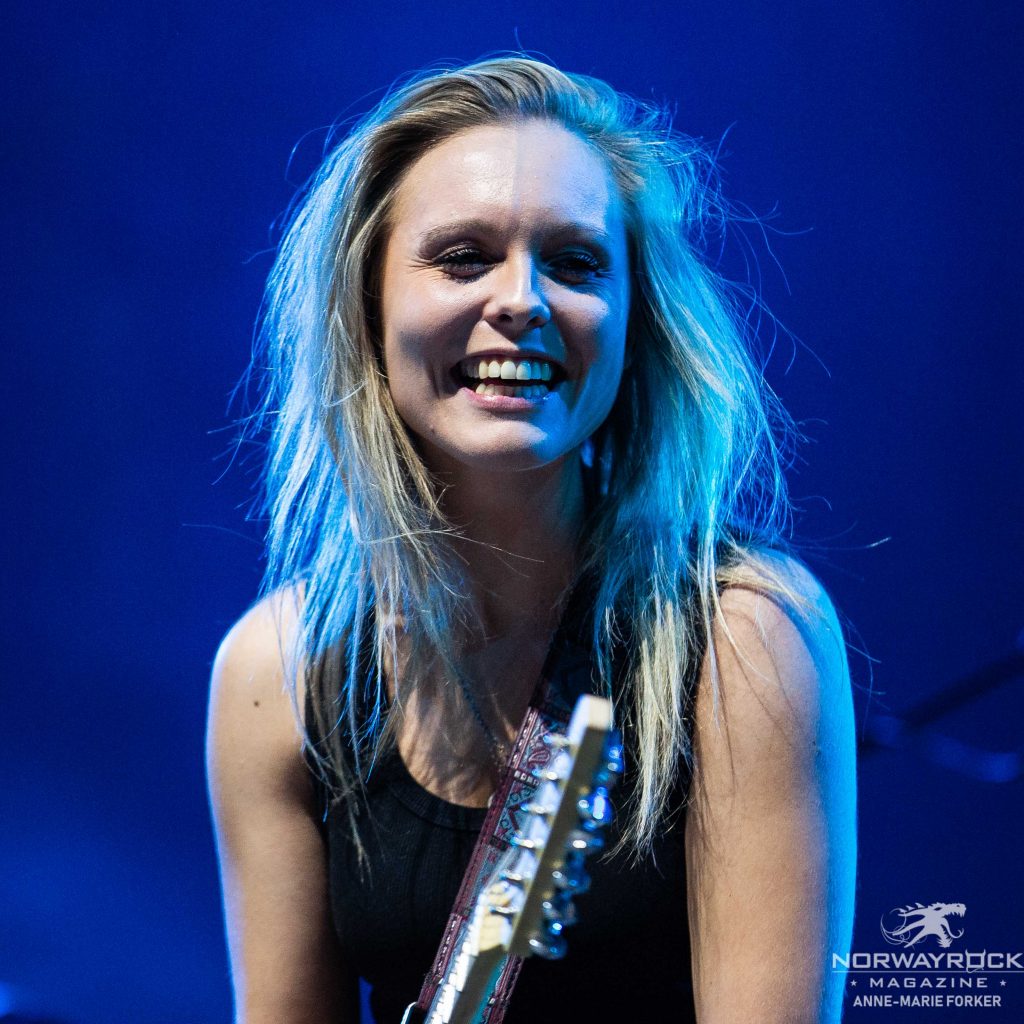 – From one star to another, Alec Baldwin is a fan of yours. You must have gained some US fans with his attention. Any plans to tour in the US, when the pandemic is over?
– We had to postpone our UK tour, and when that was over we were supposed to plan a US tour. But it's so expensive, so maybe in two years, we'll see. Most of my social media followers are in the US, and most of my streams are in the US. Alec Baldwin shared two of my videos. I got a lot of middle aged men with forty Fender guitars following me!
– You finished a course at a music school in Oslo. What was the most valuable thing you learned there?
– It was a great school, but I didn't go there for the education. I needed to get into the music scene in Oslo. They had good facilities and I made friends. I practiced every day for 5-6 hours for two years and travelled and played gigs. I learned how to have a schedule without having a boss and be determined. Practice! Every day until it becomes a part of you.
Først publisert i Norway Rock Magazine #4/2020