Mandag 26.august 2019
We took a trip to Brighton to interview Skunk Anansie and see a sold out gig at Brighton Dome, where they stopped on tour for the release of their 25th anniversary live album «25LIVE@25». (You can read the interview, which features an exclusive story from Skin, in issue 2019 #4.)

Skin, Skunk Anansie's iconic frontwoman and the first black woman to headline Glastonbury (not Beyoncé!), knows how to make an entrance. Wearing a flamboyant outfit that resembled a giant tinfoil pom-pom, she bounced and shuffled across the stage to the opening song, «Charlie Big Potato» (or should I say «Skin Big Pom-Pom»?).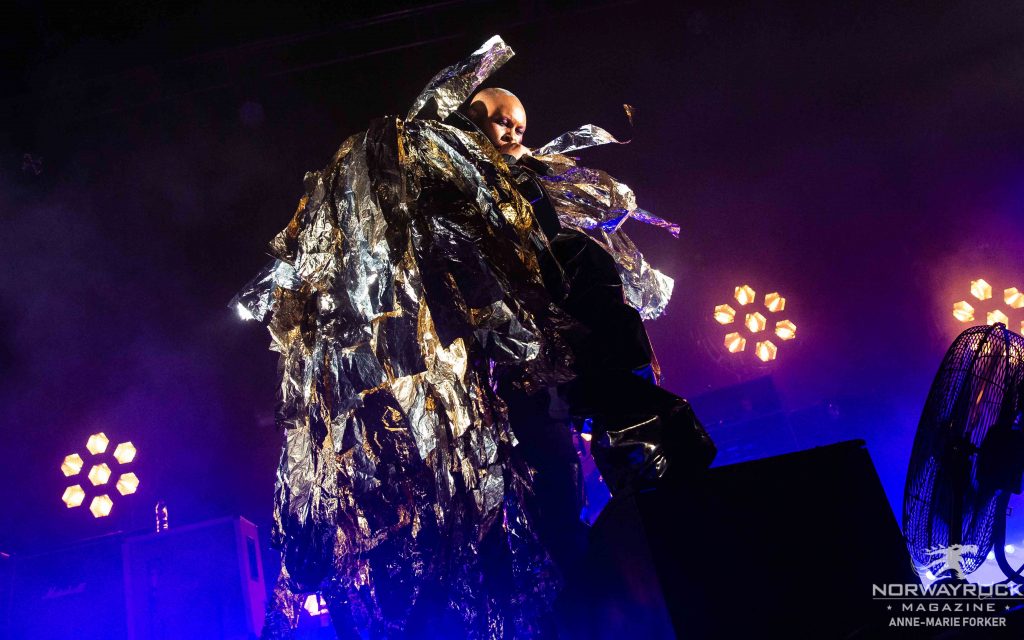 Ace provided powerful guitar riffs, Cass delivered thick, heavy bass rhythms and Mark Richardson's drumming sounded like thunder at times. A musician called Erika added to the live line-up. She is a multi-tasker: keyboards, percussion and backing vocals, which all help add texture to the live sound. The band gave a high energy performance from beginning to end. Skin jumped into the press pit during the third song («All in the Name of Pity» from their debut album «Paranoid & Sunburnt») and began crowd surfing. It felt like an encore, and yet the gig had barely begun, as there were another 20 songs to come!
It wasn't all old songs. The setlist included some new tracks, such as their recently released single «What You Do For Love». Before playing it, Skin asked the audience what the new song was called and held out the mic. No one answered. She bent over and shouted: «MOTHERFUCKERS!» Another new track was one of the highlights of the concert – «This Means War», which Skin introduced by saying in a sweet, almost innocent, high pitched voice: «I warn you, it has the ability to tear your fucking face off!» She was right. It's a powerful, political anthem in response to recent political events, which they haven't recorded yet. If this song is an example of the quality of the next album, it could be one of their best. After 25 years, they are still producing fresh, relevant music that excites a crowd. It fit nicely with the older classics such as «Weak», «Because of You» and «Hedonism» and of course «Yes It's Fucking Political».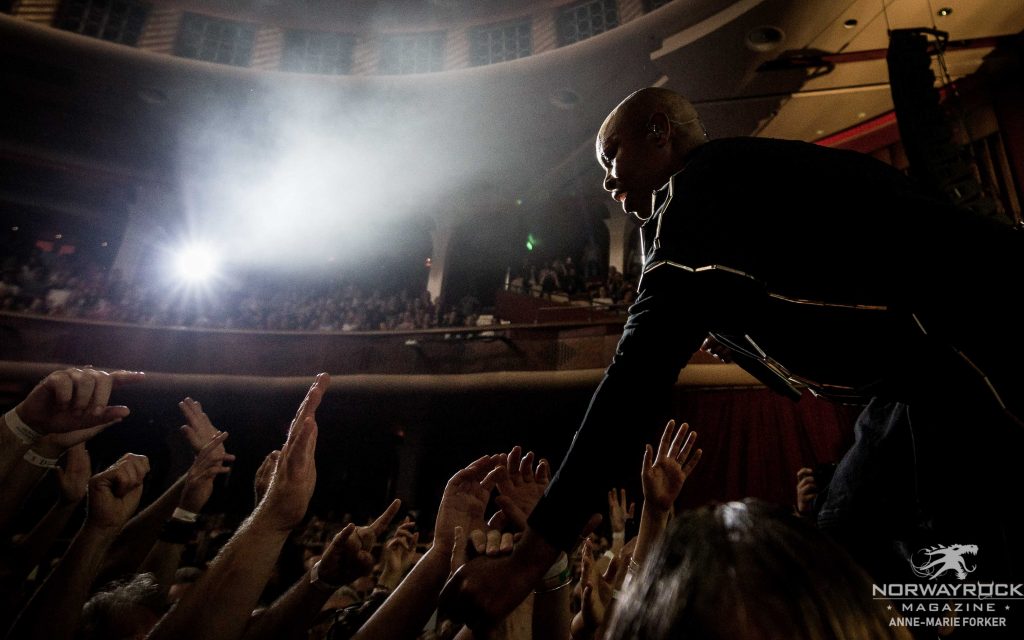 During the first encore, Skin introduced the rest of the band while Mark played a well known rock riff on guitar. Skin teased the fans by asking «Shall I sing it? SHALL I SING IT?!» The sold out crowd roared «Yes»! Then Skunk Anansie launched into AC/DC's «Highway to Hell», with Skin showcasing her huge vocal range with a long, high «Hellllllll» before playing fan favourite «The Skank Heads». The last encore was the song that caused controversy in the United States in the 1990s, «Little Baby Swastikkka». It wasn't just the band on stage who were jumping around, or the people on the floor, those in the balcony seats were too. Health and safety rules didn't stand a chance against the force of nature that is Skin.
Skunk Anansie have a rare ability to make a gig in an almost 2,000 capacity venue seem like a stadium concert. This was a concert worthy of Wembley. Skin has the stage presence, the charisma, the voice, the costumes and the talent to give as good a performance as Freddie Mercury did there, and that's saying something. 5.5/6
Tekst og foto: Anne-Marie Forker