Fredag 24. november 2017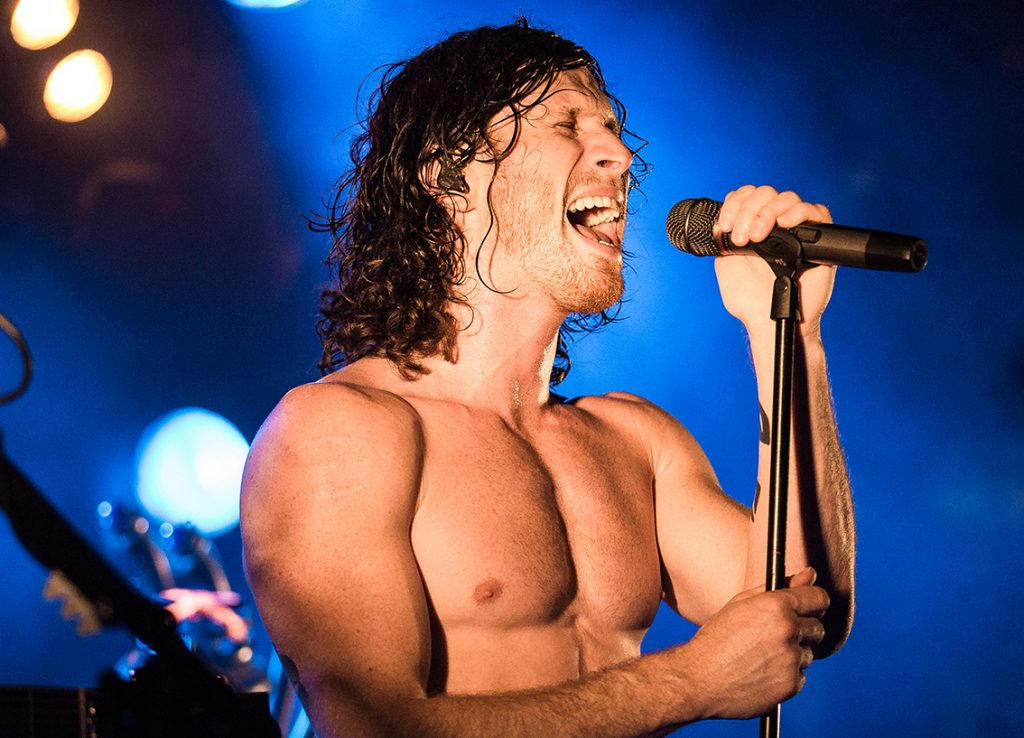 A few days after reaching no 1 on the American rock radio charts, Nothing More visited John Dee. Their music is wide ranging, featuring elements of progressive metal, industrial metal and pop. The band's live shows are known for their kinetic energy and Friday night in Oslo did not disappoint.
The setlist featured material from the latest album «The Stories We Tell Ourselves» including «Let 'Em Burn», «Don't Stop» and «Go To War», and also old crowd favourites such as «Mr. MTV» and «Jenny».
"Oslo! Are you with us?" the enigmatic, bare-chested and bare-footed Hawkins declared, adding "Who has seen us before?". Many cheered in response. "Who has never seen us before?" generated even louder cheers and waving hands. The band's fanbase is evidently growing.
When «Don't Stop» began, those familiar with the band knew it was almost time for the «Bassinator» spectacle to take centre stage. The «Bassinator» is a machine that holds Daniel Oliver's bass so that he can swing it around and he and guitarist Mark Vollelunga both tap its strings. Hawkins joins them to play with his drumsticks, so all three band members have mounted the machine simultaneously. It's a spectacle the crowd embrace.
«Go To War» showcased Hawkins' vocal range brilliantly. The crowd, as the lyrics state, certainly were «screaming at the top of (their) lungs» while Hawkins commandingly extended his clenched fist over the front row. The drummer, Ben Anderson, ended the song with a powerful drum solo.
After the drama of «Go To War» the crowd were soothed with an acoustic ballad «Just Say When». Hawkins explained that the track almost didn't get put on the new record: «We thought maybe it was too sappy. I had this quote, that's where I was with this one – that the hardest thing in life is knowing when to walk away and when try harder."
Another ballad featured later in the setlist – «Heartache». Hawkins knelt in front of the drumkit and the audience sang the whole last verse, which delighted the band. After their hit «Jenny», to mix things up the crowd jumped to the arpeggio filled prog metal «Ocean Floor / Ballast».
Before the penultimate song, «Skrillex», Vollelunga quipped "So, we had some brown cheese and waffles today. Man, we love that shit." Laughter ensued. Hawkins was also in a jovial mood: "It's a bit colder here than in Texas…. Yeah, you're right, I should probably buy a shirt, that would help…» He then informed the crowd that the band don't do encores: «They are fake, they are fake…. We're just going to play the last song (Salem) with everything we've fucking got. So, if you're got any left from today, from this week, from this month, from this fucking year, this is your chance to let it go, now is the time."
Authentic in music and performance, this is a band on their way up after over a decade together. In 2018, expect something more from Nothing More.
5/6 | Anne-Marie Forker
Foto: Anne-Marie Forker