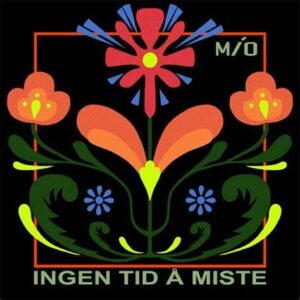 This Oslo-based six-piece, who have been going since 2019 and who already have a reputation for excellent live performances, have put out their anticipated debut album «Ingen Tid å Miste», apparently another product of the enforced seclusion and patience of the pandemie.
Let's not beat about the bush. It is an impressive piece. At first listen, it is founder Dionisia Fjelldalen's vocals which stand out, powerful, versatile and distinctive. She mocks and yells her way through «Huldra», crows appropriately enough on «Kråkevisa», pleads on «Ingen å Be», and uses her full palate on the title track.
Listening below that, we have a strong ensemble playing which creates a full, balanced sound. There aren't many solos or other obligato pieces for the players, though the Hardanger fiddle does seem to have a freer rein than the rest. The rhythm section, which consists of co-founder Marianne Friisberg Larssen and drummer Eilif Finnseth Hallingstad, is tight and sensitive to the music they are supporting. There are folk sensibilities here, of course, but when things pick up they are able to apply the force needed to lift the music. Jakob Nome's guitar playing sits more with the rhythm section, providing texture and backdrop to the front-line. Again, delicacy and sensitivity is the watchword, subtlety and power each as needed. His opening lines on «Huldra» are particularly enchanting, weaving around the fiddle.
Speaking as a foreigner, it seems that the relationship between folk music and modern metal music in Norway is an easier one, with the folk side, the history of the country and its music, coming first, and the contribution of original metal music then joining that in the modern synthesis you find in bands like Mio or Enslaved. So, the presence of Maja Hveding Styffe's Hardanger fiddle doesn't jar, and the array of traditional and historic instruments deployed by multi-instrumentalist Henrik Hagen Johnsen fits seamlessly into the arrangements, without feeling bolted on or making the rock-style backing or overdrive guitar feeling like an afterthought, an attempt to bridge two worlds. This isn't just Gåte mark II – another rockband with a fiddle. It's better than that – it's a decent combination of folk tunes, rhythms, songwriting and instruments with rock style and energy. Some of the tracks, like «Dragen og Hvalen», «Trall fra Grefsenkollen», and «Fra et Annet Sted», wear their folk influences more clearly on their sleeves, and there's the beautiful rosemåling design to the album's cover.
Whenever a band choose to sing in Norwegian, it's worth taking the lid off the syltetøy krukke labelled «Singing in Norwegian» en gang til. Perhaps it's less contentious here – do folk-influenced musicians get a free pass? The debate always twists around «reach» and «authenticity». You should follow a-ha and sing in English…. No, you should stick to your roots and your native culture and sing in Norwegian (local dialect? Superfint! 10 bonuspoeng!). In this case, I think we can safely come down on the side of authenticity. Of course, lyricists should feel free to write in the language where the feel most poetic – and there's nothing wrong with Fjelldalen's lyrics – but we should also remember that in this niche area, and with the role of history behind the music, Norwegian is the correct language for these songs. And, to be honest, we should keep in mind that with music as beguiling as this, people will seek out the lyrics and translate them, even learn to sing long in Norwegian.
I save special mention for «Morgenstjerne» – this track especially marks the band out as a force, and elevates the album above being a mere «good start». It has everything – atmosphere, soaring vocals, changes in dynamics, careful use of emphasis, clever songwriting, and seamless integration of folk music with rock power. If not every track is of the same quality, we need to remember that this is a debut album – they have only an EP behind them. The first two tracks are as good as you might find on any folk-rock album and there's more of the same quality throughout, like «Ingen å Be» and «Faller Aldri Av». This is a commanding debut album for any band.
4.5/6 | Alex Maines
Release date: 9 June 2023