Lørdag 6.juni 2020 (*Scroll down for English text*)
Vi tok turen til Oslo Audio for å se og høre prog-popbandet Maraton fra Lillestrøm spille med sin største sceneproduksjon noensinne, strømmet direkte på VIERLIVE-plattformen. Og Maraton er ikke fremmede for strømming, ihvertfall ikke lydmessig – de var Norges mest strømmede prog-debutanter i 2018/19.
Selv om det ikke var et publikum til stede, kunne fanse likevel delta med å stemme på en setliste, hvorav de fleste låtene var hentet fra Maraton's 2019 debutalbum «Meta». Konserten startet med en nyere låt, «Almost Human», som demonstrerte det vokale spennet på frontmann Fredrik Klemp (som intervjues her!). I løpet av opptredenen la Klemp både hjerte og sjel (og noen tusen kalorier) i sin prestasjon – han hoppet fra trommepodiet, løp rundt, sparket i luften og rullet på gulvet. Selv uten en scene eller et publikum, kan Klemp likevel skape et utemmet uttrykk av frihet som bare de beste frontmenn kan. Flere ganger grep han også lekent et kamera og filmet sine bandkolleger, noe som skapte en nærhet som vanligvis mangler på streamede konserter.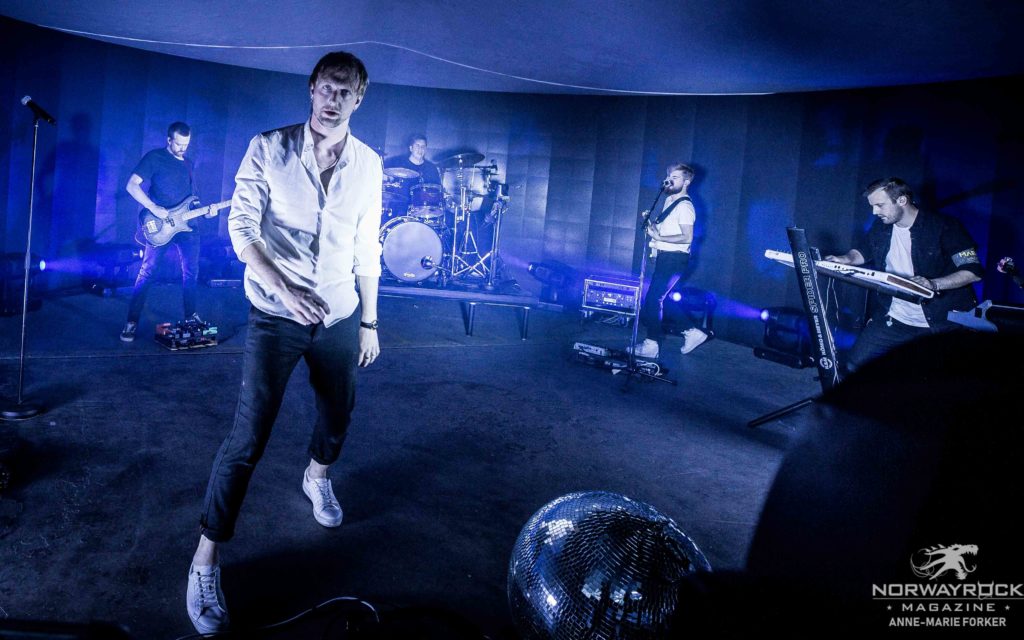 Videre fulgte «Altered State» med en sterk bass intro fra den nye bassisten Ruben Aksnes. Maraton har en kraftfull, og ofte stakkato-aktig, rytmeseksjon, særlig på starten av «Prime», da det var trommis Frank Nordeng Røe sin anledning til å briljere, med kjapp tech-metal tromming.
Etter at Jon Vegard Næss sluttet i bandet har gitarist og låtskriver Simen Hundere Ruud kommet tilbake, og han gjorde seg bemerket både visuelt og lydmessig. Han holdt seg ikke ved koringsmikrofonen, men inntok midtpunktet flere ganger, for eksempel under «Blood Music». Det var en tydelig kjemi mellom ham og Klemp.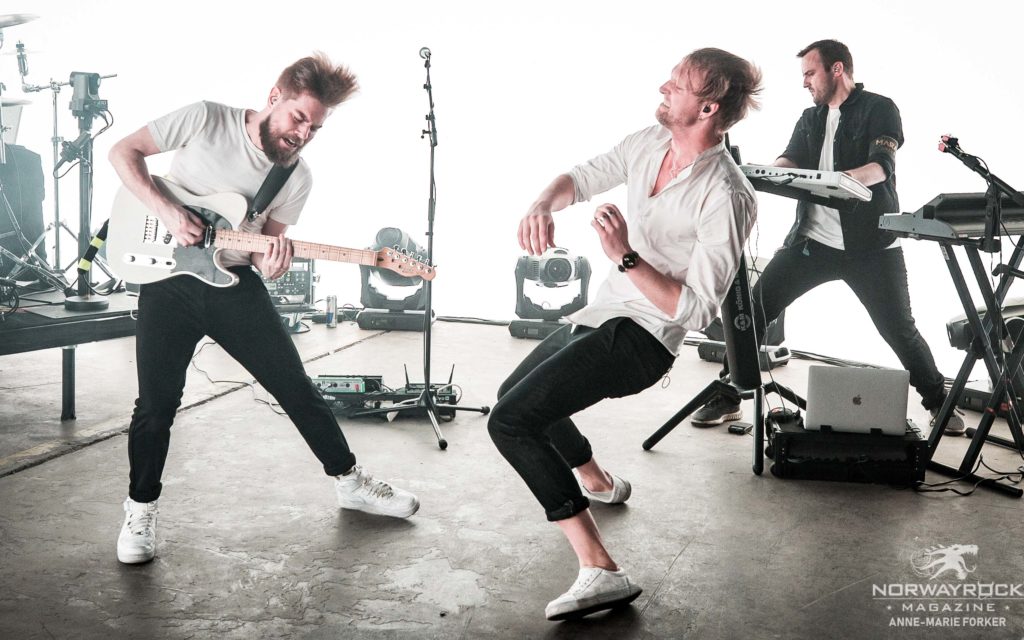 Keyboardist Magnus Johansen utstrålte også energi og følsomhet, spesielt under «The Manifest Content» og «Change of Skin». Klemp viste under starten av «The Manifest Content» at han er også i stand til å bare stå stille og levere en nydelig og melodisk vokal.
Setlista avsluttet med «Spectral Friends», sistesporet på «Meta», som du kan høre det meste av det som appellerer med Maraton. Melodisk. Energisk. Rytmisk. Intensitet. Maraton har mange strenger å spille på – de tunge rytmene til The Mars Volta, pop-estetikken fra Muse og a-ha med litt Leprous drysset på toppen – men de har også sin egen oppskrift som blander progmetal, rock og pop. Du burde virkelig smake på den. 5/6
Tekst og foto: Anne-Marie Forker
IN ENGLISH:
We took a trip to Oslo Audio to see Norwegian prog-pop band Maraton perform in their biggest live production to date, which was streamed on VIERLIVE. They are no strangers to «streaming», at least in the audio meaning of the word – they were Norway's most streamed prog debut band of 2018/19.
Despite the lack of a crowd to interact with, fans still participated by choosing the order of the setlist, which was mostly based on Maraton's 2019 debut album «Meta». The gig kicked off with a newer track, «Almost Human», which showcased the high vocal range of frontman Fredrik Klemp. As the gig progressed, Klemp gave his heart and soul (and a few thousand calories) to his performance. A force of nature, he jumped from the drumkit, ran around, kicked his legs in the air and fell to the floor. Even without a stage and a crowd in front of him, Klemp can create a sense of untamed, expressive freedom that only fine frontmen can. He also playfully grabbed the camera several times and filmed his bandmates, creating a sense of intimacy which is often absent from streamed concerts.
«Altered State» followed with a strong bass intro from new bassist Ruben Aksnes. Maraton have a powerful, often staccato like, rhythm section, especially at the beginning of «Prime», when it was the drummer Frank Nordeng Røe's time to shine, with fast tech-metal drumming.
After the departure of Jon Vegard Næss (The New Death Cult) from the band, guitarist and songwriter Simen Hundere Ruud has returned, and his presence was felt, sonically and physically. He did not remain behind the mic but also took centre stage a few times, for example during «Blood Music». There was obvious chemistry between him and Klemp.
Keyboardist Magnus Johansen also exuded energy and sensitivity, particularly during «The Manifest Content» and «Change of Skin». Klemp proved at the start of «The Manifest Content» that he is capable of standing still and simply delivering beautiful, melodic vocals.
The setlist concluded with «Spectral Friends», the final track on «Meta», which is a good example of everything appealing about Maraton. Melodic. Energetic. Rhythmic. Intense. Maraton's sound has several ingredients – the heavy rhythms of Mars Volta, the pop aesthetic of Muse and a-ha and some Leprous sprinkled on top, but they have a recipe of their own, mixing progmetal, rock and pop. You should have a taste. 5/6