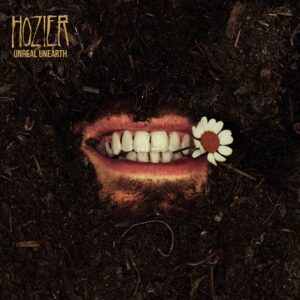 Universal Music
Irish singer, songwriter, and multi-instrumentalist Hozier is releasing his third studio album "Unreal Unearth". He explains what is behind the album's title: "A lot of the initial writing took place in the early days of the pandemic. It felt like a very surreal time—as if the earth was on its head. That's the Unreal part. It was also a season of great misinformation. It felt like we stepped into an alternative world. I liked Unearth as a verb 'to dig' or 'to uncover'. It describes a world that is not of this earth. The record is the experience of a journey through a certain period."
Hozier uses Dante's Inferno and the 9 circles of hell as a loose structure throughout the 16-track LP, which, as the press release states: "follows a captivating thematic arc informed by the turbulence of the world and the fight for a better and brighter tomorrow".  You can listen to the album and try to capture every literary reference, or simply sit back and enjoy the sound. It works on both levels, and that is something Hozier does extremely well. The poetic intellect and storytelling never distract from the music's soul.
Variety is the strength of this record. Hozier sings in Irish on a couple of songs, including the acoustic guitar laced opener "De Selby (Part 1)". The pace picks up with "De Selby (Part 2)", which sounds a little over produced in places, particularly after the earthy opening track. After the smooth and simple "First Time", an early highlight of the record comes with the rock ballad "Francesca", which could rival "Take Me To Church" live, and features a climax that Phil Spector would have been proud of. The warm string work and gentle vocals on "Carrion (Icarian)" are reminiscent of Simon and Garfunkel. "Who We Are" is a slow-building, driving ballad and a vocal highlight. The instrumental interlude, "Son of Nyx", is a stunning piece of orchestration played by Budapest Festival Orchestra, featuring vocals, but no discernible words. Then we switch to the soul/gospel choir backed "All Things End", followed by the romantic, Elton John like "To Someone From A Warm Climate (Uiscefhuaraithe)". The uplifting strings return on the beautiful but brief "Butchered Tongue". "Anything But" has a world music, handclapping vibe, but is the weakest track on the record.  The chorus of the radio friendly pop ballad "Abstract (Psychopomp)" will be popular live, despite it being one of the least ambitious on the album. A late highlight comes with "Unknown _ Nth", which channels the Peter Green Fleetwood Mac era. For those who only know "Take Me To Church", listen to this track to see what else Hozier can master. The closing, gospel rock track "First Light" contains a majestic choral section, and reminds one of "Nina Cried Power".
Ambitious, varied, expansive. It's easy to hear why Hozier has sold-out shows across 25 cities this year, including Madison Square Garden in New York, Wembley in London, and Hollywood Bowl in Los Angeles. Hopefully he will return to Norway soon, because these songs will be unearthed best live.
4.5/6 | Anne-Marie Forker
Release date: 18 August 2023