Mandag 13.november 2023
Forget Storm Debi. This evening, in Oslo, there arrived Storm Lzzy. It was Halestorm's third visit to Norway a in year. Most recently, they had played the main stage at Tons of Rock. So, it has been up and up.
(We had also wanted to check out Black Veil Brides, but they were not willing to drop their photo contract, so we passed. Kjem an, folkens, det er jo bare det tjueførste århundre.)
The programme was as much a showcase for Lzzy's vocal talents as for her stage presence and force of personality. She began with an a cappella segment of "Raise Your Horns", almost in the form of a vocal warm up, and she took her voice from top end growl to lower end sonorous crooning.  Earlier in the afternoon, she had told us in an interview (coming up in the next issue!) that she had picked up a bit of a cold in Sweden. You could hardly tell. That vocal performance, and her standing there, holding the stage alone, could have summed up the show.
Unlike earlier, heavier, visits this year, this was a more diverse set, though it was rightly dominated by the band's trademark high-powered rock, from the opening "I Miss The Misery", through "Freak Like Me" and "I Get Off", and, of course, "Rock Show". The band was on superb form. There wasn't a note or a beat out of the place in the whole evening. Arejay Hale on drums played with his usual combination of power and technical skill, building the complexity and demands of his playing through the set.  If it was a sign that the band were playing themselves in, that was not how it came across. Joe Hottinger had solos of varying lengths from first track to last, each one delivered with lots of bluesy panache.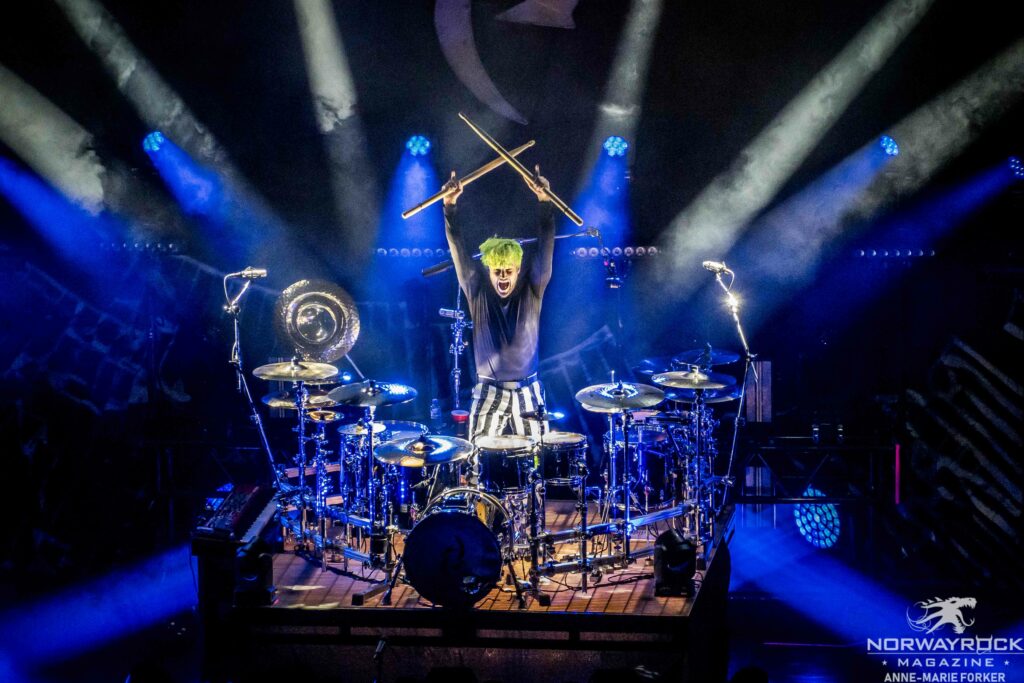 Hale worked the crowd. She flattered us ("It's all your fault because you guys keep coming out to see us"), she directed us before launching into "I Get Off" ("this song has just three words… now the ladies…. No, more sexy…. now – more angry…"), and she flirted with us ("Oslo, I love your accent"). Principally, though, she commanded our attention and admiration. Early in the set, she and Hottinger had the stage to themselves for an acoustic version of "Terrible Things", where again we got to hear the full range of her voice, followed by a half-and-half arrangement of "Familiar Taste of Poison" where the master class of front-person-ship continued.
Though it was early on, the song had the feel of the centrepiece of the set, with Hottinger's longest solo, and a solo for Lzzy as well, after yielding the stage to him for his piece. Hale finished the song on her knees, finding the very edges of her voice in a vocal outburst that was simply breathtaking. After that, the band rocked out all the way to the encore. We'd already had the madness and fun of the drum solo by now, which was the usual mixture of changes in pace and dynamics over the whole kit, and a hilarious rendition of Queen's "We Will Rock You" played at ten-times speed. The band were enjoying themselves now and the reception had been given must have helped – the audience were cheering, waving, joining in with the words, spontaneously clapping along, from the first number. We had duelling or duetting guitars from Lzzy and Joe, another piece of pure, classy rock-and-roll stage management. And behind all this, the drumming was getting slicker and more complex, the guitar solos were getting longer and more lyrical, and the bass playing from Josh Smith got more subtle, weaving in and out of the drums, like on "Do Not Disturb".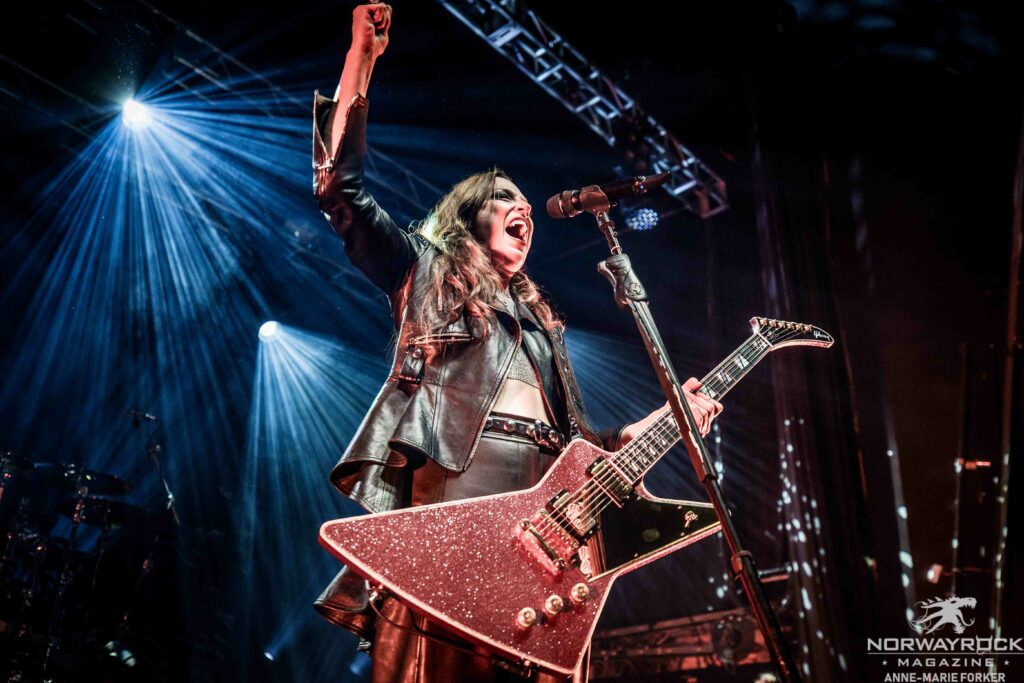 There was a pause, just a small one, and then Lzzy returned to the stage with a keyboard for another solo section. If she had been playful before, it was time for her to be joyous but earnest – "This is my home tonight". Just two numbers with the piano – "Break In" and "Raise Your Horns" – but another first-rate vocal performance at all ranges, with just a touch of strain at the top end, and full of feeling.
They toasted the band and one another, and sent us on our way with "The Steeple". It's edgy nu-metal sound at first might make it seem like an odd choice for closing a set, but the band navigated its changes in colour perfectly, transforming it into the anthem that it is. "Oslo, this is our church and you are our people." There was no-one in the audience who could disagree with that.  But the undersigned would go further – with the greatest respect to her three excellent colleagues, it had been her church and the audience had been her people. She had owned the stage from the first moment she set foot on it, and she had driven the band through the show with the sheer force of her voice and personality as well as her passion for performing their songs, in an evening whose atmosphere and emotion had ranged from intimate to joyous through raucous and mischievous. She said that after being to Norway as often as they had, they had come to realise that this was "exactly where we belong". Of that, there could be no doubt. 5.5/6
Text: Alex Maines
Photography: Anne-Marie Forker