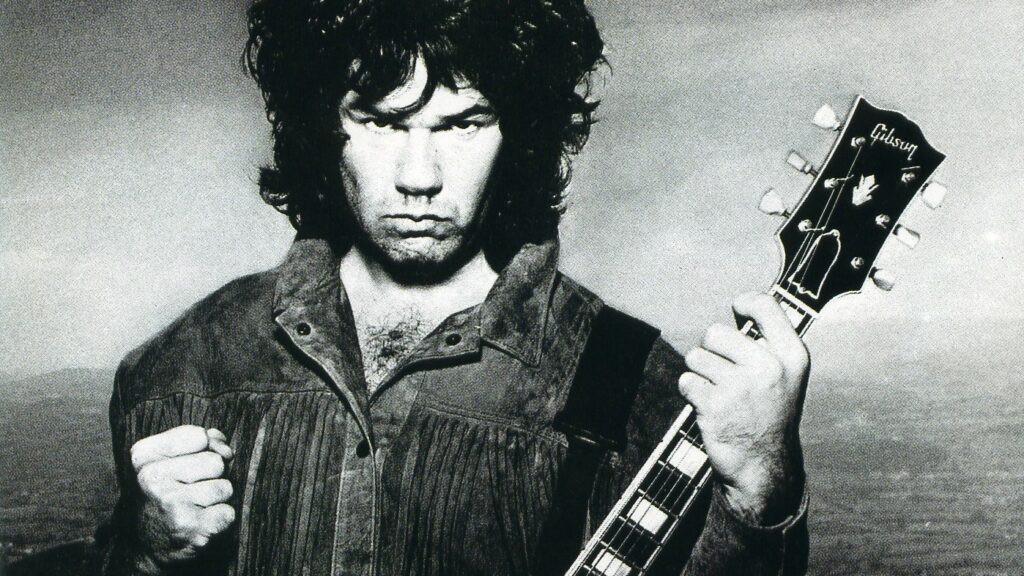 «His playing was exceptional and beautiful. We won't see his like again«, said Bob Geldof of Gary Moore, the Belfast born songwriter and virtuoso guitarist, when he died in 2011, aged just 58. Glenn Hughes described him as the «jewel in the crown» of all the guitarists he worked with. Moore began his career in the late 1960s when he joined Skid Row. He also played in the progressive jazz fusion group Colosseum II before joining Thin Lizzy, featuring his former Skid Row bandmate and childhood friend Phil Lynott. In the late 1970s Moore began his solo career and found success in the 1980s with his melodious hard rock and in the 1990s with his blues records. He mastered several genres and released 17 solo studio albums during his lifetime, which we have taken the arduous task of ranking. We've still got the blues for you, Mr Moore. RIP.
Tekst: Anne-Marie Forker
17. Dark Days in Paradise (1997)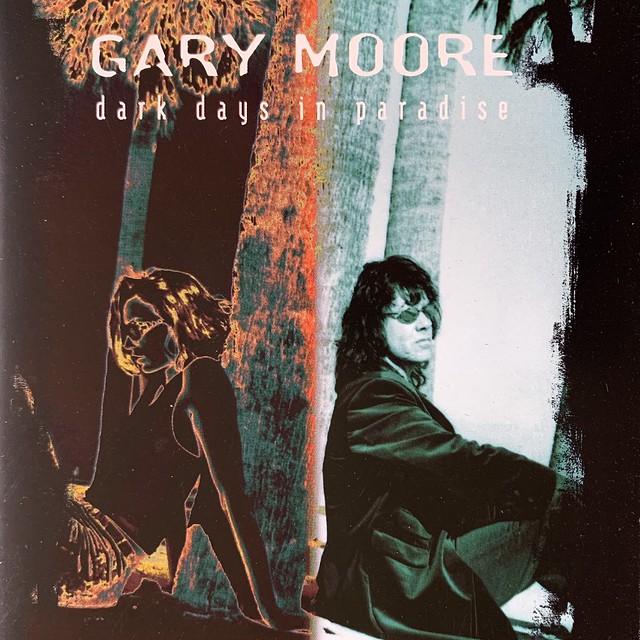 Do you think Gary Moore only made rock and blues albums? Think again. He made quite a drastic change in musical direction on his 11th studio album, avoiding the electric blues style of his preceding records in favour of a more contemporary sound. It's an eclectic and quite introverted selection of songs, mixing blues, folk, rock and funk with some lush orchestration. At times his vocal phrasing sounds like Liam Gallagher of Oasis (check out «One Fine Day» – «One of these days we'll be togetheeerrrrrrrrrrrrr«)! The highlight is «Business As Usual», Moore's longest running composition, at over 13 minutes. It's not a blues rock record, or a hard rock record, but could be described in places as soulful rock and demonstrates Moore's versatility. As an artist, he was experimenting, but it is far from his best work.
16. Old New Ballads Blues (2006)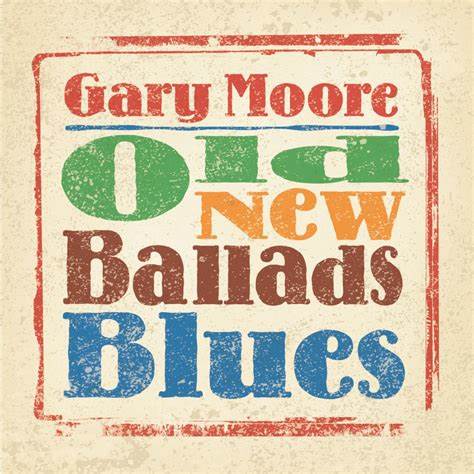 As the title indicates, Gary's fifteenth solo album is a mix of new blues (Moore wrote five new tracks) and old blues (covers of Elmore James, Willie Dixon, and Otis Rush songs). Half the album is ballads. Moore's own compositions stand out more than the covers, especially «No Reason to Cry» which contains a nod to Roy Buchanon, the soulful «Gonna Rain Today», the horn-enhanced remake of «Midnight Blues» and the powerful instrumental «Cut It Out». It doesn't sound as cohesive as some of his other blues records.
15. A Different Beat (1999)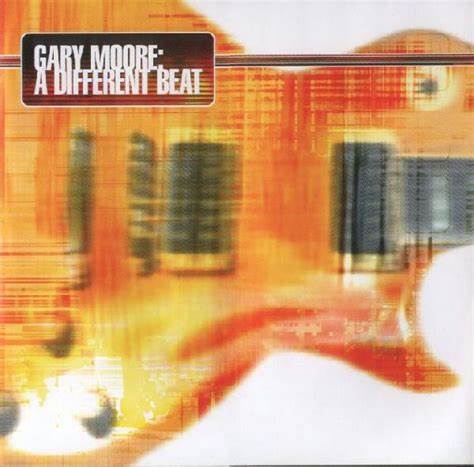 Moore continued to evolve the contemporary sound of «Dark Days in Paradise» on this album, where he combines his guitar work with contemporary dance beats. This would have surprised and perhaps alienated some fans. It contains hints of modern blues on the tracks «Worry No More», «House Full Of Blues» and «Bring My Baby Back». Highlights include the superb guitar solo on «Lost In Your Love» and the track «Can't Help Myself», a superb example of blues-dance beat fusion. There are brilliant moments of slide guitar on the record. The track «Fatboy» is clearly a reference to Fatboy Slim, and is the weakest track by some distance. It's a record worth listening to if you fancy trying something different. Don't say I didn't warn you about the dance beats!
14. Power of the Blues (2004)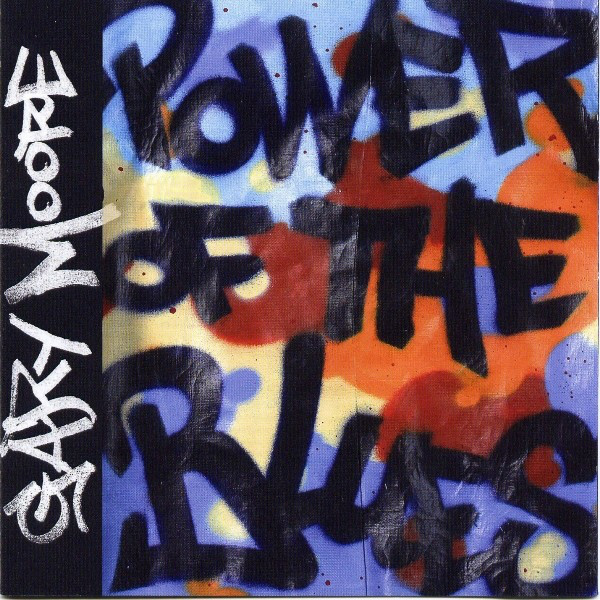 Moore's fourteenth solo album is still blues, but with a harder rock edge and heavier arrangements than the previous album. In 2002, Gary Moore formed a band with ex-Skunk Anansie bassist Cass Lewis and Primal Scream drummer Darrin Mooney called Scars. On this solo record, Gary continued with the Scars power trio format and is joined by fellow Scars member Mooney on drums and bassist Bob Daisley (Rainbow, Ozzy). Daisley appeared on seven of Gary's solo albums. If you were a fan of Moore's rock albums in the 1980s but lost touch with him when he released his first blues album in 1990, give this one a listen. It's «still got the blues», but there are also traces of Cream, Zeppelin (on the title track, «Getaway Blues» and «I Can't Quit You Baby»), and Michael Schenker («There's A Hole»).
13. Back on the Streets (1978)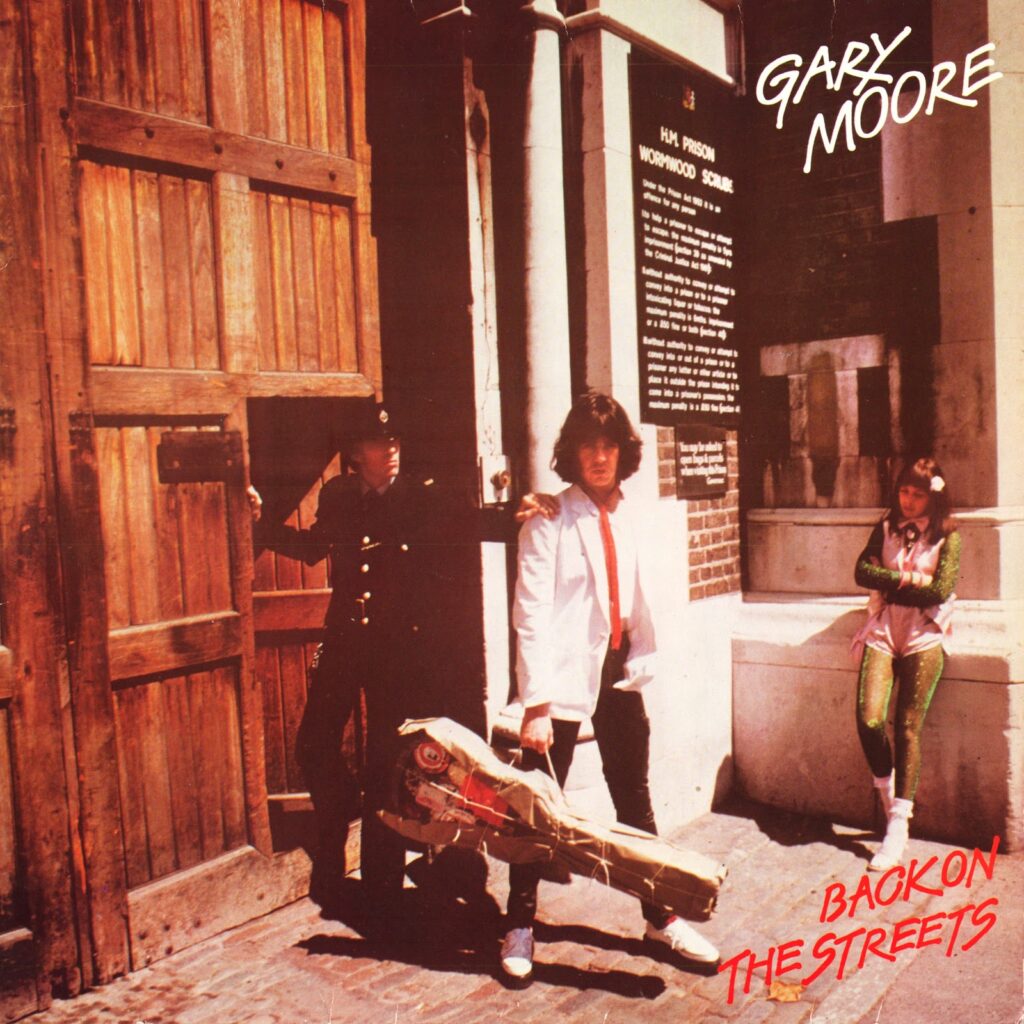 «Back On The Streets», recorded shortly after Moore left Thin Lizzy, was his first solo LP (the «Grinding Stone» album, released in 1973, was credited to The Gary Moore Band). It's a mixed bag. Thin Lizzy fans will appreciate several tracks as Phil Lynott appeared on four songs, including the show-stopper «Parisienne Walkways», which he co-wrote with Moore, the opening Lizzyesque title track, a slower, soulful version of «Don't Believe A Word» and the punkish «Fanatical Fascists» (or at least, an attempt at punk). The album also features prog jazz instrumentals and to some extent recreates the fusion sound of Moore's work with Colosseum II (a progressive jazz-rock band formed in 1975 by former Colosseum drummer and bandleader Jon Hiseman). The instrumental highlight is the amusingly titled funk-rock groover «What Would You Rather Bee or A Wasp».
12. Close as You Get (2007)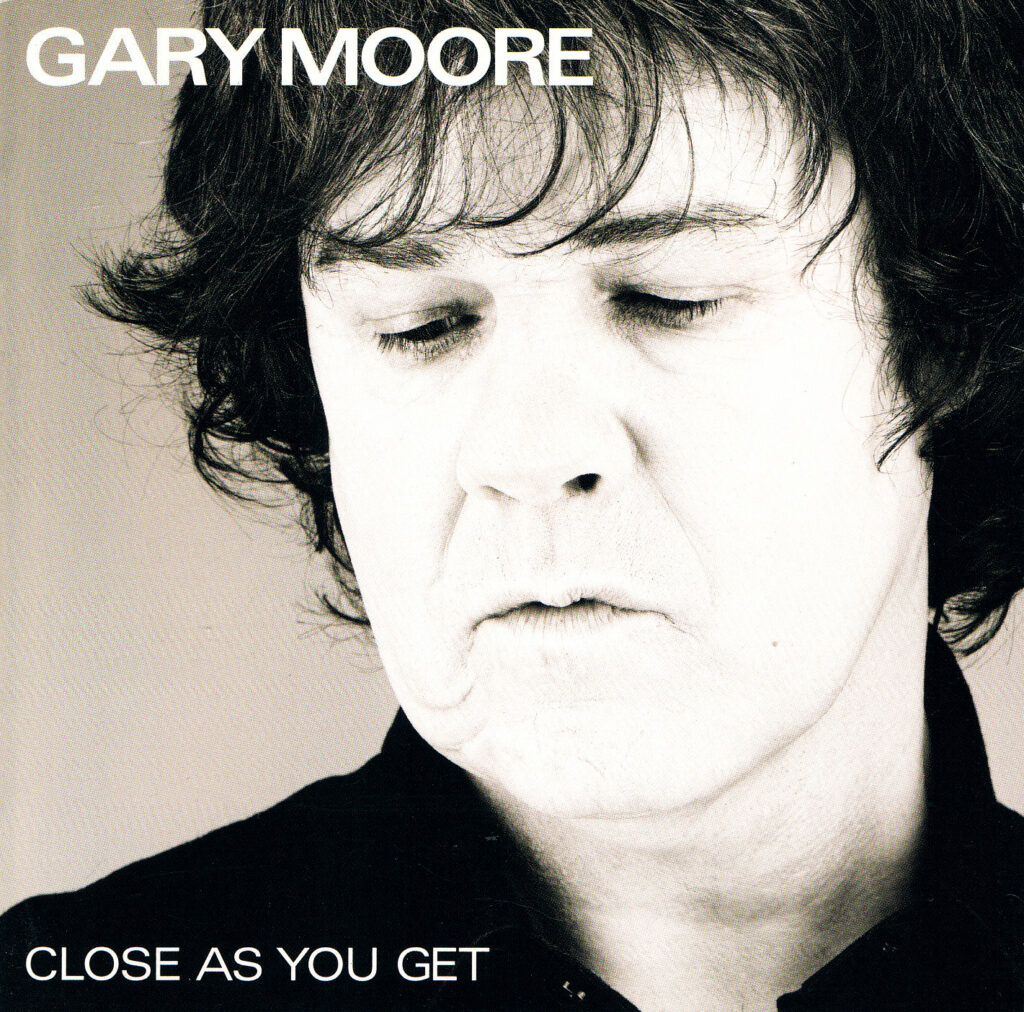 Moore reunited with his former Thin Lizzy bandmate, drummer Brian Downey, who played on all the tracks. This reunion didn't mean a return to the Lizzy sound, however. The record contains a wide range of blues music, from powerful ballads, bottleneck blues and shuffling boogie and therefore could be described as his most authentic blues album. However, the songwriting is so strong, that the compositions would still work with other arrangements. Highlights are «Trouble At Home», «Evenin», and «I Had A Dream» which sound truly heartfelt. The album closes with a rare, unplugged acoustic treat, with a seven-minute acoustic version of Son House's «Sundown».
11. Dirty Fingers (1983)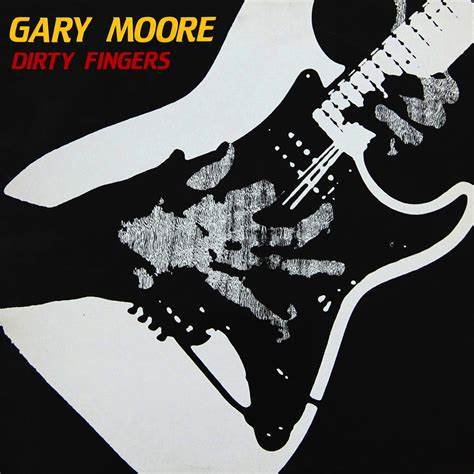 Moore's third solo album was originally recorded in 1981 (technically making it his second solo album), but was initially shelved in favour of the G Force album. It was eventually released in Japan in 1983, and internationally the following year. It's one of his heaviest records and as the name suggests, it's a dirty, raw collection. It was recorded with an all-star line-up: Ted Nugent; Jimmy Bain (bass) of Rainbow and Wild Horses; Tommy Aldridge (drums) of Black Oak Arkansas and Pat Travers Band; Don Airey (organ, keyboards) of Colosseum II, Rainbow and Ozzy Osbourne; and Charlie Huhn (lead vocals). There are several lacklustre tracks, such as «Rest in Peace» and a cover of the Animals' «Don't Let Me Be Misunderstood». The highlight is the powerful «Nuclear Attack», which includes a synth part that might have been an inspiration for Europe's infamous «The Final Countdown», and which had also appeared on Greg Lake's eponymous debut album. Moore was unhappy with the mixing and production by Chris Tsangarides, and it's clear he was still finding his way.
10. Back to the Blues (2001)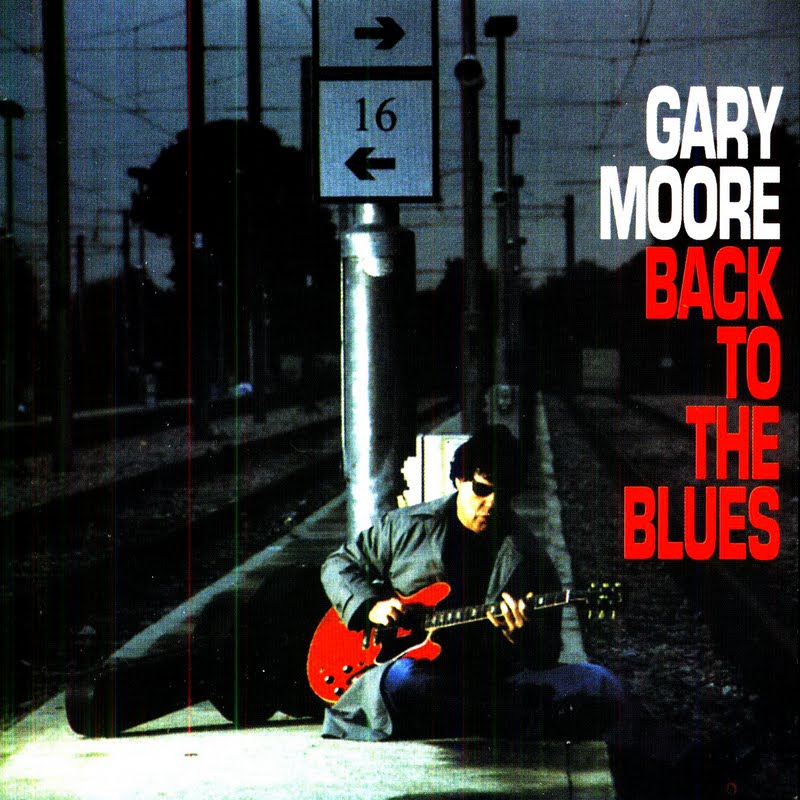 As indicated by the album title, Moore returned to playing electric blues music after his two previous, more experimental albums. The majority of the tracks are originals, although they also sound like blues standards. Moore is not reinventing the wheel here. It's a standard blues album that Moore lights up with his passion and musicianship. It's worth listening to mostly for the ballad «Picture of the Moon» (which is rather similar to «Still Got the Blues») and the stunning, emotionally charged guitar on «The Prophet».
9. Blues for Greeny (1995)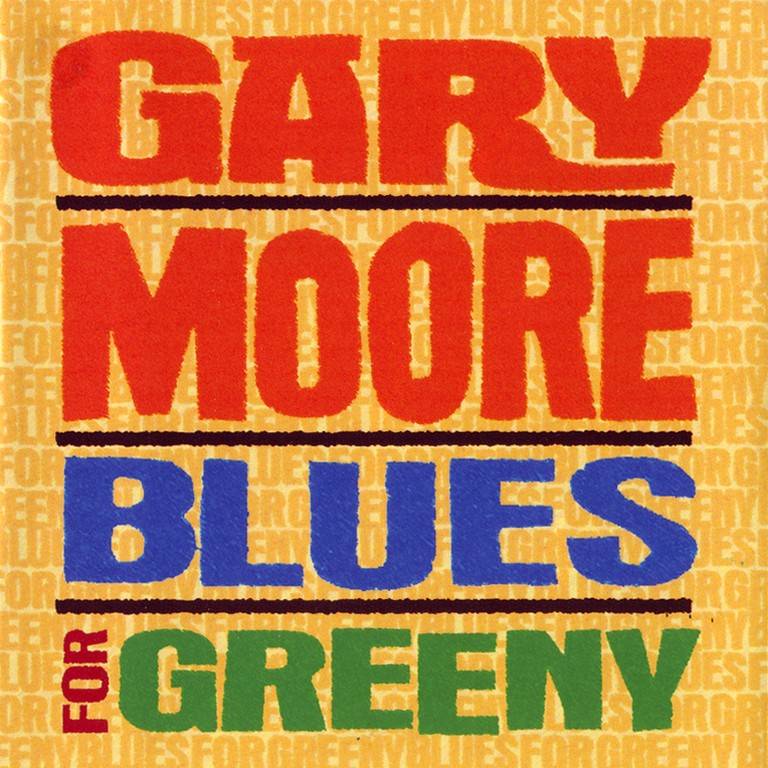 Gary's tenth studio album is a tribute to Peter Green and his music, mostly from Green's Fleetwood Mac days. It demonstrates Moore's skill as an interpreter of other people's music. He doesn't stray too far from the originals, yet somehow makes the music sound like it is his own. The album was recorded using the same 1959 Les Paul Standard used to record the original tracks, which Green loaned and then sold to Moore after leaving Fleetwood Mac (and was later purchased by Kirk Hammett of Metallica for $2 million). The songs are mostly mid-tempo and if you are looking for fast licks, this is not the record for you. If you love the blues, you will enjoy this record. It's also an excellent introduction to Peter Green's music.
8. Bad for You Baby (2008)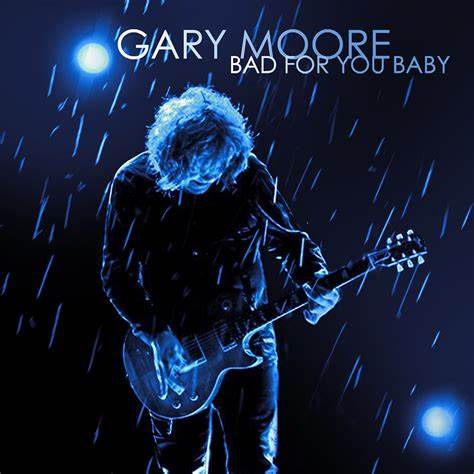 Gary's final album (during his lifetime) is a hard-edged, solid blues-rock record with a good variety of tracks and one of his better blues albums. He covered two Muddy Waters songs, «Walking Through the Park» and «Someday Baby», and collaborated with Cassie Taylor and Otis Taylor. «Umbrella Man» contains traces of Thin Lizzy. The solo in «Did You Ever Feel Lonely» is scorching. You can hear how Moore has perfected slow, minor, melodic blues for those with an aching heart on the longest tracks «I'll Love You More Than You'll Ever Know» and «Trouble Ain't Far Behind». The former is the centre-piece of the record and Gary's vocals are particularly raw and emotional.
7. After the War (1988)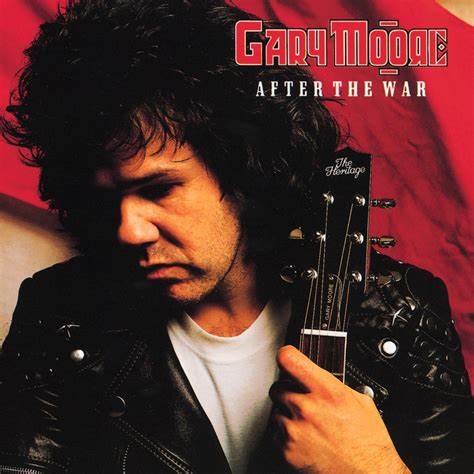 Moore's last hard rock album is decorated with metal riffs and the record keeps the Celtic theme present on its predecessor, «Wild Frontier». The two part instrumental «Dunluce» is named after Dunluce Castle in Northern Ireland. A guest star, Ozzy Osbourne, shares lead vocal on the hilarious «Led Clones», which pokes fun at bands that copy Led Zeppelin, particularly Kingdom Come. The weak point is «This Thing Called Love». Highlights include the anthemic title track «After the War», «Speak for Yourself», the powerful «Blood of Emeralds» and the Roy Buchanan cover «The Messiah Will Come Again», which contains one of the best guitar solos of all time. If you love guitar solos and have not heard the latter track yet, listen to it right now! It's the perfect blend of blues and hard rock and showcases Moore's remarkable versatility.
6. Corridors of Power (1982)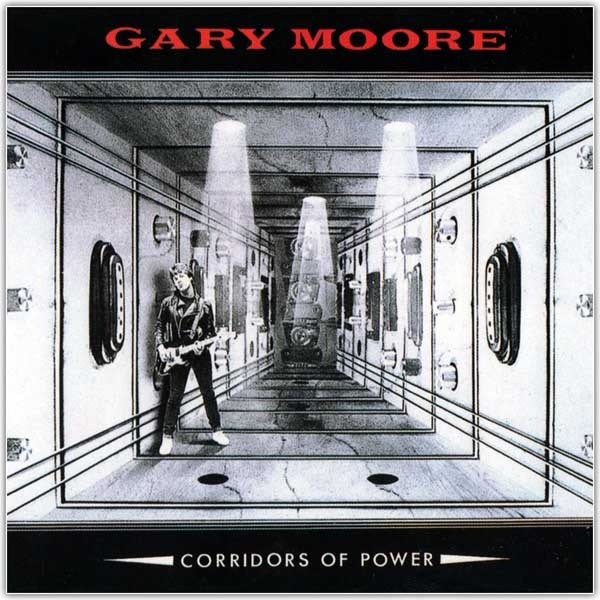 Gary's second solo album was a heavy metal record, which is no surprise given Gary's rhythm section included former Whitesnake bassist Neil Murray and former Deep Purple drummer Ian Paice. It's one of his most consistent collection of songs, demonstrating outstanding musical virtuosity juxtaposed with catchy melodies. The guitars sound raw and upfront, and there are plenty of wailing bends and vibrato (Moore used a 1961 Fiesta Red Fender Stratocaster previously owned by Tommy Steele on this album, and on "Victims of the Future"). The precision and speed of his guitar playing on the cover of the Free song «Wishing Well» is outstanding. The solo at the beginning of «End of the World», a track on which Jack Bruce of Cream shares lead vocals, is simply mind-blowing. In many ways, a classic 80s heavy metal album.
5. After Hours (1992)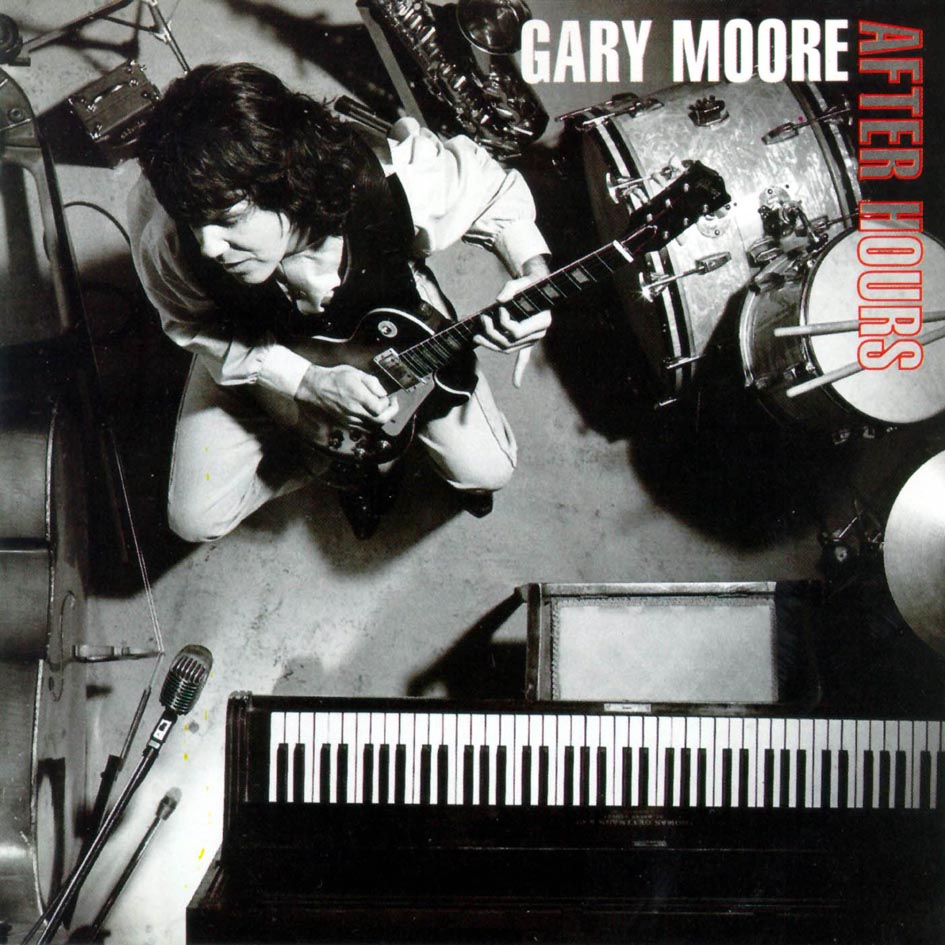 Gary's second blues album features guest contributions from legends BB King (on «Since I Met You Baby») and Albert Collins (on «The Blues Is Alright»). As the lyrics to the latter track state, «the blues is back, and it's here to stay», although there are still traces of hard rock in the blues track «Only Fool In Town», particularly with the leading licks. The chemistry between King and Moore is evident – particularly with Collins' stating at the end of the track – «You Tell em' Gary». Highlights include the opener, «Cold Day in Hell», «Jumpin' At Shadows», and «Story of the Blues», which has a thread of snippets of classic blues songs weaving through it (eg «sweet little angel» is a reference to a BB King song). On the 2002 remastered CD, Gary's masterful playing towards the end of «All Time Low» is also a highlight. It's an excellent blues record, but his hard rock fans will be missing those metal riffs.
4. Run for Cover (1985)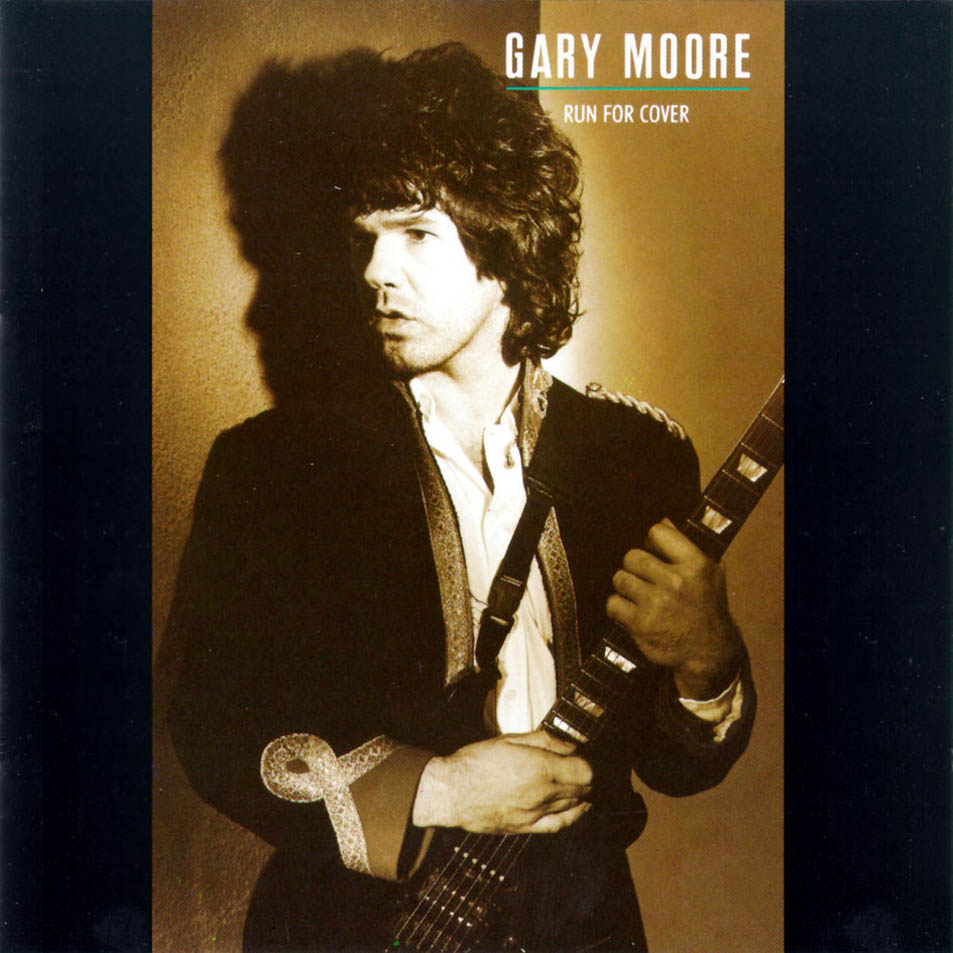 Carrying on the hard rock sound, but now adding more pop rock into the mix, Moore's fifth studio album is often considered as his breakthrough. It features the fast-paced top 5 single «Out in the Fields», a song about the Troubles in Northern Ireland (it was also one of the last recordings made by Phil Lynott before his death in January 1986), and Moore's vocal performance is outstanding. The record stars several musician friends other than Lynott, including bassist/vocalist Glenn Hughes (Deep Purple, with whom he had briefly worked with in G-Force) and Paul Thompson (Roxy Music). There is plenty to keep heavy metal and hard rock fans happy. Highlights, other than the top 5 single, include «Military Man», «Run For Cover», «Once In A Lifetime» and «Out Of My System». The re-recording of "Empty Rooms" is not as strong as the original recording on the previous album. As with the previous album, the last track («Listen to Your Heartbeat») is the weakest on the record. Having three different vocalists naturally challenges the «cohesive» element of an album, but somehow, it works.
3. Victims of the Future (1983)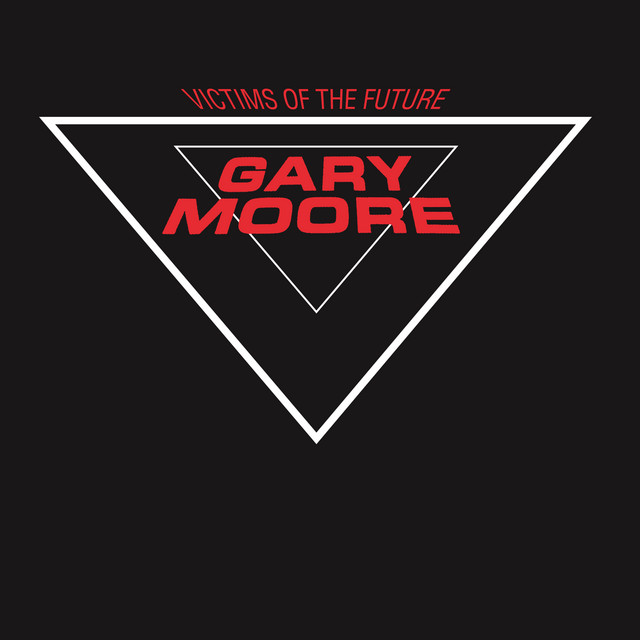 Enter Neil Carter. Gary's fourth studio album was the first to feature the former UFO guitarist/keyboardist , who would become Gary's right hand man during the rest of the 80s (it was also the last to feature bassist Neil Murray, who rejoined Whitesnake, and drummer Ian Paice, who rejoined the reformed Deep Purple). Although Moore later dismissed the record as «just one of my feeble attempts at heavy rock», the album has many strengths: blistering guitar solos, rock n' roll anthems («Hold On to Love»); a stunning ballad («Empty Rooms», co-written with Carter); dark, political material («Victims of the Future» and «Murder in the Skies»); and a fine cover of The Yardbirds' "Shapes of Things To Come". Moore is at the peak of his heavy metal guitar slinger powers on this record (and also on «Corridors of Power»). There are weaknesses that prevent this album from being exceptional overall, although it has plenty of exceptional moments. «Teenage Idol» and «The Law of the Jungle» sound weak next to the other tracks, especially the outstanding mid-section of tracks 3-5, «Shapes of Things», «Empty Rooms», then the exceptional «Murder in the Skies», which is some of Moore's finest work.
2. Still Got the Blues (1990)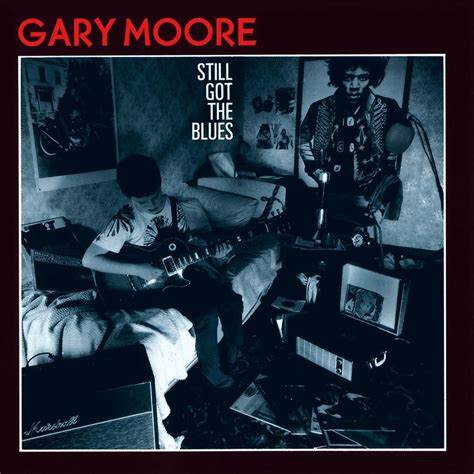 After a string of hard rock records, Gary wanted a change in direction and embraced his first love, the Blues. «Still Got the Blues» features guest appearances by Albert King and Albert Collins (and George Harrison on a bonus CD track). One of the best blues-rock collections of all time, the album is a mix of classic blues covers and some outstanding original songs. There are a couple of soaring, enchanting compositions in «As the Years Go Passing By» (slow blues that Peter Green would have been proud of) and «Midnight Blues», which has slight echo on the guitar, reminiscent of early Fleetwood Mac. Moore's inspirations while making the album included the Eric Clapton and Peter Green recordings with the Bluesbreakers and Fleetwood Mac, but he chose a more contemporary, high-gain tone than those records to keep his hard rock fans happy. The album is full of wonderful guitar solos, especially on «King of the Blues», the title track and his reworking of King's «Oh Pretty Woman». King said, after recording the album, «I didn't think he could play … but listening to that kid play the wildest things … Golly Moses, where did he come from?» He came from Belfast, Mr King, as did this writer.
1. Wild Frontier (1987)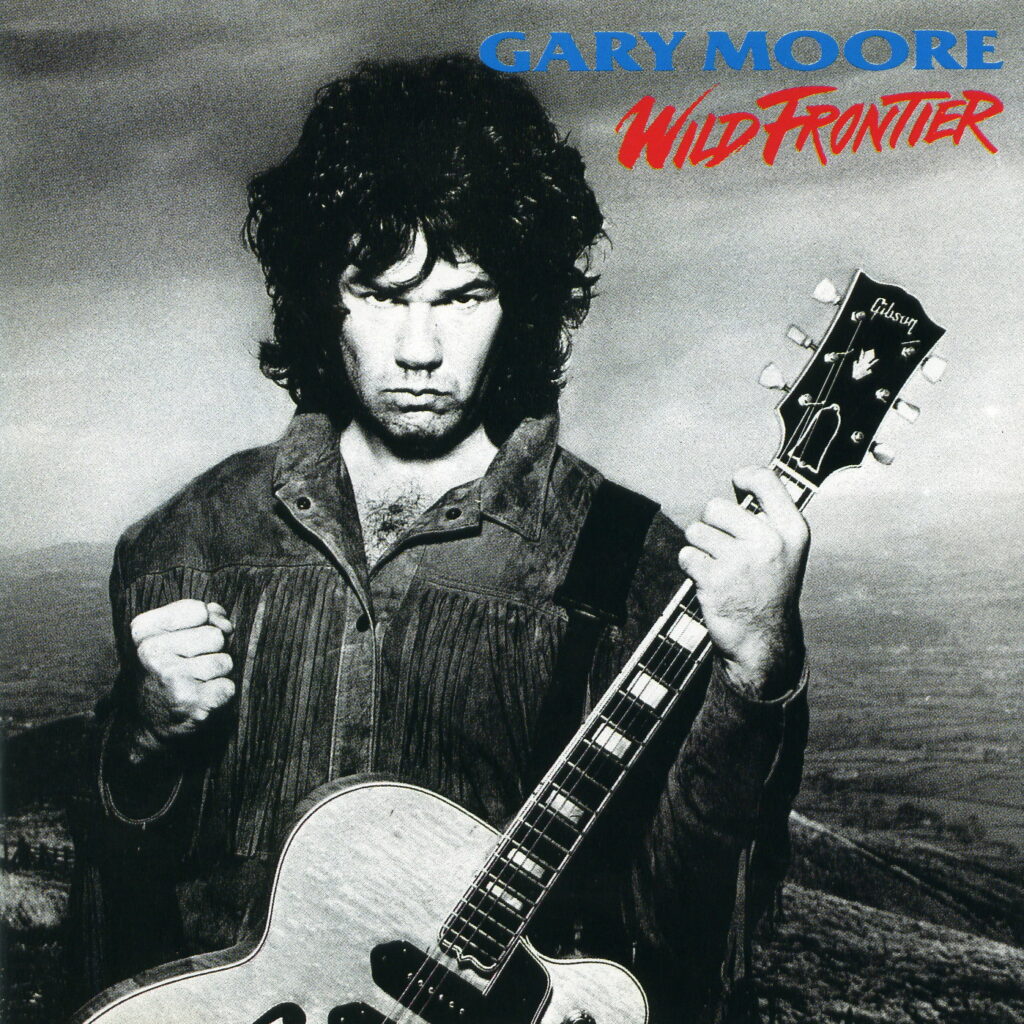 A classic melodic hard rock album, «Wild Frontier» was written after Gary Moore's trip back to his native Belfast, Northern Ireland in 1985. The album contains several songs about Ireland and the music has obvious Celtic roots, including Irish folk. It feels more personal than the previous album, «Run for Cover», with fewer musician guest stars taking up space, and his song-writing really shines. The opening track is the hit single «Over the Hills and Far Away», which reached no 20 in the UK charts. This track demonstrates that it wasn't just the blues that Moore was capable of blending perfectly with hard rock, but also Irish music (listen carefully to the vocals and the occasional Irish lilt in his voice with certain words – eg the sound of «letters»). The album continues with catchy choruses and addictive hooks on the title track and «Take A Little Time». Then comes the instrumental, «The Loner» – perhaps a precursor to his later blues work. «Friday on My Mind» is the only cover on an album full of strong compositions by Moore, which he could have left out and the album would not have suffered. Following that track are a couple of songs that Moore co-wrote with Neil Carter: «Strangers in the Darkness» and the heavy, fast-paced «Thunder Rising». (Watch the live performance of «Thunder Rising» from «Live in Stockholm: Wild Frontier Tour» in 1987 to see two superb, passionate musicians on top of their game.) «Johnny Boy», which is dripping with emotion, is dedicated to Phil Lynott. When speaking of writing the track, Moore said «It's good to remember where you came from«. With this entire album, that is precisely what Moore did. His Celtic heart is all over it.