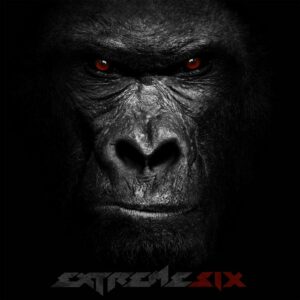 earMusic
It's been 15 long years since Extreme, a band comprised of supremely talented individuals including one of the greatest guitarists of all time, Nuno Bettencourt, released an album. Was it worth the wait?
The album begins with "Rise", the first single release, which delighted the guitar world. It contains an astounding guitar solo, a fretboard spectacle featuring tremolo picking and divebombs from Nuno Bettencourt that Eddie Van Halen would have been proud of. (In our recent interview with Nuno, coming in the next issue, he told us how he was visited by Eddie Van Halen during the recording of "Rise".) It is a powerful album opener, and difficult to imagine topping, but the band managed it with the next track, the album highlight, "#Rebel". The song showcases the band's strengths – Gary Cherone's remarkable vocals that soar like Chris Cornell at some points in the song, Pat Badger and Kevin Figueiredo's tight rhythm section, the vocal harmonies, a strong melody and Bettencourt's otherworldly guitar playing. At one point Cherone's ever rising vocal meets Nuno's guitar in a high pitched duet, a blissful peak, just before Nuno's solo, where he, yet again, knocks the ball out of the park. #Fire.
Next up is "Banshee", a catchy rock n roll number in the style of 1970s Aerosmith. There are less guitar gymnastics than on the previous two tracks. Extreme fans know to expect a ballad or two, and that is delivered with "Other Side Of The Rainbow", a radio-friendly ballad, with warm acoustic tones from Bettencourt's guitar and nice vocal harmonies, one of the band's trademarks. If it was released in the 90s, it may have become a song of the summer, although it is not as strong a composition as "More Than Words" and "Hole Hearted". Another, blander, ballad follows with "Small Town Beautiful", featuring vocals from both Cherone and Bettencourt. There is a surprising turn with "The Mask", which begins with a glam rock rhythm reminiscent of Marilyn Manson's "Beautiful People", and features a moment of Beatlesesque vocal harmonies. Yet another unexpected turn is the industrial rock "Thicker Than Blood", that sounds like Zeromancer in places with fuzzy guitar and added funk. The lyrics feel too repetitive, with "Love is Thicker than Blood" and "Blood is never enough" repeated multiple times. "Save Me" has verses that sound like Aerosmith's "Falling In Love (Is Hard On The Knees)", and although it has a contagious chug, it is the weakest composition on the record. "Hurricane", the strongest ballad of this collection, follows. Cherone and Bettencourt's vocals weave in and out from each other, accompanied by rich acoustic guitar. The band's trademark vocal harmonies are joined by strings, and remind the listener of the orchestration on their "III Sides to Every Story" album.
"X Out" is dark and atmospheric. Listen to it more than once to discover its hidden depths and the atmosphere the synth creates. There is little, if any, guitar on this track other than the solo and that may upset some of their fans. The most surprising part of the album comes next with "Beautiful Girls", a pure indie pop song with hints of reggae. Containing a similar vibe to Peter Andre's "Mysterious Girl" (now there is a popstar I never expected to mention in a review of an Extreme album), it could have been a huge one-hit wonder for another artist. Nuno's guitar, as always, serves the song, and here sounds like Brian May, but it doesn't soothe the shock. I respect and admire Extreme's diversity, but this one felt like an uncomfortable diversion, and feels out of place. The last track, "Here's To The Losers", is a slow burner that is reminiscent of Halestorm's «Here's To Us», with a catchy chorus and again, strong vocal harmonies. It is easy to imagine it becoming a sing-a-long at their live shows.
So, was it worth the wait? Absolutely, but the strongest punches the album delivers are the first tracks on the record. Other than "Hurricane", there is no song that lives up to the strength of the first 3 tracks. The record could benefit from a different track order – perhaps by spreading the first 3 singles out by placing a few of the ballads and more experimental tracks between them. The album feels uneven, as if it may have been written at different times over the last 15 years. However, it's a "grower" that improves with every listen, with some astounding guitar work from Nuno Bettencourt that somehow never distracts from, but serves the songs. "Hurricane", combined with "Rise", "#Rebel" and "Banshee" show that after several decades, the band have still "got it" – they can still write and play killer rock songs as well as moving ballads. It's diverse, but that is what you should expect from Extreme – hard rock, funk, ballads and the unexpected.
4,5/6 | Anne-Marie Forker
Release date: 9 June 2023