12.september 2021
Breaking down the boundaries between jazz, metal and hard rock, guitarist and composer Hedvig Mollestad presented her work, «Ekhidna«, which was commissioned by Vossajazz, in sextet format at Rockefeller, Oslo (the venue has done a superb job in providing a comfortable and safe environment for gigs). The concert also featured surprise covers of King Crimson and Jeff Beck.
Mollestad was the star of the show, but every musician on the stage had a chance to shine, and it was obvious that she has surrounded herself with fine musicians: Marte Eberson (keys), Erlend Slettevoll (keys), Ole Mofjell (drums/percussion), Torstein Lofthus (drums) and Susana Santos Silva (trumpet). A special mention must be given to Santos Silva, whose tones, textures, imagination and improvisation were outstanding from the moment the band opened the show with «No Friends But The Mountains». At one point later in the concert, she was making breathy sound effects with her trumpet that sounded like something from the later era of Scott Walker combined with the audio from an early Norman McLaren film, which Mollestad responded to by tapping her guitar body, creating atmospheric reverberations. There have been some brilliant guitar / trumpet combinations in the past, such as Jim Hall and Art Farmer – Mollestad and Santos Silva work together just as well.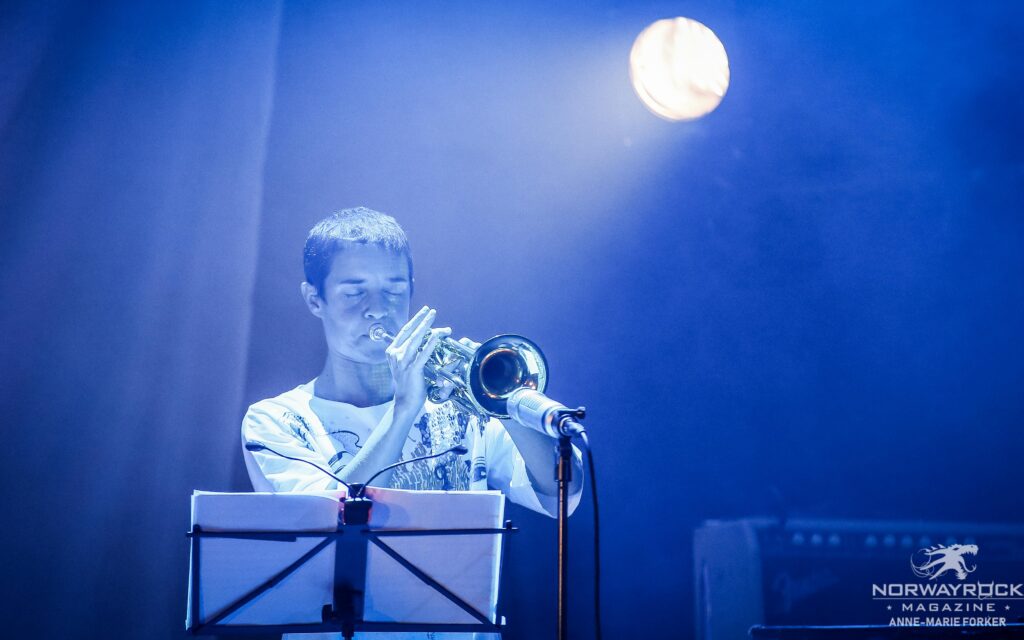 It was evident throughout the evening that Mollestad is a guitar riff master. Black Sabbath would be proud of the opening riff of «A Stone's Throw», and there were hints of Iron Maiden on «Antilone». The grungey riff of the title track, «Ekhidna» is reminiscent of some 90s rock, such as Rush's «Stick it Out». It wasn't all high-octane, muscular vibrato, however. «Slightly Lighter» was gentle and mesmeric, soothing the audience before the album closing track, «One Leaf Left», which featured long passages of lyrical trumpet and guitar play, exploded into loud, metallic blues.
The encore kicked off with the Hedvig Mollestad Trio's «All Flights Cancelled», followed by a brilliant cover of King Crimson's «Red», complete with red lighting. The band finished the concert with Jeff Beck's «Led Boots». This is not an easy track to cover, but the band nailed it and Mollestad didn't miss a beat. The pure joy on her face as she played this music, particularly during Marte Eberson's solo, lit up the stage. The equally delighted crowd gave the band a well deserved standing ovation at the end. «Ekhidna» refers to halves – half woman, half snake – but this artist is the full package. 5.5/6
Tekst og foto: Anne-Marie Forker