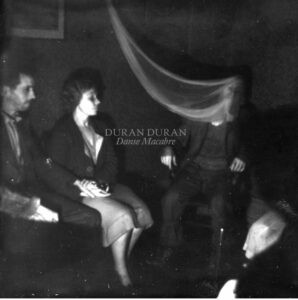 Tape Modern/BMG
The sixteenth studio album by Duran Duran, "Danse Macabre", is a Halloween party themed record, including three new tracks, covers and reimagined versions of older Duran Duran material. The band's former guitarists Andy Taylor and Warren Cuccurullo appear on the album, along with guest appearances from Nile Rodgers and Victoria De Angelis of Måneskin. The artists covered include Billie Eilish, the Rolling Stones, Siouxsie and the Banshees, Rick James and Talking Heads. Sounds like a promising mash-up, right? Well…
Fans of funky bass riffs from John Taylor will not be disappointed by the slick "Black Moonlight", a collaboration with Nile Rodgers and an early highlight. A late highlight is the band's "Lonely in Your Nightmare" mixed with Rick James' "Super Freak" – "Super Lonely Freak". Finally, the feeling of a decent Halloween party has arrived, but it is short lived.
Cover wise, Billie Eilish's "Bury A Friend" is transformed into an 80s dance pop jam, yet it is far from an improvement or even an interesting take on the original.  The press bio claims "Duran Duran elevate to another realm altogether with their rendition of Billie Eilish's Bury A Friend. Simon's dynamic vocals amplify the drama of the Gen-Z anthem as live instrumentation adds nuance to the rich soundscape architecture." Er, no, they don't. The best cover here is Siouxsie and the Banshees' "Spellbound".  The "gothic take" on the Rolling Stones' "Paint it Black" and Talking Heads' "Psycho Killer" are entirely forgettable.
The title track features frontman Simon Le Bon rapping. I know it's supposed to be "fun", but that doesn't mean it should lack quality, which this does, and is not rescued by the groove of the chorus or the production of Mr Hudson, who they reteamed with after the work they had done together on 2015's "Paper Gods". Overall, given the high calibre of the band who have created some stunning tracks like "Planet Earth" and "Ordinary World", the record is disappointing, and not to be taken seriously. Perhaps they are trying to appeal to Gen Z, with a cover of Billie Eilish and getting Victoria De Angelis of Måneskin on board, but I don't think this will win them any new fans. More of a musical horror show than a Halloween party.
2/6 | Anne-Marie Forker
Release date: 27 October 2023

(For your Halloween party, may I recommend Black Sabbath's debut album, Ghost's "Infestissumam", King Diamond's "Abigail", Michael Jackson's "Thriller", The Rocky Horror Picture Show soundtrack and a greatest hits collection of the legendary Alice Cooper instead…)