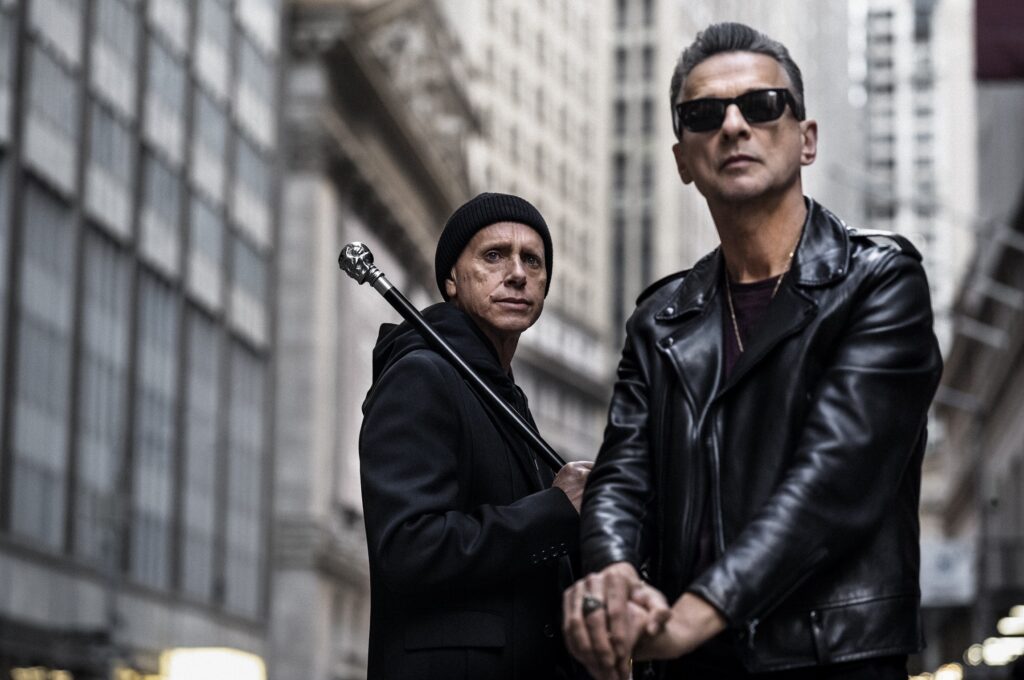 Depeche Mode release "Memento Mori", their fifteenth studio album, and their first after the death of keyboardist Andy Fletcher, in March 2023. In February, we took a trip to London to speak with the band's main songwriter, Martin Gore, in person about making the record. He told us how everywhere they go reminds them of Andy, and gave us a peak at the first song of the tour setlist.
Text and live photo: Anne-Marie Forker
Photo: Anton Corbijn
Hi Martin! Thank you for your time today.
You're welcome.
My sincerest condolences about Fletch passing. Was the title of the new album, which translates as «Remember you must die», conceived before he died?
Thank you. Yes, it was. All of the songs were written before Andy died. We were due to start the whole recording process about 6 weeks after he died and obviously he was supposed to be starting with us.
Was there anything you decided to change, before recording it?
We did consider whether to carry on with the schedule the way it was, because it was starting so soon after his death. I think because of our mental health it was good for us to work and focus on music.
I can understand that.
The main thing that changed, I think, was that you start listening to and seeing everything very differently. When Dave was singing some of the lyrics he said certain lines jump out at you and they mean something completely different now. That happens not just with the music, but everywhere we go now it's kind of like a monument to Andy. We're travelling around and staying at the same hotels.
That must bring back a lot of memories.
Yeah, when we go down into the lobby we are used to seeing him just sitting there at the bar. It's disconcerting at times. It happened so quickly. That's the most difficult thing, because you expect him to be alive and well somewhere else, you know.
Speaking of Andy, there's a sound, almost like a celeste, in your new single "Ghosts Again", which made me think of him. I'm not religious, but was that supposed to be a reference to something higher?
The whole song, being called "Ghosts Again", you're thinking about the sound textures to use. I wouldn't say we went for a celeste but there are certain sounds that work better with that song.
Did you do anything differently on this record, given the pandemic? Extra time to write and record?
I definitely had more time to write. The first songs I wrote for this album were in 2019, and the last one I wrote was in March 2022, so I had quite a long time. There was a very different approach to some of the songs, because Richard Butler (vocalist, The Psychedelic Furs) reached out to me, early on in the pandemic, and said we should write some songs together. I texted him back and said "Have you got any ideas?" and he sent me a few lines so I put those to music and sent them back to him, and we just started collaborating. We ended up writing six songs and at the time I think we were thinking we would just do a side project together, but I liked them so much I decided to call him and said "I know this sounds a bit crazy, but what do you think about me using them for Depeche?" And he was happy for me to do that. So four of the songs on the new album are written with Richard, which is something completely new, I've never done that before.
How did you meet him?
I can't remember the first time I met Richard. It was probably in the 80s. We actually supported The Psychedelic Furs in 1983 in Chicago. I didn't meet him at the time, I met every other member of the band but I didn't meet Richard. I think that was in his dark days. I don't think he left his dressing room, apart from going on stage [laughs].
[Laughs] And yet you end up writing songs with him, years later.
After that we met each other at various times over the years at concerts. I've been to see them play and he came to see us play. He even came to stay with me once when I lived in England.
Ah, in Essex?
No, it was in the early 90s, so I was living in Hertfordshire at the time.
I used to live in Leigh-on-Sea in Essex for about 7 years, not far from Basildon, where you are from.
Ah yeah! Very close. That's where all of our friends moved to when they wanted to get out of Basildon but didn't want to go to London [laughs].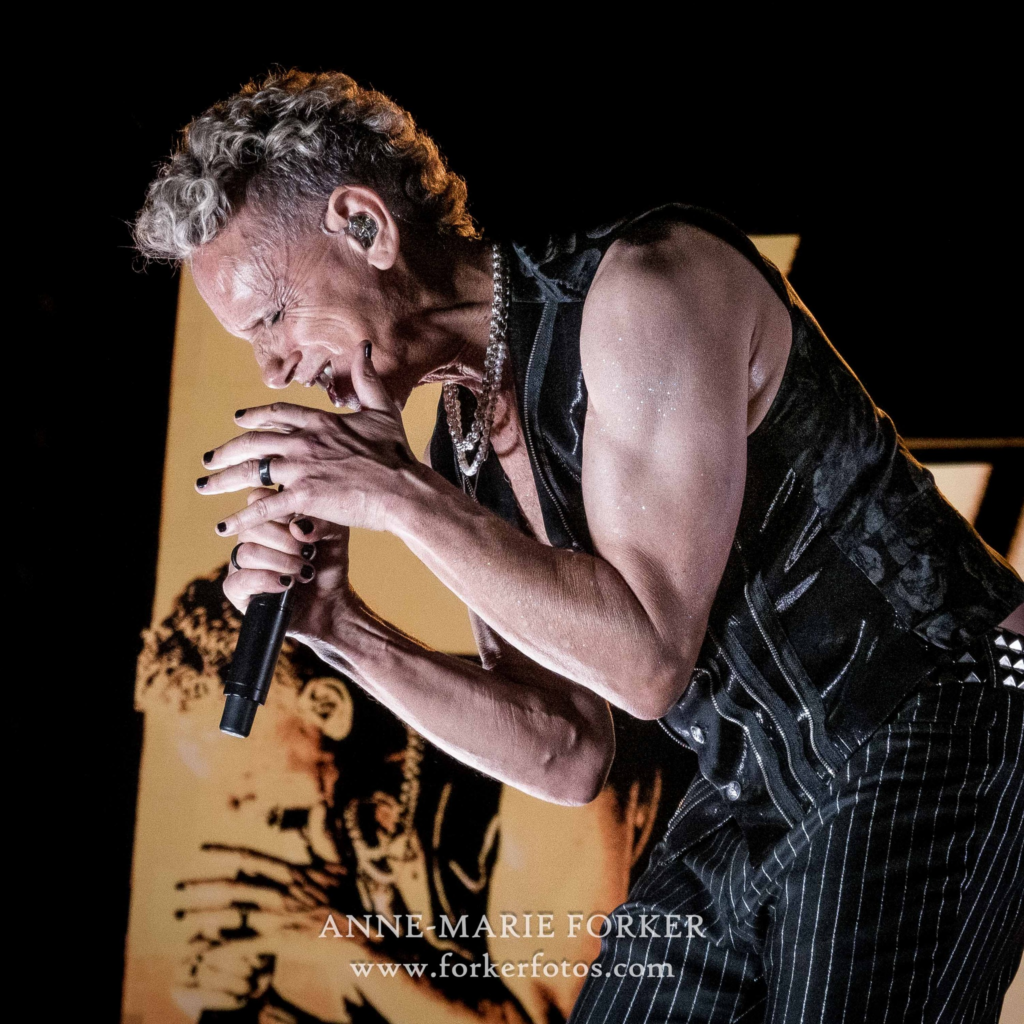 The album cover by Anton Corbijn is very striking. Is it supposed to look like two Ms, for the title, or just two sets of wings?
When we turned up for our first photo session without Andy, I mean there are just so many firsts now, Anton had these kind of funerary wings hanging. Me and Dave looked at them and we immediately said: "They're funerary wings but they look like Ms. He's a genius!" [laughs]
[laughs] He is!
I don't think he noticed they looked like Ms at that point. He'll probably claim he did! [laughs]
But of course [laughs]! Will he be designing the visuals for the upcoming tour?
Yes, he's involved in the stage set design again and we've done some filming with him. He's done a lot of filming without us that we haven't seen yet that will be played behind us.
"Never Let Me Go" has an industrial rock vibe at the beginning. Which guitar did you use for that? The White Falcon?
It's a combination of guitars. A Novo Serus. We overlayed it with another guitar. That was on the demo.
The last track, "Speak to Me", has a beautiful slow building atmosphere that comes to a climax, and it reminded me of The Beatles "A Day in the Life". Given the repeated death references on the album, was that intentional, in an uplifting way, to give a nod to life at the end?
I know what you mean. I have thought that as well at times, that it was a little like that. But I don't think we spoke about that and intended to achieve that. But there is this incredible build, yeah.
It's a beautiful ending to the record, because although there's melancholy, it's balanced with joy.
I think that's true of pretty much all of our music. Maybe there's a lot of melancholy or sadness if you want, but at the end of the day I think it's always uplifting and "Ghosts Again" is the perfect example of that. It's so uplifting. If you were just to look at the words and the poem, it would be a bit of a downer! [laughs]
You worked with producer James Ford, who also worked on "Spirit". Why him?
We had a really good relationship with James on the last record. He's a nice person. That's always the first pre-condition that you want. He's also a genius musician. He can play any instrument. During the making of Spirit I took him my pedal steel, which is an incredibly hard instrument to play and he had never played it before. Within a spare hour, he was sounding like an actual pro. He's a handy man to have around apart from being a great producer.
Wow. Did he record any nit-bits on the album?
He did! He has got a whole section. When the credits come out you'll see he played quite a lot, including bass and drums.
Sounds like a rare talent.
Yeah, and we also worked with Marta Salogni for the first time. She mixed the whole record but she was also the engineer. I think she had a very big impact on the sound of the record, because she's really into the old 70s reel-to-reel tape machines.
And you haven't worked like that before?
It's not just recording to them. She had two set up, and the tape runs between the two and they both record, and it makes a kind of feedback loop. So then we sent sounds to her and they would come back with these incredible textures and the most obvious example of that is on "My Cosmos is Mine" which has such an amazing tapestry going on. Some of the vocals come in at really odd moments where they obviously weren't sung and with a special quality as anything that goes to tape and comes back with that little bit of wow and flutter and a little bit destroyed. We recorded the whole album at my studio apart from a five day period where we went down to Malibu to record at Rick Rubin's Shangri-La studio, and while we were there we recorded strings on quite a few tracks, but we didn't want it sound like, you know, just throwing strings on the tracks, so they were all sent through the tape machines and were warped a bit. It does give it a haunting quality.
Fascinating process. Was that one of the most complicated songs to record and finalise?
I can tell you that "My Cosmos is Mine" is the most difficult to recreate live. We started off trying to recreate what it's like on the album but thought "This is going to sound like an absolute mess in a stadium", because there is so much noise and chaos going on.
Through one large set of amplifiers?
Well, just this awful atonal sound going out into a stadium. It's the first track we are going to play. Maybe I shouldn't even be saying that!
An exclusive! [laughs]
I think most people might go home! [laughs] We stripped it right back to whatever was musical.
Was that the case with any other tracks?
Some of the other tracks are difficult to recreate live because Pete is playing a lot of the string parts, and when he was given a straight string part to play, it just sounded so sterile, because of all the treatments that had been put on the strings for the record. We had to really work on getting strings that had the right atmosphere and treating them again.
Can you sample it?
There are so many effects on the strings that it's difficult to isolate single notes.
Will there be a tribute to Andy on the tour?
I think we are definitely going to do something to remember Andy.
Have you finalised a setlist yet?
We have, but the only thing we haven't done is time it. We may find that it's too long and we may have to drop stuff. One thing we never take into account is how long between each song the crowd might sing. Sometimes they go off and sing for five minutes.
Shhhhh!
[laughs] It's always great when they do that. But obviously it adds time to a concert.
Are you hoping to play many from the new album?
Yes, a few, and a lot from our back catalogue.
Do you have any pre-show rituals?
We do! Always before going on stage we get into a huddle, make a noise, and slap each other's hands as hard as we can. We did it for the first time without Andy when we did a TV appearance the other day, which was very odd. Every time we do something that we used to do with him it brings back memories.