Mandag, 17. desember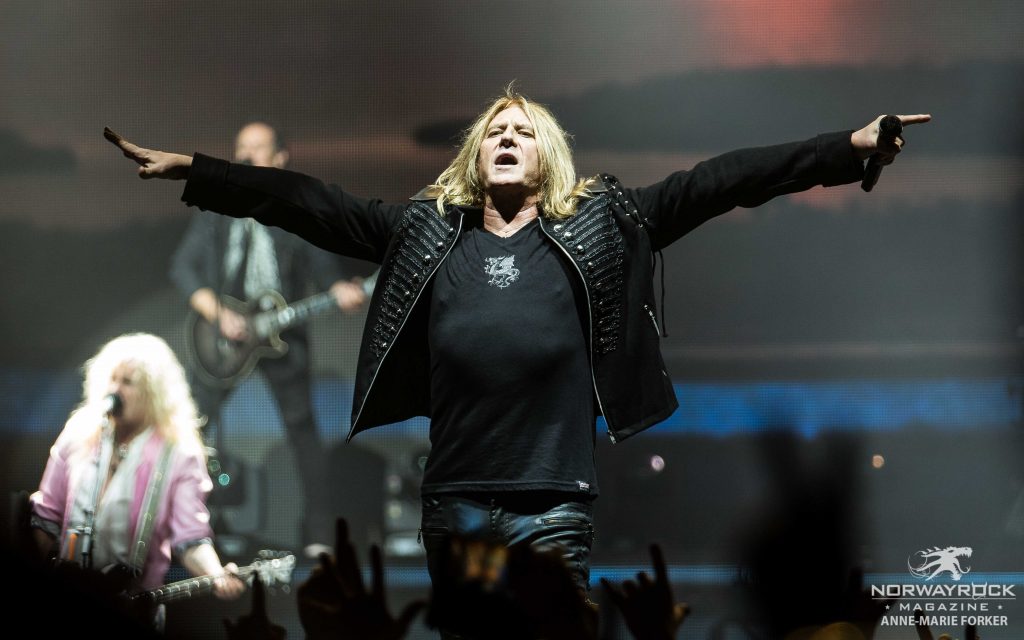 Tons of Rock 2019 headliners and rock legends, Def Leppard, took to the stage at Arena Birmingham on Monday night to perform their seminal 1987 album 'Hysteria' in full, along with other hits. Just last week, the news broke that the band would be inducted in to the prestigious Rock and Roll Hall of Fame, so there was plenty for the 15,000 strong crowd to celebrate.
Before the show started, there was a 30 minute countdown clock, which turned red for the last 10 seconds and the city's name 'Birmingham' was raised above the stage, in Def Leppard style font, revealing a shirtless Phil Collen on guitar, centre stage. The screaming fans would not be disappointed as the spectacular light and video show began with the opening songs, 'Women', 'Rocket' and 'Animal', then a couple of their biggest hits, 'Love Bites' and 'Pour Some Sugar on Me', all showcasing the band's trademark vocal harmonies and guitar licks.
Vocalist Joe Elliot walked up and down the catwalk, gestured to the crowd, lifted his scarf decorated mic stand and soaked up adulation, all before speaking. The music did the talking. He finally addressed the crowd after the fifth track: 'Good evening Birmingham!' Elliot said the band last played Birmingham Town Hall in 1980 and that they were here to celebrate 31 years of 'Hysteria'. 'Stuff happens to everyone in 31 years. One of our biggest achievements is that this line up has been together for 26 of those years … now it's time to introduce you to the «new guy»!' Then he introduced Vivian Campbell, from Belfast, Northern Ireland, who launched into a blistering guitar solo. Campbell gives the band a harder edge live, which isn't present on the studio version of the songs.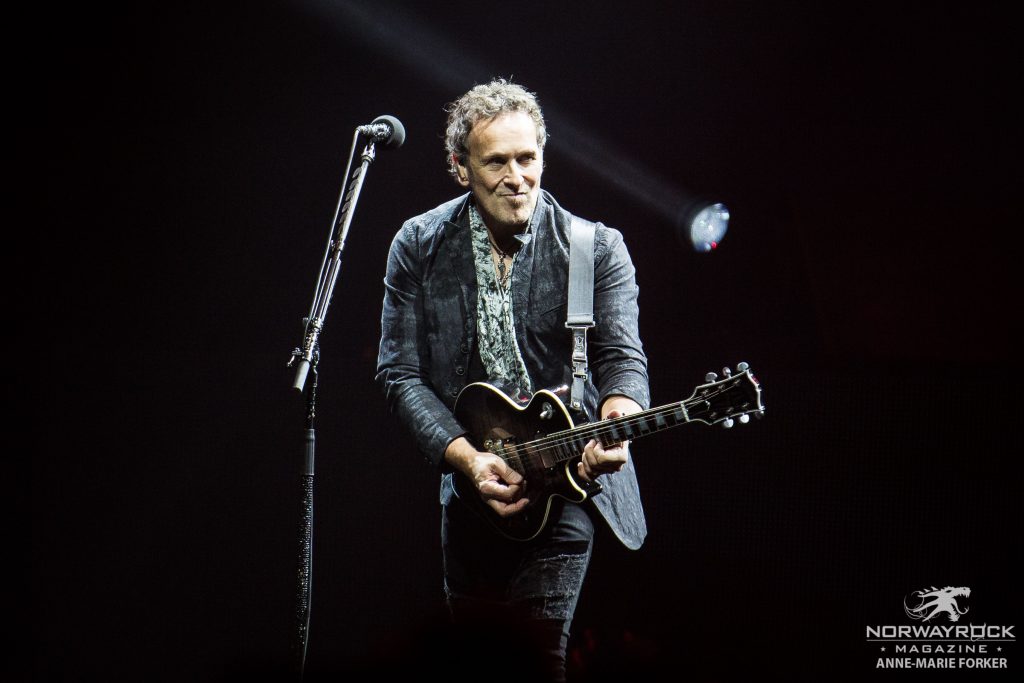 Before 'Gods of War', there was a touching dedication to Stephen Maynard Clark, who was the principal songwriter and lead guitarist for the band until his death in 1991. The audience respectfully applauded and cheered while video footage of Clark played.
Joe Elliott, Rick Savage, Rick Allen, Phil Collen and Vivian Campbell were all on top form, but the star of show was 'Hysteria', which was released shortly after Guns N' Roses debut album 'Appetite for Destruction'. Bad timing from a marketing perspective. However, over 30 years later the album remains a classic and is still highly regarded, by fans and critics alike. This was evident as the crowd's enthusiasm only waned a little after the big hits on side 1 of the album had ended and the rest of the album was performed at a fast pace: 'Don't Shoot Shotgun', 'Run Riot' (Elliott encouraged the crowd to raise their hands for this track – there was lots of clapping, but no riot!), title track 'Hysteria', 'Excitable' and the closing number of the set 'Love and Affection'.
The crowd energy was fully recharged during the encore with hits such as 'When Love And Hate Collide' and 'Let's Get Rocked'. The last tracks were a couple of songs from the 1983 'Pyromania' album, 'Rock of Ages' and fan favourite 'Photograph'. There is no doubt that when Def Leppard take the stage at Tons of Rock, Oslo will 'Get Rocked'. 5/6
Tekst og foto: Anne-Marie Forker